Contributing to the common good of humanity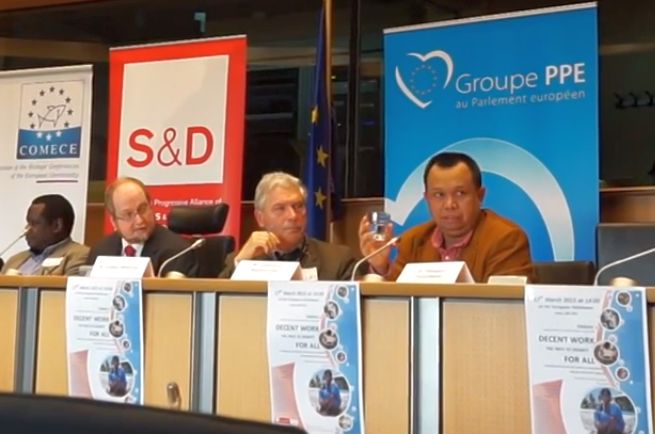 The world today is no longer sustainable. What is happening now is not a financial crisis with economic consequences; it is not a job crisis resulting in huge unemployment. It goes beyond that, it is a crisis of the system.
What we can do now?
We should be brave enough to take steps in order to change the system. We should transform this world into a new paradigm, a paradigm of life against a paradigm of death. The logic of the current system (capitalism) is not to provide solutions to the problems but to maintain itself and save itself by sacrificing billions of human beings as well as nature.
Read more...
Standing Up Against Exploitation, Oppression and Exclusion
From 24th – 30 April 2015, the International Young Christian Workers (IYCW) will celebrate the International Week of Young Workers (IWYW) under the theme: "No Worker without Just Work". In doing so, the IYCW wants to emphasize the struggles of young workers against the oppression they face in their day-to-day life, which is rooted in the class system that has always utilized it as a way to maintain the domination of the wealthiest and most powerful 1% of the population over the remaining 99%.
This week emerged out of the struggles of the working class youth who organized themselves as an independent force in order to be trained to stand up against all forms of exploitation, oppression and exclusion.
Read more...
The IYCW celebrates the International Women's Day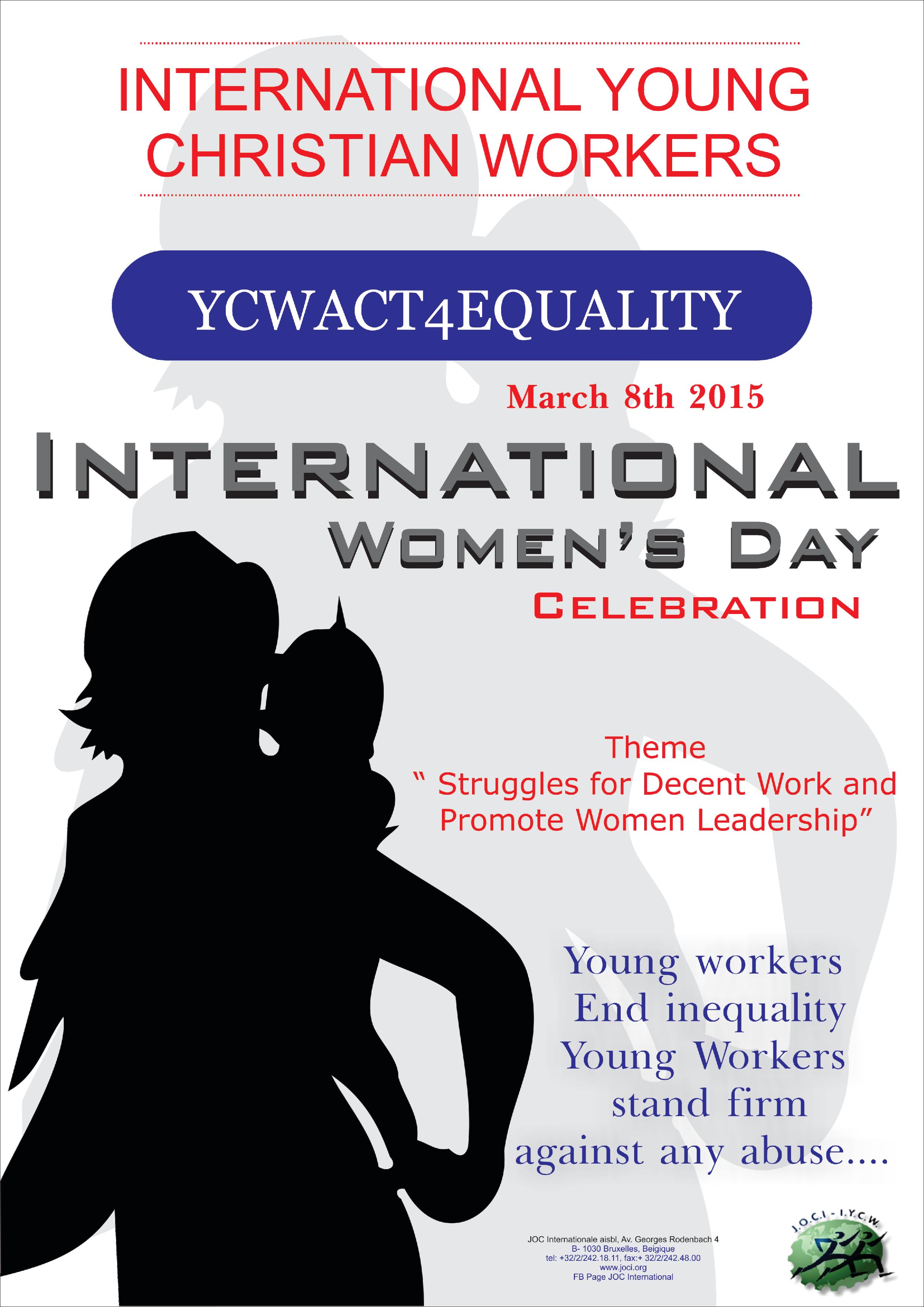 To mark the International Women's Day 2015, the International Young Christian Workers is highlighting the day-to-day living and working experiences of young women workers.
From our contacts with young women workers on a regular basis in our base groups, we have the first-hand experience of their situations, we know that women face great inequality related to gender aspects in their families, society, factories, offices, trade unions, and even churches. Women do not have the same rights as men when it comes to making decisions. In terms of salaries, women are paid less than men in many instances.
Read more...
A Meeting of International Catholic Organizations in Brussels
The group of 10 International Catholic Organizations, mostly movements inspired by Cardinal Cardijn, met last February 14, 2015 at the IYCW International Secretariat in Brussels to strengthen their network.
The meeting was attended by the International Catholic Movement for the Intellectual and Cultural Affairs (Pax Romana-MIIC), the International Young Christian Workers (IYCW), the International Federation of Rural Adult Catholic Movements (FIMARC), the International Movement of Catholic Agricultural and Rural Youth (MIJARC), the International Coordination of Young Christian Workers (CIJOC), the International Movement of the Apostolate for Children (MIDADE), and the International Movement of Apostolate in the Independent Social Milieus (MIAMSI).
Read more...
IYCW focus on goals 4, 5 and 8
Session after session, the 30-member Open Working Group (OWG) of the UN General Assembly has defined Sustainable Development Goals that are accompanied by targets and will be further elaborated through indicators focused on measurable outcomes. They are action-oriented, global in nature and universally applicable. They take into account different national realities, capacities and levels of development and respect national policies and priorities.
They build on the foundation laid by the MDGs, seek to complete the unfinished business of the MDGs, and respond to new challenges. These goals constitute an integrated, indivisible set of global priorities for sustainable development.
Read more...
A testimony from Guatemala
Meiry de León is 26 years old. She works as a teacher at the Cumbre del Guayabo primary school, Chinautla, Guatemala. She has been working for four years under contract agreement. Her temporary contract can be renewed or cut depending on her appraisal results. This means that she cannot gain and retain seniority over the years and the benefits she gets remain the same.
Meiry reported that her school encounters quite serious problems with respect to salaries. Besides being too low, they are always paid late. In many cases, she and all other teachers receive their salaries with a three-month delay, or even longer. As far as infrastructure is concerned, her school is far from being a decent school since they do not have the necessary tools in the classroom, e.g. blackboard, chairs, books and desks.
Read more...
A message from the CAJ National Council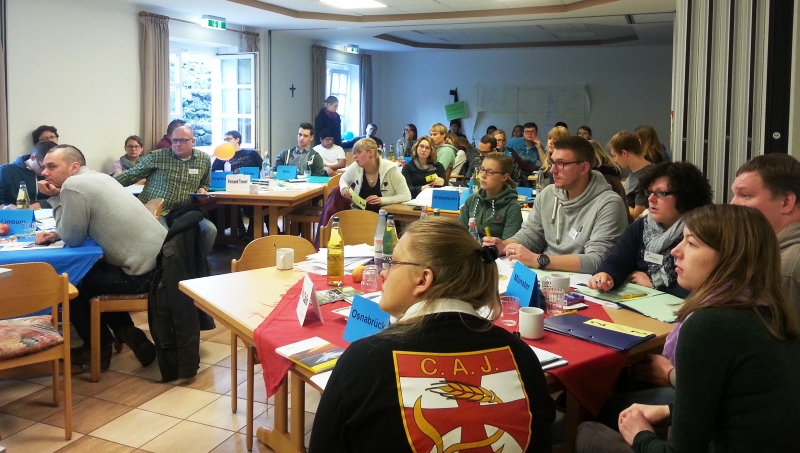 As the National Council of CAJ (German YCW) officially opened on Friday night of November 7, 2014 at Kolping-Biddunghaus-Salzbergen, we were all the more motivated as we heard the song "Bread and Roses", which rhymes as follows…
"As we go marching, marching, in the beauty of the day
A million darkened kitchens, a thousand mill lofts gray
Are touched with all the radiance that a sudden sun discloses
For the people hear us singing, bread and roses, bread and roses."
Read more...
Page 8 of 14