A Meeting of International Catholic Organizations in Brussels
The group of 10 International Catholic Organizations, mostly movements inspired by Cardinal Cardijn, met last February 14, 2015 at the IYCW International Secretariat in Brussels to strengthen their network.
The meeting was attended by the International Catholic Movement for the Intellectual and Cultural Affairs (Pax Romana-MIIC), the International Young Christian Workers (IYCW), the International Federation of Rural Adult Catholic Movements (FIMARC), the International Movement of Catholic Agricultural and Rural Youth (MIJARC), the International Coordination of Young Christian Workers (CIJOC), the International Movement of the Apostolate for Children (MIDADE), and the International Movement of Apostolate in the Independent Social Milieus (MIAMSI).
Read more...
IYCW focus on goals 4, 5 and 8
Session after session, the 30-member Open Working Group (OWG) of the UN General Assembly has defined Sustainable Development Goals that are accompanied by targets and will be further elaborated through indicators focused on measurable outcomes. They are action-oriented, global in nature and universally applicable. They take into account different national realities, capacities and levels of development and respect national policies and priorities.
They build on the foundation laid by the MDGs, seek to complete the unfinished business of the MDGs, and respond to new challenges. These goals constitute an integrated, indivisible set of global priorities for sustainable development.
Read more...
A testimony from Guatemala
Meiry de León is 26 years old. She works as a teacher at the Cumbre del Guayabo primary school, Chinautla, Guatemala. She has been working for four years under contract agreement. Her temporary contract can be renewed or cut depending on her appraisal results. This means that she cannot gain and retain seniority over the years and the benefits she gets remain the same.
Meiry reported that her school encounters quite serious problems with respect to salaries. Besides being too low, they are always paid late. In many cases, she and all other teachers receive their salaries with a three-month delay, or even longer. As far as infrastructure is concerned, her school is far from being a decent school since they do not have the necessary tools in the classroom, e.g. blackboard, chairs, books and desks.
Read more...
A message from the CAJ National Council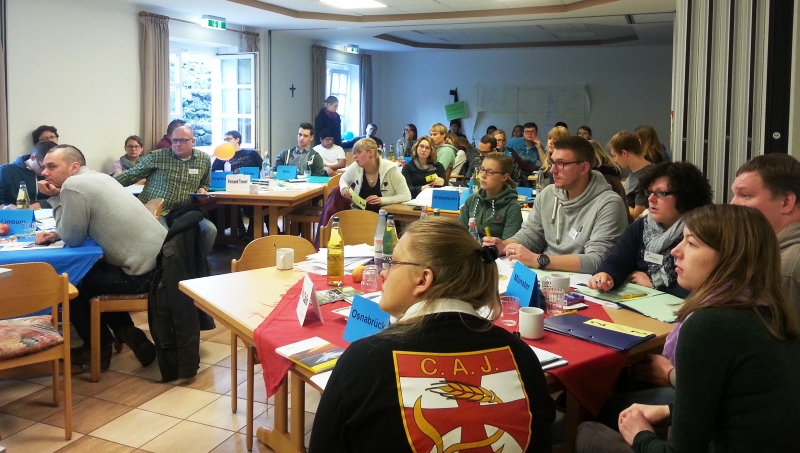 As the National Council of CAJ (German YCW) officially opened on Friday night of November 7, 2014 at Kolping-Biddunghaus-Salzbergen, we were all the more motivated as we heard the song "Bread and Roses", which rhymes as follows…
"As we go marching, marching, in the beauty of the day
A million darkened kitchens, a thousand mill lofts gray
Are touched with all the radiance that a sudden sun discloses
For the people hear us singing, bread and roses, bread and roses."
Read more...
The KAJ Launches a Symbolic Action in front of the Court of Justice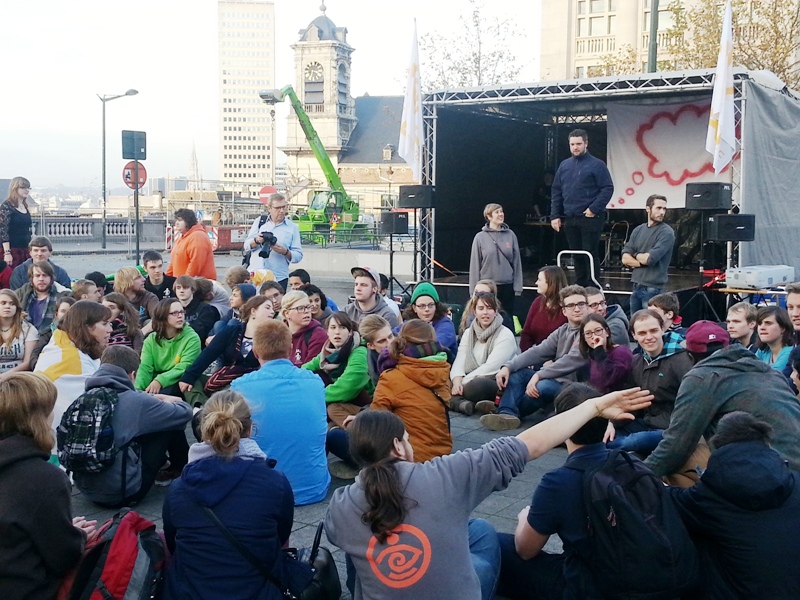 The KAJ-Flanders launched a symbolic action last November 22, 2014 in front of the Court of Justice in Brussels. It was attended by more than 100 young people who spoke up about the situation of the young people whose parents are divorced and live between two homes.
Figures show that Belgium has climbed into the top 3 nations of the European Union in terms of number of divorces and at least 1 out of 3 marriages in the Flemish region ends up in a divorce. In 2013 alone, 35,000 children and young people were faced with their parents' separation. However, the number of children whose unmarried parents dissolved their partnership contract is unknown.
Read more...
25 November - 10 December
The International Young Christian Workers (IYCW) is commemorating the International Day for the Elimination of Violence Against Women today, 25th November 2014, and encourages all YCW national movements worldwide to initiate and take part in actions to end violence against women.
The action commences each year on 25th November and concludes on 10th December - International Human Rights Day.
During these 16 days of action against gender violence, the IYCW encourages all national movements around the world to call for the elimination of all forms of violence against women.
Read more...
Pope Francis Joins The Call of the Silenced, Marginalized and Secluded
The World Meeting of Popular Movements in which the International Young Christian Workers (IYCW) actively participated was held in Vatican City from October 27-29, 2014 with more than 100 popular movements and organizations. Andy Predicala represented the IYCW in the event.
During the plenary session, the IYCW emphasized the precarious situation of workers, especially young people. There is widespread underemployment and lack of job opportunities. The high rate of youth unemployment and the strong tendency to find work in the informal economy without any protection of labor rights or access to social protection are becoming threats. Even those with a job often suffer from work insecurity, resulting from underemployment or casual and vulnerable employment. Forecasts raise concerns that if this crisis continues, more than 215 million may be unemployed and jobseekers by 2018.
Read more...
Page 8 of 14