The International Young Christian Workers is about to open an International Exchange and Seminar together with the Future of Work Network in Bandung, Indonesia this coming August 12-24, 2018.
We welcome all our delegates from national movements of YCW from Latin America, Africa, Europe and Asia-Pacific, as well as delegates and guests from our network the like of Justice and Peace-Germany, International Catholic Migration Commission (ICMC), International Movement of Catholic Agricultural and Rural Young (MIJARC), International Coordination of Young Christian Workers (ICYCW), International Movement of Christian Workers (MMTC), World Solidarity and many others.
The International Seminar 2018 in Bandung is a dynamic activity to exchange the reality on the life and work of young workers, our culture and our action. By coming together we are writing the history of young workers in the context of World of Work (wow) and by then we are putting a stone-mark of vision of the Future of Work (fow).
Read more...
The International YCW has lost a former YCW member, Marie-Paule Crockaert, who died yesterday at the age of 69.
Marie-Paule had been working for years as a volunteer in the archives of the IYCW International Secretariat, and her contribution was essential to preserve the history of our young workers' movement.
The International YCW expresses its deepest sympathy to her family and her many friends.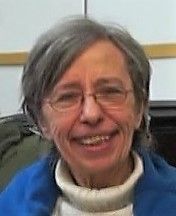 Marie-Paule,
Thank you for your strong commitment to our movement. You have walked with us for years. Today you are gone but you have left in our hearts the most beautiful part of you, your joy, your cheerfulness, your energy, your sense of solidarity.
Marie-Paule, today, tomorrow and forever!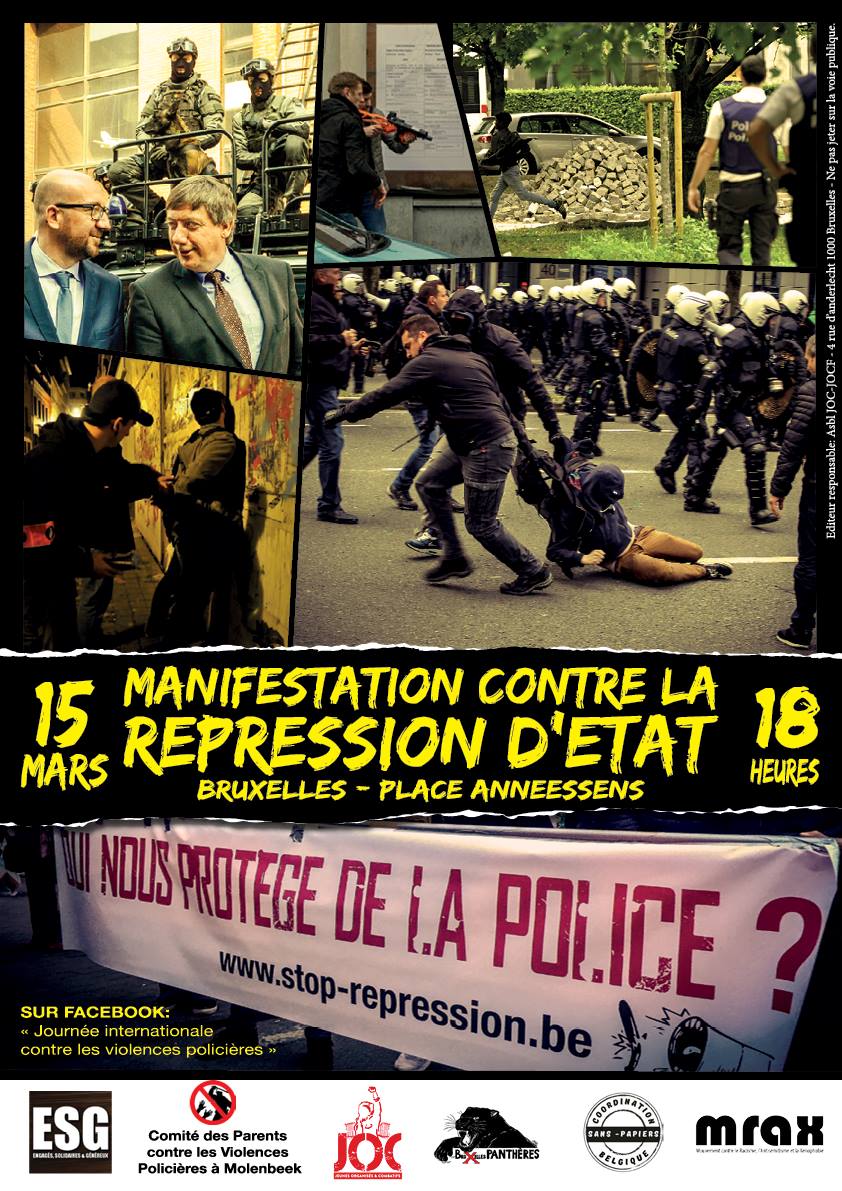 On the occasion of the Day against Police Violence, "Stop-Repression" campaigners are organising a demonstration against State repression. This gathering is organised by JOC, MRAX, Coordination of Undocumented migrants in Belgium, ESG, Bruxelles Panthères and the Parents' Committee against Police Violence in Molenbeek. It has also received the support of several associations like CWM, IYCW, CNAPD, CADTM, EcoloJ, Jeunes CSC ,... This campaign has been organized for 7 years now on each March 15th. In 2017 there were about 800 demonstrators marching in the streets of Brussels.
"Exploiting people is a crime,
but exploiting women is worse: it destroys harmony"
Pope Francis I
Read more...
Last October the Asia & Pacific YCW (ASPAC) held a continental action meeting, a seminar on social protection and a regional leaders' exchange in the Philippines. The Continental Action Meeting was held in Taytay, in Rizal province. Twenty-eight participants from the YCW national movements of Australia, Indonesia, Japan, Pakistan and the Philippines attended the meeting, and the ASPAC team, the IYCW secretary-general and a PANAF coordinator were also present.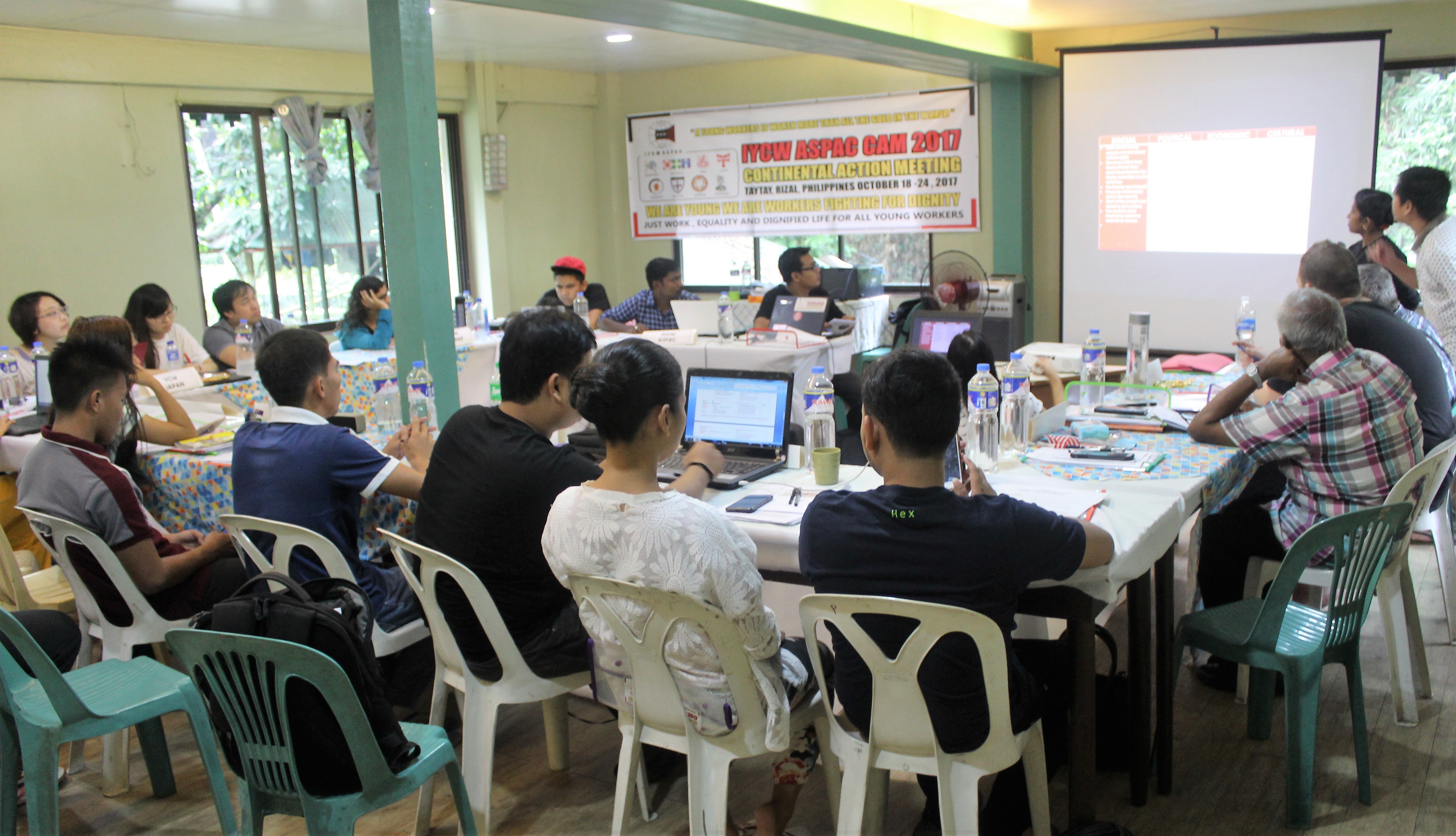 ASPAC had chosen a challenging theme for the Continental Action Meeting: "We Are Young! We Are Workers! Fighting for Dignity." Participants came together to share their experiences and concerns, difficulties and convictions about the YCW in their respective countries. "We are young people who want to contribute and participate in the society. We are often excluded and not respected. We want to find a way to live a dignified life in this society. Yes, we believe that we are the solution and we can make difference!"
Read more...
Today, November 25, as we commemorate the International Day for the Elimination of Violence against Women, we the International Young Christian Workers raise our voices to denounce the widespread violence and discrimination that young women workers experience every day at work and in the society. One of them is Mary, 28 years old, from Nicaragua.
"I am working in a free trade zone for Hansae Nicaragua SA, a garment factory. I have worked there for one year as a machine operator.
In our country, gender-based violence is a problem we face every single day at home, in the way they educate us to assume household tasks because we are women, e.g. cooking, washing, housecleaning, taking care of kids… When I leave my home and go to work, I am faced with sexual harassment in the street every day. The society downplays this practice as something harmless, but in my opinion, it is also gender violence and I really feel harassed as I walk among the people.
Read more...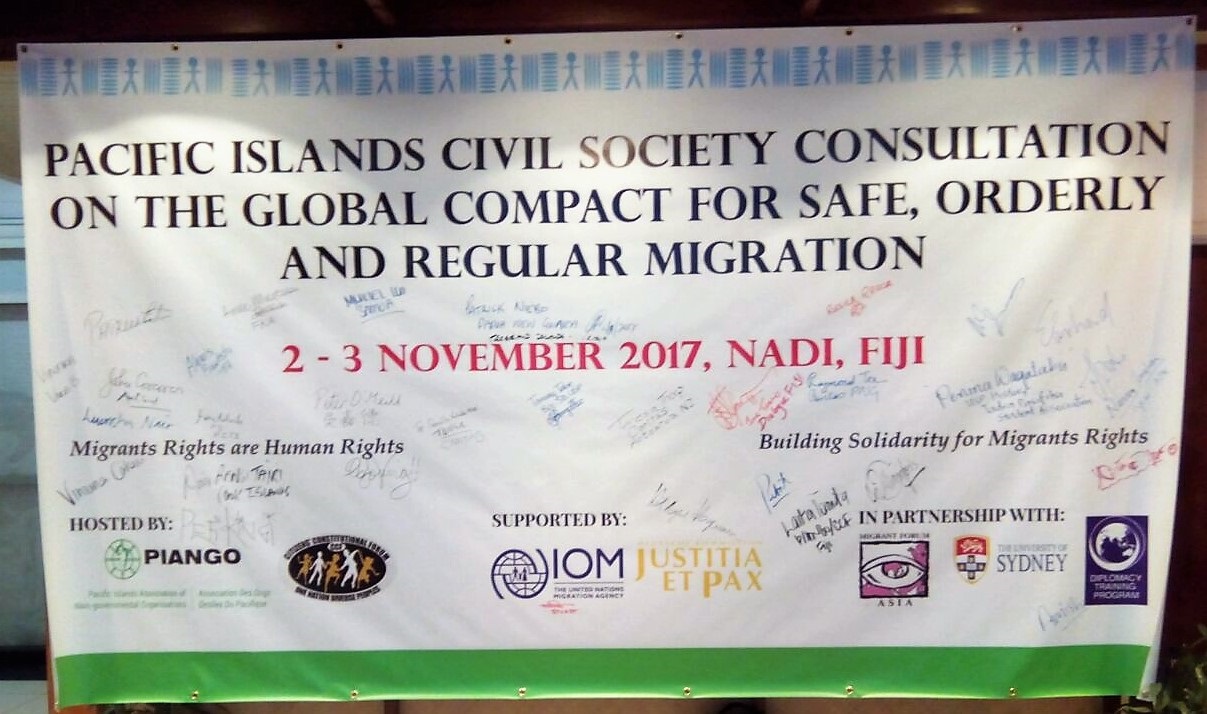 The forum of the Pacific Island Civil Society Consultation on the Global Compact for Safe, Orderly and Regular Migration is a response by civil society stakeholders strongly endorsing dignity for safe, orderly and regular migration into and from the Pacific Region. The said regional consultation was organized in Fiji from November 2 to 3, 2017, by leading civil society organizations such as the Migrant Forum in Asia, Justice and Peace, Sydney Asia Pacific Migration Center and others. The Asia Pacific International Young Christian Workers movement was represented by Nanang Ibrahim.
Read more...
Page 2 of 14