A Temporary Work Action in Flanders, Belgium
"Terminus Interim. Stop the train of interim-abuses." This was the title of the public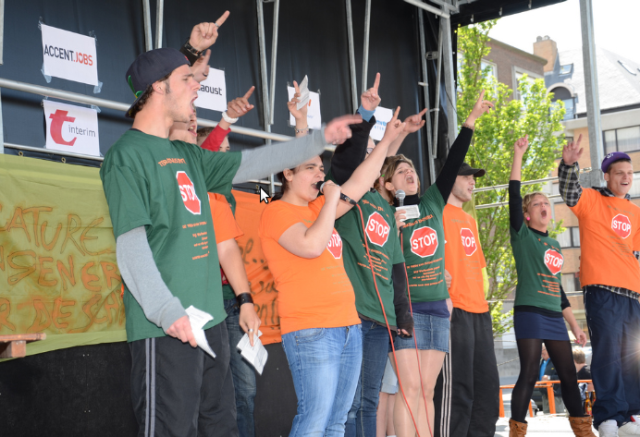 activity organized by KAJ (Flanders YCW) in Ostende with the presence of leaders from different regions. The aim of the event was to denounce the reality and violence suffered by young people who are seeking for jobs in temporary work agencies and see their dreams and expectations vanish into thin air.
Most of those young people have just graduated from secondary school or university, they are drop-outs, or have low skills, and they turn to temporary work agencies to help them find a job. In many cases, they face difficulties when they have to deal with the agencies, and KAJ wants to draw the attention of the society, the political authorities, the trade unions and the temporary work agencies themselves. They have reached the local and national press to explain their objectives and present the reality of young workers. KAJ carried out a survey, asking several young people about their reality, and it started to organize actions, including the June 2 event.
The IYCW International Secretariat participated in the action in Ostende. Arlindo de Oliveira (the international treasurer) was there and collected some testimonies from young people explaining their main problems.
Read more...
You may know the story of a king of ancient times. He wanted to know how his people would react when faced with a challenge or obstacle. Therefore, the king placed a huge rock (boulder) on a roadway. Then he hid himself and watched to see if anyone would remove the huge rock. Some of the king's wealthiest merchants and courtiers came by and simply walked around it. Many loudly blamed the king for not keeping the roads clear, but none of them did anything about getting the stone out of the way.


Then a peasant came along carrying a load of vegetables. Upon approaching the boulder, the peasant laid down his burden and tried to move the stone to the side of the road. After much pushing and straining, he finally succeeded. After the peasant picked up his load of vegetables, he noticed a purse lying on the road where the huge rock had been. The purse contained many gold coins and a note from the king indicating that the gold was for the person who removed the boulder from the roadway.
Read more...
Page 13 of 13