"I Have No Direct Contract and My Life is Insecure!"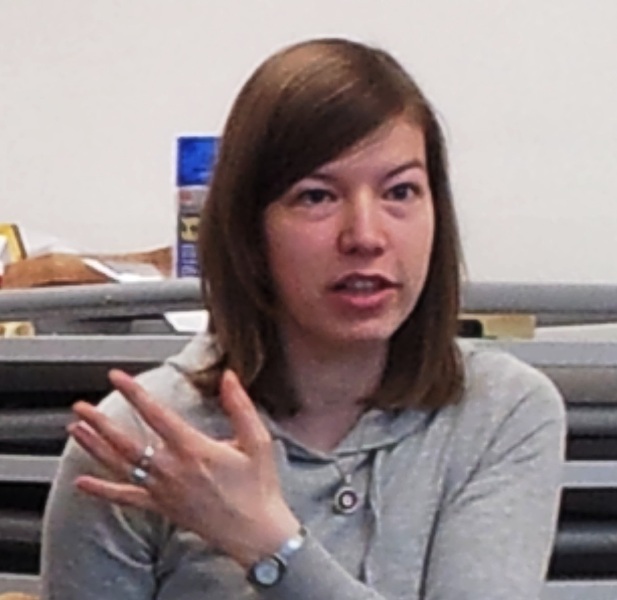 After finishing high school, I studied Business Administration and finished with a Bachelor's degree. I searched for a job for about half a year and every time my applications were rejected, the reason was: "You have no working experience" or "We are primarily looking for people with more work experience" ... Even in positions that were advertised for new entrants they kept saying, " We have found someone with more experience ".
Long story short, I got a job from a temporary work agency. I am working in the purchasing department of a big company which isn't far away from home. But this job doesn't require academic studies. My salary corresponds approximately to that of the people directly hired by the company for the same position, but those people are working together with a Buyer while I am working alone.
Read more...
A Life Story from Guatemala
The young woman worker leaves home at four o'clock in the morning every day. She has to cross the whole city to get to work.
She travels around two hours by bus, and then she has to walk almost half an hour to reach the community where she teaches children of low-income families. The neighborhood where she works is poor, marginalized, and the rates of violence are high.
Women have been raped on the stretch of road she has to walk through, and the buses she uses to get to and leave that place are those which, according national statistics, register the most armed attacks and assaults, as well as the most accidents caused by the drivers themselves.
Read more...
A Message from Asia/Pacific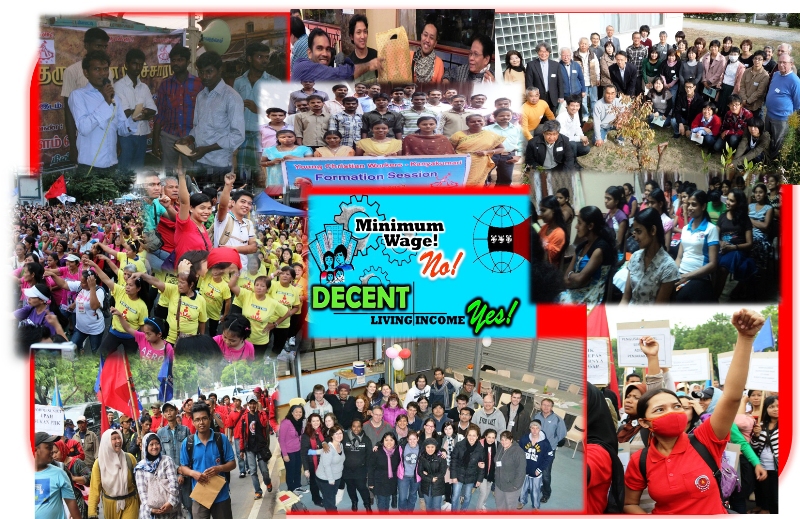 "In the world today, there is a wide gap between the decent life everyone is supposed to be entitled to and the difficulty we have to meet our most basic needs," said the YCW Asia Pacific (ASPAC) team in a statement it has recently published.
The ASPAC YCW mentions appalling statistics from international institutions. For instance, according to the World Bank, around 50% of the world population lives with less than US$2.50 a day while in Asia alone, even in the least industrialized countries, you need at least USD15 to 20 per day to meet basic needs. Around the world, 22,000 children die each day due to poverty. The ILO reported that about 5.1 billion people (75% of the world population) are not covered by adequate social security, while according to UN-Habitat, 2.6 billion people do not have access to adequate sanitation and 884 million people lack access to adequate sources of drinking water.
Read more...
Promoting the Rights of Informal Workers and Unemployed Youth
The India YCW has been carrying out a campaign for an increase in the minimum wage of informal workers and for the right to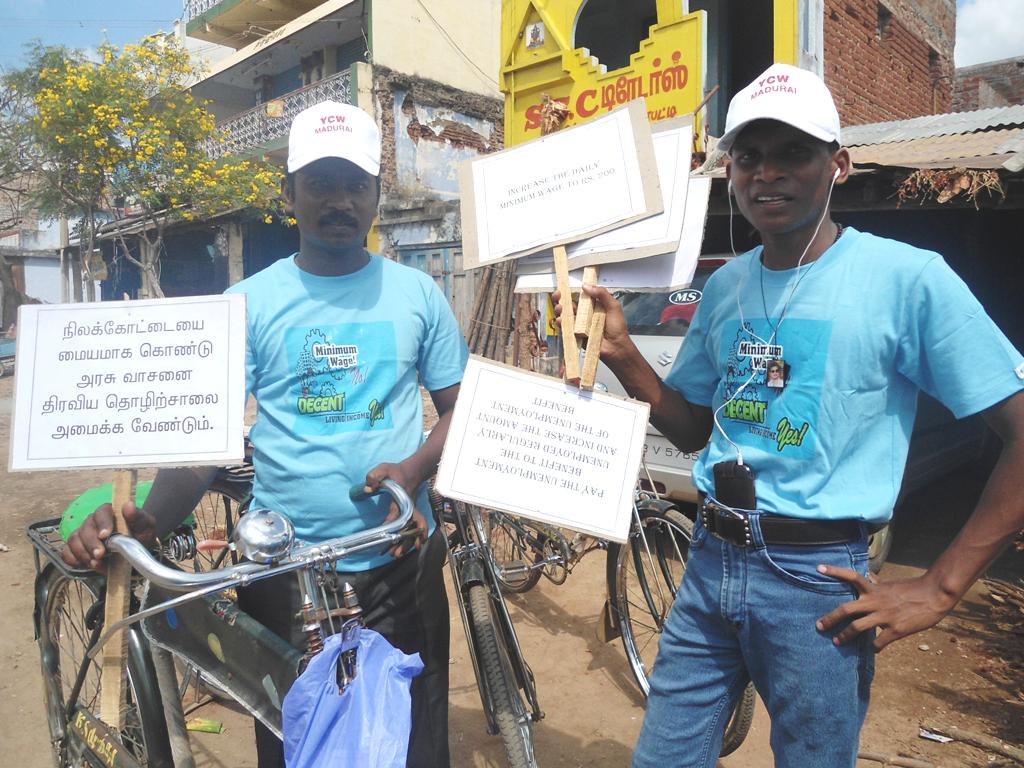 employment for the unemployed. In order to raise awareness among the civil society on those issues and bring those demands to the attention of the local government, the India YCW organised a bicycle rally covering four rural areas (Pallappatti, Ethiload, Silukuvarpatti and Nilakottai) around Dindigul in the district of Madurai, Tamil Nadu, on 16th February.
32 members of the YCW took part in the bicycle rally, holding placards with their demands and explaining the objectives of the rally and their demands to the public through distributing handbills and holding street corner meetings.
Read more...
A Campaign by the Walloon YCW to "Stop Repression"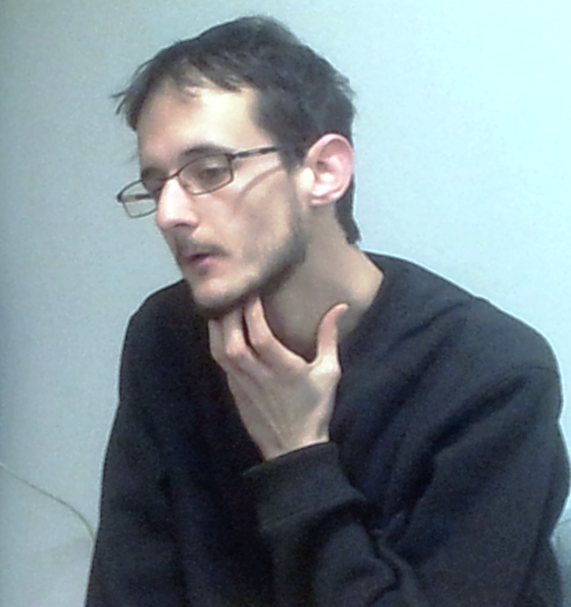 The Liege (Walloon) YCW is holding an annual event called "Stop Repression" to promote peace and demand social change in Belgium on 22-23 February 2013.
"Repression has been ubiquitous in our lives, our organization, and our society for quite a few years. In short, it has become part of young people's reality everywhere," said Slim Essaker, a YCW activist in Liege.
Slim explained that there are actually various forms of repression such as abusive stop and check in neighborhoods, administrative arrest for anyone who might disturb public order, municipal administrative sanctions, installation of surveillance cameras everywhere, expulsion of undocumented migrants, etc.
Read more...
Advancing Political Action
Last Friday 15th February, the International Secretariat (IS) team members met with representatives of Wo
rld Solidarity Movement (WSM) as part of the process of integration of the new IS members. The meeting took place at the IYCW office in Schaerbeek, Belgium.
The WSM representatives were Bart, Ben and Jeroen. Bart and Ben are responsible for WSM's international action department while Jeroen is a north-south cooperation program coordinator. All the IS outgoing and new team members were present at the meeting.
There were two strategic items on the agenda of the meeting: international political action and the cooperation program between WSM and the IYCW.
Read more...
The European YCW Develops a Continental Vision
From February 11th to 13th, the YCW national movements in Europe are meeting in
Brussels to plan collective work at the European level. Leaders of YCW Flanders, Wallonia and Germany are attending the meeting.
The aim of the meeting, coordinated by Sarah Prenger, the European Team member, is to develop a concrete plan towards a seminar and exchange at the European level on precarious work.
Precarious work is a thorny issue in Europe, especially for youth. They are forced to work in poor conditions due to a lack of job opportunities.
Read more...
Page 13 of 14