Young Workers Demand Better Jobs!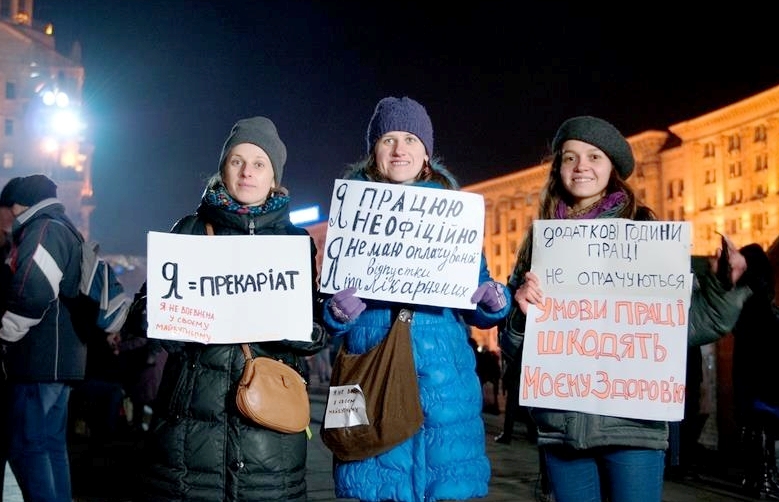 After the overthrow of the President of Ukraine, Viktor Yanukovych, the situation in Ukraine has not calmed down. The threat of war comes from Russia which cites as a reason the need to provide protection to Russian citizens who live in Ukraine, particularly in the Crimea.
Responding to the threat of war, leaders of a number of nations and the UN called on Russia to halt its plans to attack Ukraine because it violates the Budapest Memorandum signed in 1994, which guarantees the security of Ukraine against external aggression, although legal interpretation differs on whether the threat has to involve nuclear weapons.
At the grassroots level, the people continue to consolidate their forces and urge the government to take strategic steps for the recovery of the political situation in the country. The current economic and political crisis in Ukraine causes uncertainty in many aspects of young workers' lives. Life and jobs are becoming more precarious and difficult everyday.
Sofiya Lozynska, a YCW leader in Ukraine said that since November of last year, people have been protesting against corruption, the police, unfair courts, and Yanukovych's regime that represented all the mess prevailing in the country. She added that people are fighting for human rights, for normal life, for equality for all. "Revolution is not over yet, the struggle continues for we still have a long way to go to rebuild our country. Ukraine, as we all dream to see, will change after months and years of hard work of each of us, but we have achieved a first result: Yanukovych is no more our president," said Sofiya.
The YCW Response
The Ukraine YCW reported that in response to the current crisis, the YCW movement had organized a street social action to denounce the young workers' reality.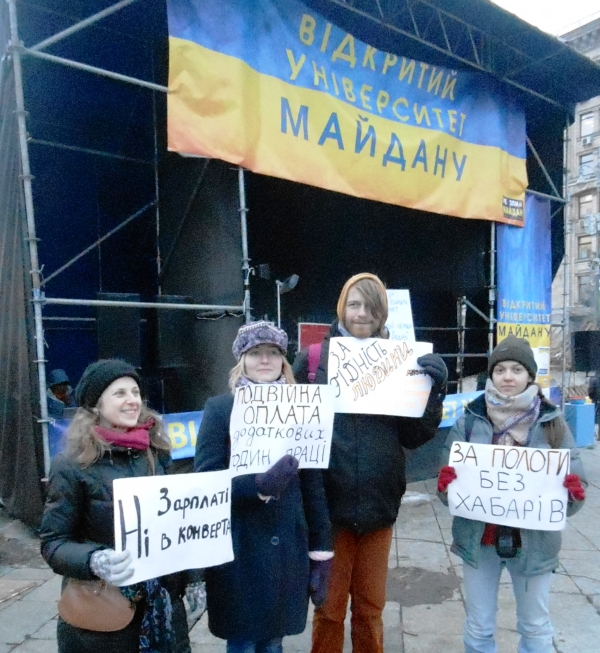 Since last December 2013, the Ukraine YCW has been carrying out an action highlighting young workers' reality: "I'm precarious", "My job is informal", "No payment for vacations and illness", "My overtime is not paid" and "Working conditions are damaging my health."
Responding to those realities, the Ukraine YCW held a rally and put forward their demands on banners, saying: "I don't want to be precarious", "We want formal jobs", "Vacations and illness must be paid", "Double payment for overtime" and "I want to have decent working conditions."
They urged the government to promote and protect the workers' rights and dignity at work, with education and medical schemes being part of it.
"I've changed jobs eight times in three years, and only one job was formal. I have an informal job now, I work 13 hours a day and I get 7 UAH (US$0.7) per hour. I studied at university and I speak 2 foreign languages but this is not a sure guarantee of a good job in Ukraine," said Maria, a Ukraine YCW leader.
The Ukraine YCW has continuous discussion with people and most of them support the demands of the movement. As a next step, they have planned to organize a rally in front of the parliament and Labour Ministry to make their demands heard.