A Campaign for Regular Work and Quality Education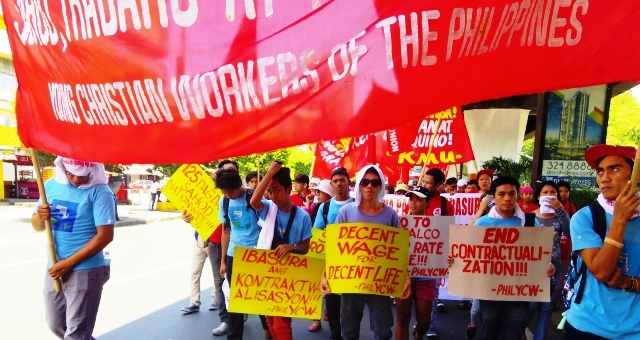 From April 26 to May 1, the Philippines YCW celebrated the International Week of Young Workers and commemorated struggle, solidarity and success. It held a series of training and awareness programs, discussing pressing issues of today, conducting home visitations to young workers and their families, and marching with different trade unions, Church people and sector organizations on May Day.
On May Day, the Philippines YCW highlighted its demand for a 125-peso wage increase nationwide for workers in all sectors. This is in line with the global campaign of the IYCW on Just Work and Social Protection and with the Asia-Pacific YCW motion for a Decent Living Income, Decent Work and Decent Life.
The Philippines YCW issued a statement during this event. They condemned the contractual work system put in place by the hiring agencies, making millions of young workers victims of a socio-economic and political crime. This prevalent contractual system has been worsening, depriving workers of their rights to fair wages, social protection and benefits, and of their right to organize. It puts young workers in general, and millions of Filipinos, in a very vulnerable situation and fills their lives with uncertainty and inequality. Statistics show that more than 3,000 Filipinos go abroad every day to find work despite threats of being exploited and discriminated overseas.
Here are some testimonies of Filipino YCW activists marching on May Day.
Our Demand: "From Contractual to Regular"
"My name is George, I am a contractual worker and I have been working in a sack factory for almost twelve years now. I am hired through an agency. I have been in different sack factories in Valenzuela, Philippines. First, I worked in Sack-line Factory where I was contacted and organized by the YCW. Afterwards, I worked at Sidel for 5 months, in IGBI factory for 6 months, in Poly Agro for another 6 months, and since 2007 I have been working in Seldon Polybag.
My status as a worker remains unclear although I have been working in the same company for over 6 years. I was hired through an agency that mediates between me and the company in terms of wage, benefits and in case of grievances. Many companies in Valenzuela are doing the same, and thousands of young workers are in the same situation as me. It is quite clear that this is a modus operandi of employers to get more income, and sadly this system has the consent of our government.
As I march in the street today together with young people and workers, we demand to abolish the contractual work and agency hiring system and I support the campaign "From Contractual to Regular."
Our Demand: "From Unemployment to Just Work"
"I am Carno, 26 years of age, and the youngest in the family. I have been unemployed since February 2014. Previously, I was working as a production officer in Techno Park Village in Cavite, an export processing zone company here in the Philippines. I was a contractual worker for 5 months, which gave me no chance to become a regular or permanent employee. Like many young factory workers there, I was hired through an agency and received a salary of Php337 per day (US$7.8) which is below the minimum wage. The agency made many deductions from my salary.
As I join today's march to celebrate the Worker's Day, I have mixed emotions. I am angry because I can imagine thousands of young workers who suffered and are suffering the same situation as mine. At the same time, I am happy because today we are reclaiming our dignity; we have one voice and one action to demand the abolishment of contractualization and a wage increase for all workers.
I am committing myself to the YCW by being involved continuously in many actions of the movement and by actively participating in its effort to reach out to more young workers".
Our Demand: "Free and Quality Education for All"
"My name is Jayson, 17 years old and the oldest in a family of five children. I have just finished my high school this year and I am afraid that I cannot pursue my college studies. My family has no capacity to send me to school. Even during my high school years, I needed to work in the evening as a part-time cook and food vendor in the street.
I dream of becoming an electrical engineer someday but I know that at the moment, it will be very difficult to realize this dream. I am planning to find work first and then save money for my studies. Hopefully next year I will be able to enter college.
As I march today and join thousands of workers, I call for the government to uplift the quality of life of every Filipino family by increasing the income of the workers and lowering the prices of basic goods like electricity, food, transportation and medicine, and to provide free and quality education."