'Young People are More Than Just Actors, They are Human Beings'
Sarah Prenger
The Commission of the Bishops' Conferences of the European Community (COMECE) and Konrad International organized a seminar on the youth employment crisis on 4th September. Sarah Prenger, the European YCW coordinator, was one of the panellists presenting the situation of young people in Europe in the first session of the seminar. Ludovicus Mardiyono and Arlindo de Oliveira, president and treasurer of the International YCW respectively, attended the conference.
In her speech, Sarah Prenger highlighted the general situation of young people today. "We experience stress and pressure in our different life spheres: at school, at work and at university. This stress has an impact on our mental and physiological well-being," she said. She added that being unemployed leads to hopelessness and frustration and has an impact on self-confidence.
Most young people today are undergoing the consequences of the labour market flexibilisation, i.e. many of them are living in unstable conditions, for instance having only short-term contracts, working for a temporary work agency or doing a very poorly paid or totally unpaid traineeship. Germany, which is so often regarded as ideal in terms of young people's situation on the labour market, also has many young people – especially young women – working in jobs which are not or not fully liable for social security. In Belgium, a country which, for some reason, is not mentioned very much in these discussions, more young people have temporary work contracts than fixed contracts. This unstable situation makes it difficult to plan, to make decisions in life and as a consequence, live one's self-responsibility.
Questions about the "European Youth Guarantee"
Regarding the "European Youth Guarantee", Sarah raised some basic and fundamental questions taking into consideration work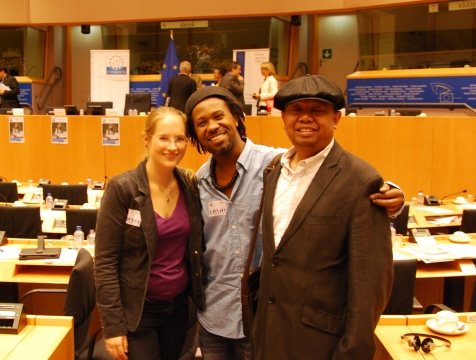 precariousness today. The first question was about the "quality" jobs, apprenticeship, traineeship or education that will be offered to everyone who is under 25 and unemployed for more than four months: "What does quality job mean here? What are the criteria and how are they controlled?"
A second question referred to the term "guarantee". Is it really a guarantee? So far, it is a proposal of the European Commission. How do the member states react on this? And is it possible for politicians to guarantee jobs?
Sarah said that there is a big difference between traineeships and jobs. Also, when it comes to apprenticeship and education, it would not be a solution if this would turn out to be a series of transitional measures for young unemployed people not to appear in the statistics.
Questions about Mobility within the EU
One other aspect of the youth guarantee and other strategies that are currently brought forward to fight youth unemployment is mobility within the EU. At this point Sarah reminded us of the fact that young people are more than just actors on the labour market: they are human beings in social networks. Leaving a country, leaving one's family and friends is also a big step which requires appropriate structures in the host country. Furthermore, it is evident that no one can expect someone to leave a country for a job with a short-term contract. Today, even within one state, there are young people who do not dare to move near their working place because they have short-term contracts; so they do not know if they will still work there a few months later. It must, therefore, be clear: in order to achieve more mobility, you have to fight unstable work!
Another question concerning the strategy of mobility is how to avoid a "brain drain" in countries like Spain or Greece. How to make sure that it is not only the "best" in every sector who are needed in the countries where young workers go? Are there investments made and structures built to establish a well-functioning system with quality jobs in these countries, too?
All the above questions prompted discussion during the seminar and will for sure contribute to the development of policies at the European level.