Making Young Workers' Voice Heard about Youth and Social Inclusion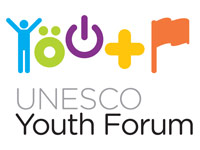 The 8th UNESCO Youth Forum, an integral part of UNESCO's General Conference, will take place at UNESCO headquarters in Paris from 29 to 31 October 2013 under the overall theme "Youth and Social Inclusion: Civic Engagement, Dialogue and Skills Development". Arlindo de Oliveira, the treasurer of the International YCW, will attend the conference.

The theme of the conference was chosen on the basis of a youth online consultation (February 2013) with the contribution of 1,895 young women and men. It will develop around the three objectives of the Operational Strategy on Youth 2014-2021, namely: i) Policy formulation and review with youth participation; ii)Capacity development for the transition to adulthood; iii) Civic engagement, democratic participation and social innovation.
The young participants of the 8th Youth Forum will have the opportunity to debate on the main objectives of the UNESCO Youth Programme and to formulate strategic recommendations for UNESCO's Member States which will be submitted to them during the 37th session of the Organization's General Conference to take place immediately after the Forum (5-20 November 2013).
The United Nations Organization for Education, Science and Culture (UNESCO) was founded on 16th November 1945. UNESCO has 195 members and eight associate members.
The world is facing a worsening youth employment crisis: young people are three times more likely to be unemployed than adults and over 75 million youth worldwide are looking for work. Many of us work in unstable and insecure working conditions. As a result, it is impossible to plan ahead both in the short and long term. Many of us have several jobs at a time to make ends meet. Young workers have problems in the workplace: unachievable targets; pressure to work overtime; working seven days a week with no day off, etc. Young workers often receive very low wages: in developing countries most of us get less than 3 dollars a day and in developed countries those working under contract and through temporary work agencies get less than 6 dollars an hour. Young workers are afraid of losing their jobs and face coercion by employers.
The IYCW has a consultative status with UNESCO. Considering its experience, it can make an important contribution in the debates taking place in that forum, providing elements from the grassroots realities. It is essential that young workers make their voices heard in this kind of platform, presenting their reality and their views.