Extending to New Places and New Sectors of Work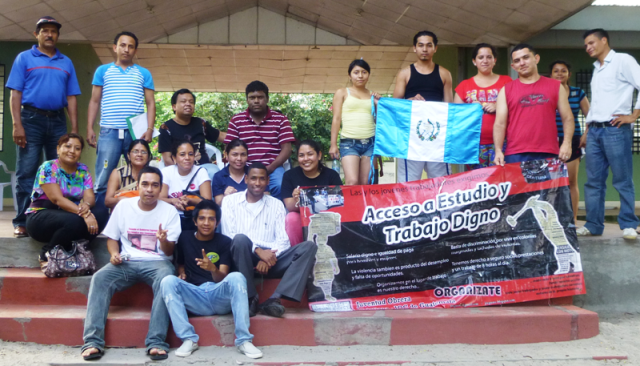 Nicaragua - Young Christian Workers from Guatemala, the Dominican Republic, Venezuela and Nicaragua are gathering in Granada, Nicaragua from 2-9 November 2013. They are presenting and sharing concrete actions that they carry out in their countries.
These actions are closely linked to the life of young workers. The Guatemala YCW has described the action they are carrying out with young workers in free trade zones and their action with teachers. The YCW in the Dominican Republic is developing actions with young workers in free trade zones and with student workers in the Universidad Autónoma de Santo Domingo (Autonomous University of Santo Domingo). The Nicaragua YCW has presented the action of young workers in Calypso Apparel and its neighbourhood action on environmental issues. The Venezuela YCW has explained how they organise the action with the workers in Graffitti Store and their action with university workers in UNES.
Thanks to the coordination of the JOCA team and the extension worker for Central America, delegates were able to identify the process, demands and impact of the actions.
More young workers have joined the YCW in those countries thanks to the actions being carried out. Young workers have increased their awareness about labour rights through the actions and the education process that are conducted.
In general, the YCW in Central America is aware of the need of trade unions as a tool to claim labour rights. They highlight the importance of the labour law and the need to defend workers' rights. All delegates are well informed of the role governments should play in changing working conditions. They are also fully aware of the importance of the YCW methodology for and during the action.
Through these progressive and conscious actions, the YCW has developed their leadership and extended membership to new places and new sectors of work. The Central America YCW is moving faster, following the orientation developed in Ghana at the International Council of the IYCW.