Young people in Europe work under increasingly precarious conditions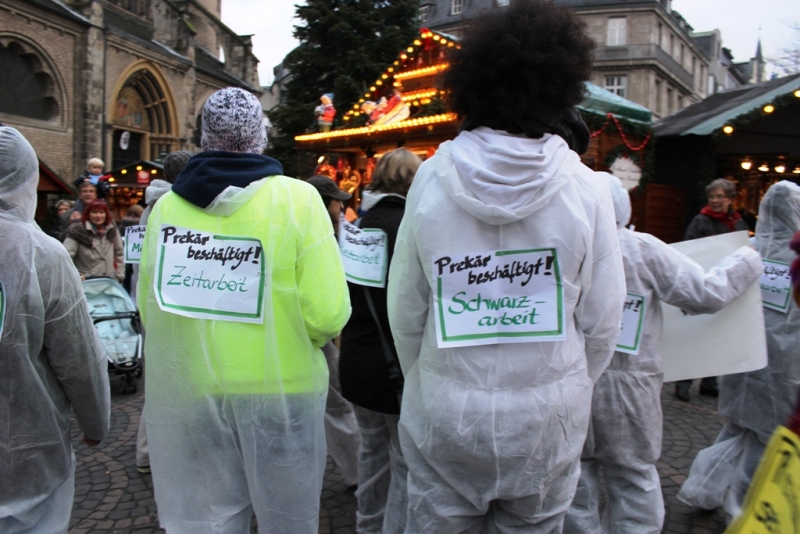 YCW leaders from Germany, Belgium (Wallonia and Flanders) and Ukraine met in Königswinter, Germany at the invitation of the European coordination of the YCW (JOCE) from 27th November to 1st December 2013 to discuss the situation of work precariousness in Europe.
This European seminar, which was conducted by JOCE under the theme of "Talkin' 'bout my generation," grappled with the consequences of precarious employment for young people in Europe. The special feature of this seminar was that all participants had been or are now in precarious employment.
Many different forms of precarious work were reflected in the experiences of young people. This resulted in a very personal and emotional discussion on the lives of young people who shared experiences of fixed-term contracts, temporary work, contract work and part-time work, among other things.
Many of them emphasized that they sometimes do not know how to pay their rent at the beginning of the month and some who are in their mid-twenties still have to live with their parents because they only get low-paid jobs.
Sofia from Lviv, Ukraine, reported that she has not found a job after studying sociology and she lives in an uncertain situation. "My apartment is empty. I do not even have the money for simple consumer goods like shoes or a pair of jeans," Sofia says.
This kind of life has also been experienced by Jallal from Brussels: "In Belgium, staffing companies only give weekly contracts. Sometimes workers are also used only for a few hours. People who do not join in come on a blacklist and no longer get job offers. So you cannot start a family yet."
During the seminar it became clear that the phenomenon of temporary work is a common problem for teenagers in Belgium. There was 8.2% of total employment in the category of "temporary employment" in 2009.
The fact that this is not the fate of just a few individuals was confirmed by Stefanie Wahl, a researcher at the Department of Theological Ethics at the University of Bamberg. "The number of precarious workers has greatly increased, not only in Germany. In particular, women and young people are disproportionately affected." According to Eurostat, currently almost 50% of young workers in Europe are employed as precarious workers. These people often do not know that they are precarious or they do not want to talk about it out of shame. As Sarah Prenger, the European coordinator says: "It is vital that young people are aware of their situation and talk openly about their problems because this is the only way they can make a difference."
Though precarious work is currently mainly a problem of young people, it is feared that the situation will continue to deteriorate. There is a "downward spiral" and formal jobs are becoming increasingly rare.
As part of the seminar, the delegates went to the town of Bonn, in the middle of the Christmas market, with the slogan "Just Work Instead of Precarious Work!" to draw people's attention on their situation.
It was amazing how many people walked toward the YCW delegates to ask questions about their action and about precarious work. Likewise, some people joined spontaneously in the action. This became clear that precarious work is a widespread phenomenon in our society.
During the seminar, the YCW found that precarious work is a European phenomenon. Decision was made to work together in the future at the European level to improve the living and working conditions.