Celebrating the International Week of Young Workers and
a Century of Commitment to Young Workers
Just work for all – our right, our passion, our action.  This is the proud boast of Inte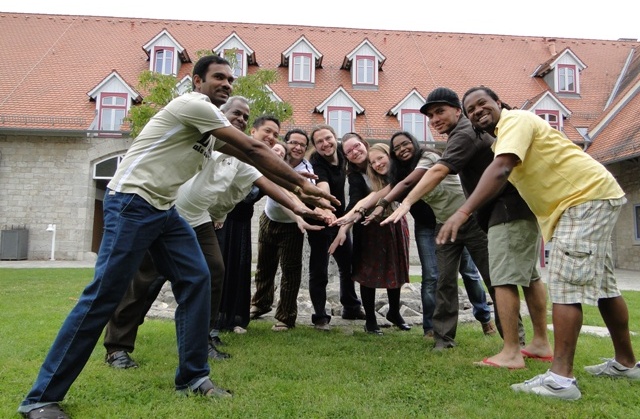 rnational Young Christian Workers (YCW), which this year celebrates a century of commitment to the rights and dignity of all young workers.
Founded by Joseph Cardijn in 1912 in response to the unjust conditions and low pay of young workers in Belgium, YCW today continues its commitment to the right of each young person to just and meaningful work and a fulfilling life.
"Our vision and action are based on the beliefs and values of our founder, Joseph Cardijn", said Geethani Peries, the International President of the YCW.  "He emphasised over and over again that "young people are worth more than all the gold in the world." We try to live that belief in our own lives and in our solidarity with young workers across the globe. As the YCW is preparing for the International Council to be held in Ghana this year, it is opportune for us at this critical moment to return to our founding spirit and examine our original charter and vision. The International Council will provide a forum for young people from forty countries around the world to raise their voices for the rights of all young workers."
"In 1912, when Cardjin started the first group of young people, there were clear contradictions between the reality of their lives and their aspirations. One hundred years later, young workers around the world also experience stark contradictions between their working conditions and their dreams of a fulfilling life. The YCW is as much needed today as it was in Cardijn's time." 
A recent report by the ILO pointed out that between 2007 and 2011, youth unemployment increased by 4 million at the global level, a huge increase on the previous ten-year period.  The situation is even more critical in countries such as Spain, Greece, Portugal, Italy and Ireland. As the ILO report points out, young people are the most disadvantaged, the most vulnerable and the worst off in all areas surveyed.
The International Week of Young Workers (24th April-1st May) provides an opportunity for the YCW to join with young workers across the world in their struggle for just work, gender equality and quality education. YCW leaders organise rallies, public meetings, conferences, role plays in street theatre to promote their actions and highlight their demands to society and governments.
The experiences of YCW members exemplify the injustice suffered by many young workers such as Broos from Belgium-Ypres and Mykola from Ukraine:
'As far as work was concerned, I had to carry 30-40 kilo metal parts and place them on a machine. To process one part, I had to reposition it 4 times and I was working with 300 to 400 pieces a day. And every day we had to process at least 200 pieces, otherwise they would say, "but what did you do today?" After a day like that, I was going home completely exhausted. And the following day, I had to go back! That was really tough! But you do get used to it after one week.' - Broos, Belgium-Ypres.
"I really wanted to work in my area of specialty. I finished my information technology course this year, but work is not easy to find, especially if you don't have experience. I have worked as a bodyguard, a seller, and other things, while taking a distance education course because I could work at the same time. Now, it is always the same - I don't have experience. But where will my experience come from? Everyone asks me the same question: "Have you got experience?" -Mykola, 24 years old, L'viv, Ukraine.
'Workers such as Broos and Mykola need our support,' said Ms Peries.  'The centenary of the YCW and our International Council in Ghana provide us with real opportunities to make a difference, and to focus even more on the International Week of Young Workers this year.  Only if we stand together for the rights and dignity of each other and for our earth can we achieve our goals as Young Christian Workers.'