Quality jobs for Youth: are we asking too much?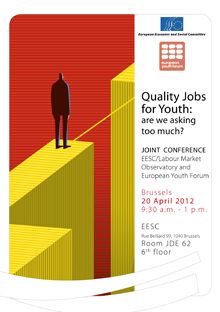 On April 20, the European Economic and Social Committee and the European Youth Forum organised a joint conference on "Quality Jobs for Youth: are we asking too much?"
The International YCW, represented by two of its members, Geethani Peries (international president) and Arlindo de Oliveira (international treasurer), attended this major event which brought together young people from many different countries of Europe as well as organizations, such as the IYCW, working at the international level, including Social Alert/World Solidarity (Ben Vanpeperstraete) and the youth wing of ACV (Tom Vrijens).
Organised by the European Economic and Social Committee/Observatoire du Marché de l'Emploi and the European Youth Forum, the conference focused on solutions to the problems of high unemployment and lack of quality job placements, and asked the question: "Are pre-employment contracts and precarious jobs a threat or opportunity for young people?"
During the thematic panel, the conference sought to answer many questions related to youth reality: Is there a need for more (or for less) flexibility on the labour market in order to help young people access the labour market? Are the stable contracts of past still possible or are precarious internship type jobs going to last years ahead? What are the employer and employee relations developing into? Is self-employment a good solution? Is flexicurity (still) the watchword? What effects (for the individual and for the society) does being a so-called NEET [Not in Education, Employment or Training] have?
The International YCW shared its experience, describing its campaign on social protection for young workers, highlighting the national campaigns carried out by the YCW movements throughout Europe, in particular in Belgium (by the Flemish and Walloon movements), Spain and Ukraine, which aim to promote an intense debate and concrete actions on the working conditions of young people hired by temporary work agencies. The YCW in those countries is carrying out actions to defend those young people's rights.
As Arlindo de Oliveira explained, the testimonies collected by the IYCW from young workers in that sector show a high level of precariousness. They highlight the working conditions they are faced with: short-term contracts, low salaries, extreme flexibility with contracts that only focus on the needs of companies, harassment, no guarantee to have access to unemployment benefits, no taking into account of young people's aspirations. This type of contract, therefore, should no longer exist.
For the IYCW, the answer to the question of the conference - Quality Jobs for Youth: are we asking too much? - is a resounding NO! Young people ask nothing more than respect for their right to work, not any type of work but decent work that meets their basic needs.
Many voices were heard at the conference, and youth problems generated numerous lines of thought. Despite the diversity of opinion among panel members concerning the flexibilisation policies, one question got unanimous support from all panel members and participants: IT IS NECESSARY AND URGENT TO CREATE OPPORTUNITIES for young people to work and study so that the countries can come out of the economic crisis that is plaguing them today.
The meeting also served as preparation for the conference due to be held by the ILO in Geneva in May. The IYCW will attend it, continuing its fight for the rights and demands of young workers. We will keep on strengthening our actions and international campaign: "Social Protection – for decent work, quality education and gender equality in society."