Social
1.      From 2008 until today we have witnessed many events at the social level around the world. One of the major events that took our attention was the uprising of young workers and youth in the Arab streets (starting from Tunisia, Egypt, Yemen, Libya, Syria etc). Also we could see mass demonstrations in different countries and continents (France, Germany, Belgium, Spain, Greece, Ireland, England, Haiti, Chile, South Africa, Zimbabwe, Indonesia, India, Philippines, etc.)
2.      Across the world we have seen civil war, the ongoing war in the name of eliminating terrorism in different countries and the suffering of the people.
3.      We also witnessed severe earthquakes, floods, famine and other natural disasters in many countries.  Moreover, environmental issues such as global warming and pandemic diseases such as HIV/AIDS have been affecting millions of people all over the world.
4.      At the same time, we witnessed the World Social Forum in 2011 in Dakar where thousands of young people took up the slogan that "Alternative is possible". The United Nations declared 12 August 2010 to 11 August 2011 as International Year of Youth (IYY).  Through numerous events associated with this, millions of youth all over the world were able to give expression to their dreams and aspirations.  
Political 
5.      From 2008 onwards there have been changes in the governments in many countries. Oppressive dictatorships have been replaced (in Tunisia and Egypt) or are in the process of being forced out in many Arab countries.
6.      There have been left or centre-left governments (progressive governments) coming into power in South Africa, Brazil, Ecuador, Bolivia, Venezuela, Peru, Nicaragua, Paraguay, India, Philippines and Australia.
7.      On the other hand, there have also been right or centre-right governments coming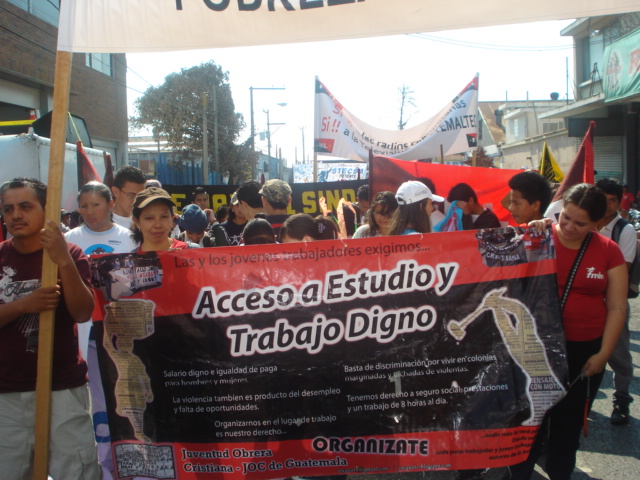 into power in Italy, France, England, Mexico, Canada, Chile and Poland.
8.      We have witnessed many governments using military and security forces to prevent the political and democratic activities of its people.
9.      All of this indicates a strong a trend towards the polarization of political forces in the world today as conflicting forces try to maintain political domination, policies and interests (across the Arab world, in the European Union, Union of African Countries, ASEAN, ALCOT etc.)
Economic
10.  At this time, we are facing a second economic recession and financial crisis. The immediate response to this crisis by the governments especially in Europe and USA has been to reduce public spending. 
11.  We see most governments privatising (selling) public sector enterprises and companies and allowing the implementation of a contract work system.
12.  As a consequence, there are at present more than 200 million people officially unemployed worldwide, including nearly 80 million young women and men eager to secure their first job. The number of workers in vulnerable employment is 1.5 billion.  
13.  Clearly, the contract and sub contract system is implemented for the benefits of the capital rather than the work force. We see it in many different forms such as outsourcing, agency hiring, home-based work, and apprenticeship.
14.  The trade and economic agreements between countries are stealing the wages of young workers of the least industrialized economy.
Cultural & Ideological
15.   Across the world community, we see a culture of political and economic domination by the group of powerful nations (G8), investors (financial corporations) and institutions (IMF, World Bank) negatively impacting on the  culture of political cooperation and economic solidarity.
16.  There is an increase in the level of consumerism everywhere. It is fast becoming the criterion by which we define the worth of a person in society. Having a new brand car, House, TV, Mobile phone, and the latest products, etc determines the status and the worth of the person in the community. Mass media is exerting enormous pressure on people to compete with others in consuming products.
17.  On the other hand, we see, as well, that there is an ongoing struggle by many people to retain the cultures of aboriginal and indigenous communities, which are underpinned by the values of hospitality and solidarity.
18.  Finally, we see gender and culturally defined roles of men and women operating in the home and local community. This often promotes the role of women as mothers and housekeepers, limiting their capacity to gain equal access to education, politics and jobs as men.