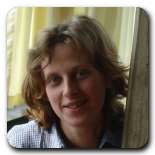 Nadia is 24 years old. She comes from a village around 10km from the city of L'viv in the West of
Ukraine
. There are 6 members in her family, and her parents work in a small shop selling produce from the region.
Nadia has finished 6 years of study of Philosophy in University. Before commencing her studies, she had hoped to become a professor some day, but has since changed her mind, as she has more interest to work directly with people.

Feeling useful in society
"I think it's really necessary for people to feel useful in the society."

Nadia has had different experiences of work, but all work has been temporary. "I once worked in a pizza restaurant for 14 hours a day, with just one 15 minute break. I've also had work in a café, as well as temporary work with an archaeology organisation."



"After suffering the consequences of long hours of work and poor conditions at the pizza restaurant, I decided to leave. Then I worked at the café, but my boss gave away my job to a friend who lived in the same building as the café. The work at the archaeology centre was just for two months."

Being unemployed can be a lonely experience
Since Nadia is unemployed, it is necessary for her to live at home to get the support of her family. She also realises that being unemployed can be very isolating and a lonely experience.

"When I was studying at the university, I had lots of friends, but when I finished I changed jobs a lot, my friends were also older and I wanted to work with young people. Without regular work, I missed the social contact. This is important for life – to integrate into the society."

When Nadia became unemployed, she visited an agency and what she saw there was shocking for her.

"The people employed there were not doing anything to help the situation of the unemployed. The agencies are not functioning well. It's paperwork and not about the people themselves. They just give you a list, but they don't talk to you."

With her personal experience, Nadia began an action to make contact with other unemployed to know their experience.

"We are beginning an action for the unemployed people. It's just a few weeks since this action has started. The goal is to be together with the young people who are not working, to give advice on the law for the unemployed and to create a good atmosphere. I chose to work with the people who are visiting the agencies. The objective is to accompany the unemployed so that they don't have time to be sad about their situation."

Knowing that someone cares
There are six agencies in L'viv. There is also another centre for young people.

"For one month we have had contact with the people responsible for these agencies to find out if they wanted to collaborate with us. And normally this is not a problem."

Nadia began by visiting the agencies and made an analysis of the work of the staff. With this further analysis, she then became motivated to initiate a group of unemployed.

"I decided to start this group by making an excuse to contact people – like asking them if they want to join together with others to write their CV. I spoke to five people, and from these five, two were not interested, one was very closed, and another two were interested – not necessarily in writing their CV, but to know that someone cared about their situation."

Nadia discussed with the young people about why they are visiting these agencies. "It's difficult to find some work through the agencies. We can't give them these things, but that's the moment we invite them to tell about their experiences in the base group. Together we can search for solutions."

The action goes on
Nadia is not working alone. Some of them have the theoretical knowledge, others have the practical knowledge.

Along with 3 other friends of Nadia, the two people contacted form a small group. Nadia hopes to form a group of 5-6 people who can meet regularly and accompany the process of searching for work.

The official rate of unemployment is 3%, but in reality it is much more. 70% of the unemployed are young people and most of them are women.

"We don't know the real numbers, because there is also a big problem with the informal sector."

The action is continuing, and Nadia now uses a card to help identify herself when she visits the employment offices to meet the people.