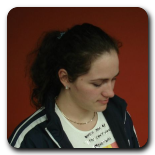 Maria, aged 20, comes from the town of Negresti, in North-West
Romania
. She now lives in Baia-Mare, around 50 km away, as she says most young workers find it difficult to find a job in her home city.
"Young people accept jobs without a contract just to have money. It's difficult to survive. The cost of food and rent is really high, so many live at home with their family and rely on support from friends. They are always in debt."
Many migrate because of bad working conditions
In Negresti, young workers typically work in either one of two big factories, or as shop assistants, in restaurants, bakeries, or as drivers for companies.
"Many migrate because of bad working conditions or poor salary. My mother went to Canada to work for 9 months, but now the money she raised is finished."
As a worker without a contract, Maria learnt of the difficulties facing many young workers in her home town.

"I was working for one year in a small shop selling food items. I worked 14 hours per day, but was paid only for 8 hours. I did my best – I cleaned, organised the stock, and built a good relationship with the customers. I hoped that one day my boss would fulfil her promise and give me a contract."

"During my time working in the shop, I came to know the customers. They were the daily workers, working from 7.30 am until 9 pm in the summer. They were also migrants, working as woodcutters for a private company and without protection and safety. Sometimes they spent a long time waiting for their salary. I had to keep the shop open late, so they could come after work. They were the primary customers. One day one of them broke his leg but had to go to hospital without any medical benefit protection. Since the workers were given a place to live by the company owner, they never complained about their conditions."

Their workplace was no good but they needed the money
Maria believes it was the lack of security and uncertainty that limited their action.

"I could see that what the woodcutters were experiencing was making them angry, but they were blocked. They knew their workplace was no good, but they really needed the money. They came to the city for work, only for the money to survive."

When Maria met the YCW movement, she slowly became more aware of her rights in her workplace.

"Workers don't know about the social security system. If you don't have a contract, you don't have protection or any insurance for your future life after work. For example, I also didn't know it was possible for me to be registered with the unemployment office if I didn't have a contract. "

Maria was introduced to the YCW by a friend who invited her to a social weekend. The YCW was doing humanitarian work, helping those without family.

"After one year, I met the coordinator, Raluca, who was teaching us about the method of the YCW. After the course, things became clearer. I started to take up responsibility in the YCW and participated in a Global Training Project where I learnt about the actions of the YCW."

My boss had all my respect until I became aware
"Because of the YCW, I learned about the registration with the unemployment office which I could have had as a worker without a contract. One weekend I wanted to attend a YCW meeting, so I worked all day Saturday, and only half a day on the Sunday, but for that weekend, my boss took a full days' pay from me. Then I became angry and started to question this."

"I was complaining about the government, but not to my boss. My boss had all my respect until I became aware".

"My action then started with my boss. I demanded a contract but she kept delaying this, warning me that I would have less money because of the taxes I would have to pay. I had to keep demanding, and was always given excuses. I continued to work for 14 hours per day, while being paid for only 8 hours."

The decision was clear … I wanted a contract
"She made me feel stupid. When I demanded the contract she responded with more questions. 'You have to think,' she said. 'Do you want a contract, or 20% more on the salary?' I kept demanding because of what I had learned in the YCW. She gave me one week to think, but for me the decision was already clear. I wanted a contract. At the end of that week, she gave me an extra 2,000,000 Romanian Lei in the hand, to try to tempt me. It was offensive to me because it was as if she felt I was only working for the money."

"My decision finally was to leave this work. My action was to decide not to accept this work unless it was with a contract. I had lost another year without a contract – another year without the protection."

"My boss employed another two people to replace me – a mother and daughter. They too, had accepted the work without a contract, but I told them to demand the contract from the boss, and informed them of their rights and protection that they would lose without this."

My dream
"My dream is to have a place of work – with a contract! I want to have a stable life!"