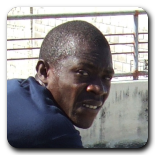 My name is
Legima Leres, I am 26 and I live in Port-of-Prince
. To earn a living, I sell phone calls in the streets. This is a service provided by young people who are unable to find a job to make a living and who want to do it decently.
I work every day from 5 am to 8 pm, i.e. about 15 hours of activity. I have no fixed place to do that. I have to walk down the streets to meet people who want to make phone calls. When I am in a place like a public square (park), I sit down to take a break and I drink a little water to refresh myself.
To be able to do that work, I rent a phone for 350 gourdes per week, I buy a prepaid calling card for 150 gourdes + a 10% government tax that the state gets on all products people buy. The customer pays 5 gourdes per minute. It is not very easy to use more than one card of 150 gourdes every day. There are often rivalries among us because everyone wants to sell as many phone calls as possible every day as we get 5 gourdes in our pocket for each minute we sell. This activity is not recognized by the telephone company but it has a very positive impact on the sale of calling cards because there are several hundreds of young people like me who do this across the country.

Another big problem we have is the people who are discourteous. They sometimes discriminate us, they do as if we were responsible for the situation we live. Depending on the rhythm of my activity we cannot buy too much to eat, we need to be careful and not spend all our money on food. It is not possible for me to continue going to school because of this difficult economic situation I am faced with. But there is another school for me: the YCW! There I have the opportunity to share with other young people who are more advanced and accept me as a brother. At the YCW, I learn that I have dignity as a youth and I am not insignificant. I am convinced that I make my contribution to society and I am a human being.

In this context, I am expecting a change in my situation as youth. This is why it is more than necessary to get fully involved in this campaign on the informal sector in my grassroots group in order to force the Haitian government to take into consideration the situation of young people in the sector.