Press Releases
Discrimination and racism on the part of the police, repression of people's movements, migrants hunting, tracking down of homeless people, widespread filing of personal records… It is most urgent to get organized and denounce the security logic. The Stop Repression campaign has been mobilizing against police violence and state repression for eight years now. We hope many of you will join us in the streets of Charleroi on March 15 for the International Day Against Police Violence!
Stop repression of migrations!
Subject to a repression organized at the highest levels of the state, the only crime of refugees and undocumented people is to look for a better future. They are arrested with brutality and placed in closed centers pending deportation. Closed centers are real prisons, and detention conditions are so bad that some migrants attempt to take their own life. Nowadays, even families with children can end up in a closed center. Nobody is spared by those racist security measures taken by the authorities.
Read more...
The International Young Christian Workers (IYCW), a young workers' movement of education through action, present in over 40 countries around the world, has released the following statement regarding the difficult social, political and economic situation of our brotherly people of Venezuela, in particular the working class.
1. We want to express our full support and solidarity for all social movements in Venezuela that are calling for a strengthened dialogue, the only mechanism to solve the internal problems within the limits of the democratic powers under the Constitution of the Bolivarian Republic of Venezuela and the international law, to make people's living and working conditions more dignified.
2. We reject the international interference, the unilateral sanctions and the freezing of assets abroad imposed outside the framework of international law against the Bolivarian Republic of Venezuela. They are affecting the Venezuelan population and undermining the social protection policies established for young people and for the society as a whole.
3. Under the constitutional democratic principles, in order to prevent a further deterioration of the difficult situation and to avoid jeopardizing the national sovereignty, we reject any military action that any nation might carry out in Venezuelan territory.
Read more...
"Rethinking Labour: Ethical Reflections on the Future of Work"
The Caritas in Veritate Foundation recently presented their tenth working paper. Recent decades have witnessed the consolidation of a global economic system strongly characterised by exclusion and inequality as a result of a largely excessive and misplaced trust in the omnipotence of the markets. Today, the distortions and dysfunctions of the free market economy tend to adversely affect the lives of individuals and communities more than ever before. Consequently, work itself, together with its dignity, is increasingly at risk of losing its value as a "good" for the human person and becoming merely a means of exchange within asymmetrical social relations. This calls us to rethink and reconsider what labour is and what it means for the economy, society, policy.
Showing different challenges in the world of work today connected to case studies of action fighting these challenges, the publication gives a broad contribution to ILO's Centenary Initiative on the Future of Work. One of the case studies presented is YCW Haiti's action to build a cooperative production of salt in the Jean Rabel salt mine.
Read more...
The future starts today, not tomorrow.
-Pope Francis I
The Network of the Catholic Inspired Organizations, together with the Commission of the Bishops Conference of the European Union (COMECE), organized panel debates at the European Economic and Social Commission last November 27, 2018. The Conference discussed what the future of work looks like for the next generation in the midst of digitalization and robotization, as we know that the world of work is facing many transformative changes, accelerating globalization and the rise of artificial intelligence on the one hand, and ecological challenges and a rise in unemployment on the other hand.
Various panel experts underlined the importance of work from an inter-religious dialogue perspective, and John Harley of Eurofound presented a research on the issue of accessibility to work, unemployment, opportunities and threats. The statement of Ms. Sarah Prenger, the International President of the International Young Christian Workers (IYCW) who read testimonies and realities from many young workers in Europe, describing the challenges they face every day, was a good opportunity to confront those data and research.
Read more...
The International YCW has lost a former YCW member, Marie-Paule Crockaert, who died yesterday at the age of 69.
Marie-Paule had been working for years as a volunteer in the archives of the IYCW International Secretariat, and her contribution was essential to preserve the history of our young workers' movement.
The International YCW expresses its deepest sympathy to her family and her many friends.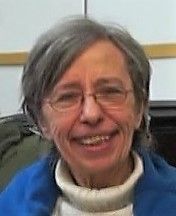 Marie-Paule,
Thank you for your strong commitment to our movement. You have walked with us for years. Today you are gone but you have left in our hearts the most beautiful part of you, your joy, your cheerfulness, your energy, your sense of solidarity.
Marie-Paule, today, tomorrow and forever!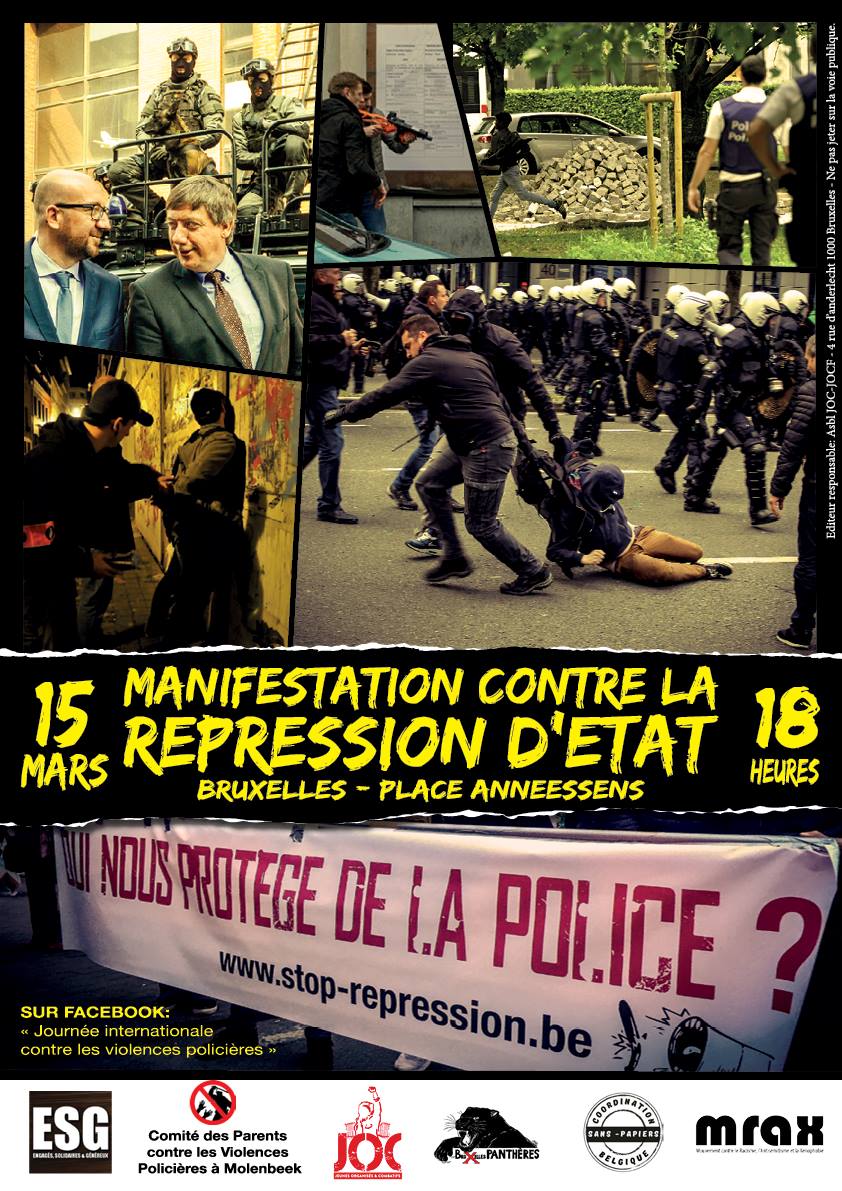 On the occasion of the Day against Police Violence, "Stop-Repression" campaigners are organising a demonstration against State repression. This gathering is organised by JOC, MRAX, Coordination of Undocumented migrants in Belgium, ESG, Bruxelles Panthères and the Parents' Committee against Police Violence in Molenbeek. It has also received the support of several associations like CWM, IYCW, CNAPD, CADTM, EcoloJ, Jeunes CSC ,... This campaign has been organized for 7 years now on each March 15th. In 2017 there were about 800 demonstrators marching in the streets of Brussels.
"Exploiting people is a crime,
but exploiting women is worse: it destroys harmony"
Pope Francis I
Read more...
Today, November 25, as we commemorate the International Day for the Elimination of Violence against Women, we the International Young Christian Workers raise our voices to denounce the widespread violence and discrimination that young women workers experience every day at work and in the society. One of them is Mary, 28 years old, from Nicaragua.
"I am working in a free trade zone for Hansae Nicaragua SA, a garment factory. I have worked there for one year as a machine operator.
In our country, gender-based violence is a problem we face every single day at home, in the way they educate us to assume household tasks because we are women, e.g. cooking, washing, housecleaning, taking care of kids… When I leave my home and go to work, I am faced with sexual harassment in the street every day. The society downplays this practice as something harmless, but in my opinion, it is also gender violence and I really feel harassed as I walk among the people.
Read more...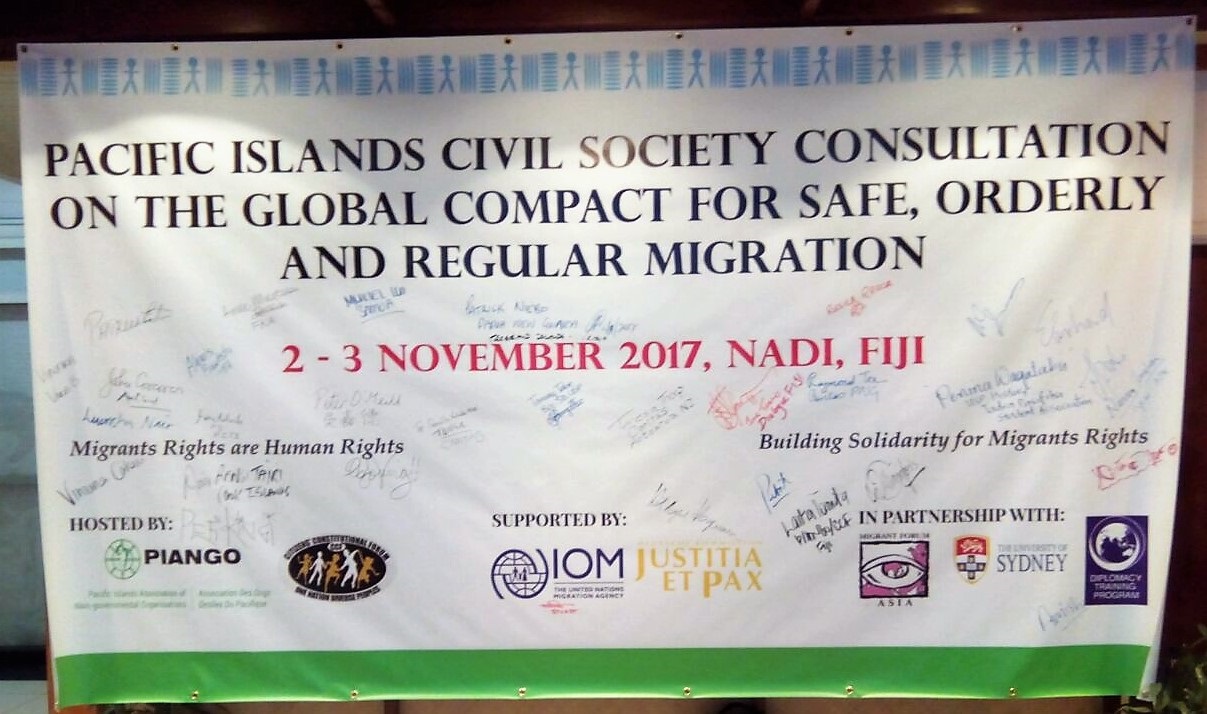 The forum of the Pacific Island Civil Society Consultation on the Global Compact for Safe, Orderly and Regular Migration is a response by civil society stakeholders strongly endorsing dignity for safe, orderly and regular migration into and from the Pacific Region. The said regional consultation was organized in Fiji from November 2 to 3, 2017, by leading civil society organizations such as the Migrant Forum in Asia, Justice and Peace, Sydney Asia Pacific Migration Center and others. The Asia Pacific International Young Christian Workers movement was represented by Nanang Ibrahim.
Read more...
by Basma Mikhail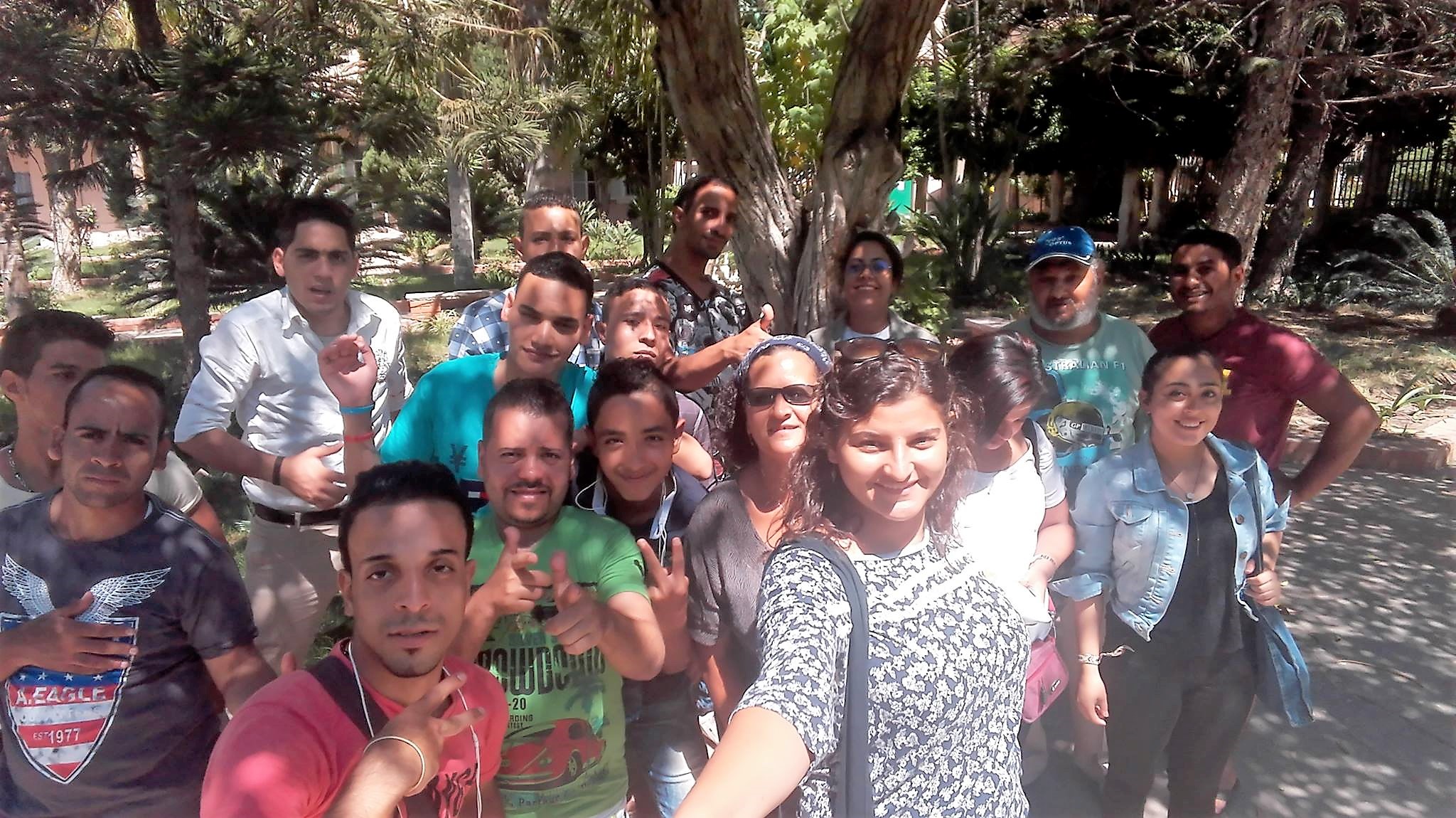 Fourteen young workers and leaders of YCW Egypt gathered in Alexandria from August 31 to September 2, 2017 to live together and discuss their future. There were 10 young men from el Khranfish base group working in different sectors such as tuk-tuk drivers, gold makers, shop workers, and factory workers, three young women from El Sagood base group who work in the service sector as teachers and nurse in a private institution, and one person from El Osairin base group who is a student. They have been supported by former YCWers and collaborators.
Read more...
It is with great sadness that the International YCW announces the passing of our brother, friend and comrade in arms, James Denteh.
James, a member of the YCW Ghana national movement, outgoing member of the IYCW International Team who assumed responsibility in the African continent over the 2012-2016 period, contributed to the dreams of many working-class youths around the world through his experience as an activist, and he leaves his footsteps and thoughts so that we can continue our struggle for a world with more dignity and more justice.
James, you are not gone; you are here in our lives and in the heart of each YCW member.
James, you are not gone; your ideas, your thoughts and your dreams are with us in our day-to-day struggles.
James, our YCW brother yesterday, today and forever.
Page 1 of 9