Press Releases
The IYCW and WSM Together at the ILO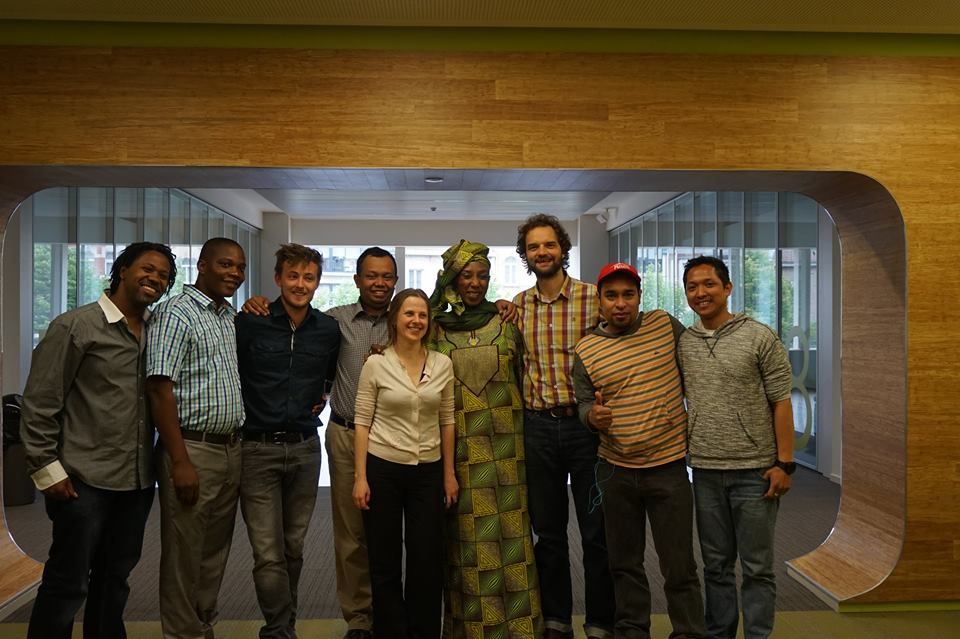 "We need to walk nearly 10 kilometres to reach the pond where we extract the salt, and we earn 60 gourdes ($1.5) per week. With that money, we can contribute a little to the family expenses and we have little money left. We are saving money to buy mules to carry the salt bags over those 10 kilometres, but we earn very little. There aren't many job opportunities in the formal economy in Haiti, we have to work hard and make use of the low income we can get with our base group." A YCW activist, Jean Rabel, Haiti
Young workers' problems have an international dimension as there are a reality everywhere in neighbourhoods, communities, factories, streets, and all places where young workers are. Addressing those situations is a real challenge for our movement.
Read more...
The First Elected President of the International YCW has Died
Romeo Maione, first elected president of the International YCW, has died after a long illness on 12 May 2015 at the age of 90.
As a Montreal industrial worker, Romeo first joined a YCW group organised by Fr Wilfred Dore CSB. This decision transformed his life.
Rapidly he became a national leader and national president of the Canadian YCW.
Given his ability and his command of the Italian language, the IYCW recruited him in 1956 to organise the International Pilgrimage to Rome which drew 32,000 young workers from every inhabited continent, an extraordinary achievement in those days before jet travel.
Read more...
Contributing to the common good of humanity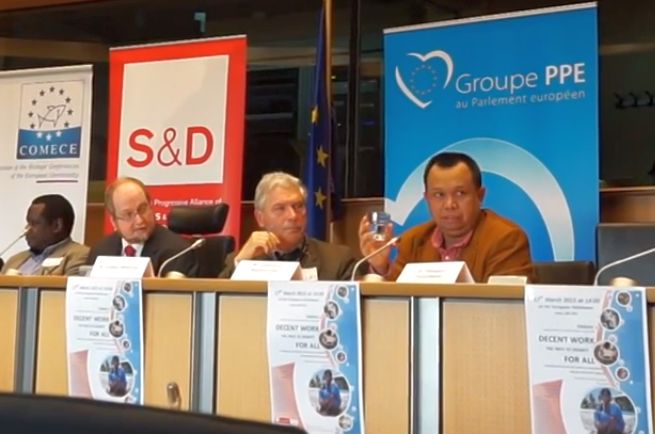 The world today is no longer sustainable. What is happening now is not a financial crisis with economic consequences; it is not a job crisis resulting in huge unemployment. It goes beyond that, it is a crisis of the system.
What we can do now?
We should be brave enough to take steps in order to change the system. We should transform this world into a new paradigm, a paradigm of life against a paradigm of death. The logic of the current system (capitalism) is not to provide solutions to the problems but to maintain itself and save itself by sacrificing billions of human beings as well as nature.
Read more...
Standing Up Against Exploitation, Oppression and Exclusion
From 24th – 30 April 2015, the International Young Christian Workers (IYCW) will celebrate the International Week of Young Workers (IWYW) under the theme: "No Worker without Just Work". In doing so, the IYCW wants to emphasize the struggles of young workers against the oppression they face in their day-to-day life, which is rooted in the class system that has always utilized it as a way to maintain the domination of the wealthiest and most powerful 1% of the population over the remaining 99%.
This week emerged out of the struggles of the working class youth who organized themselves as an independent force in order to be trained to stand up against all forms of exploitation, oppression and exclusion.
Read more...
The IYCW celebrates the International Women's Day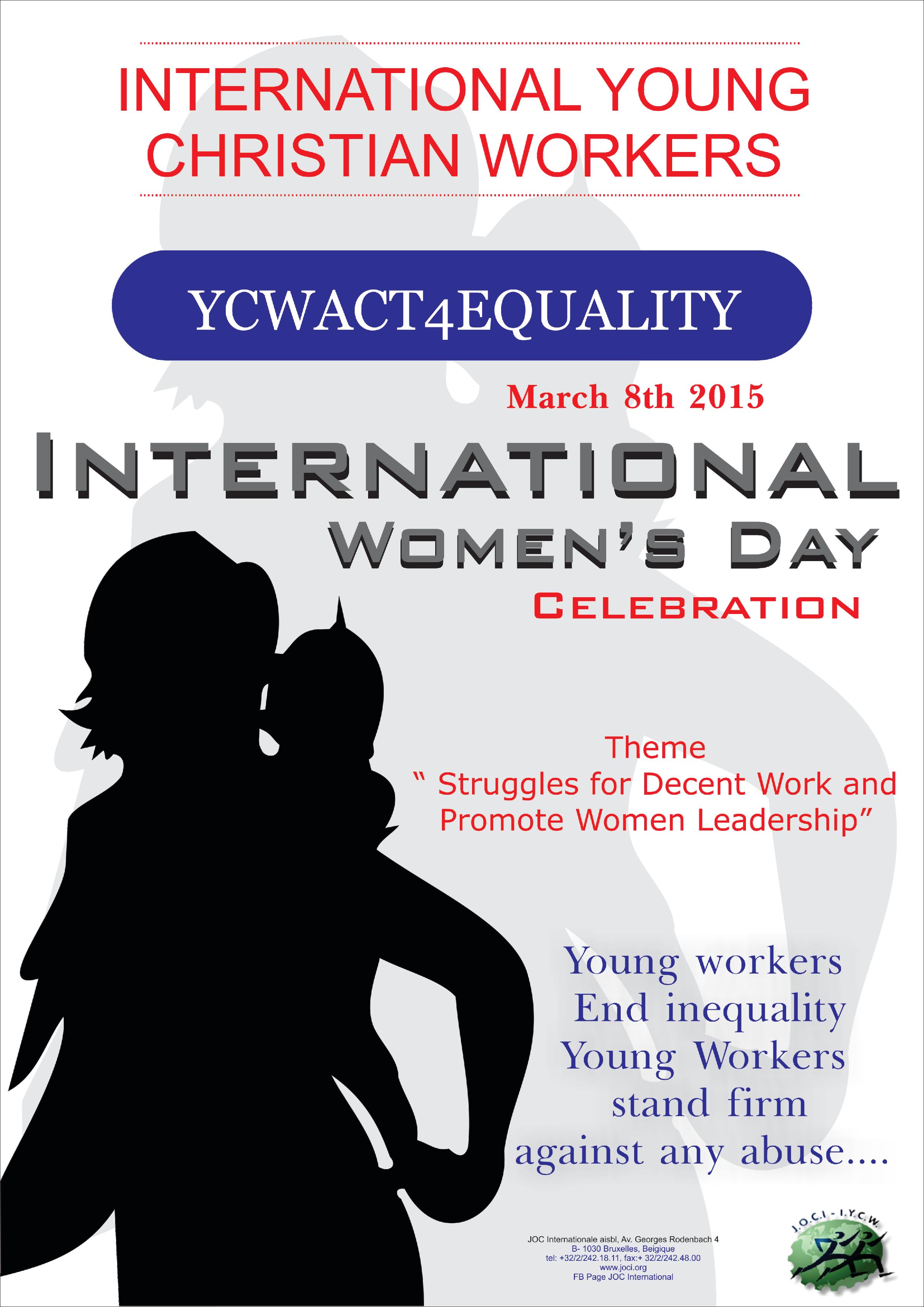 To mark the International Women's Day 2015, the International Young Christian Workers is highlighting the day-to-day living and working experiences of young women workers.
From our contacts with young women workers on a regular basis in our base groups, we have the first-hand experience of their situations, we know that women face great inequality related to gender aspects in their families, society, factories, offices, trade unions, and even churches. Women do not have the same rights as men when it comes to making decisions. In terms of salaries, women are paid less than men in many instances.
Read more...
A Meeting of International Catholic Organizations in Brussels
The group of 10 International Catholic Organizations, mostly movements inspired by Cardinal Cardijn, met last February 14, 2015 at the IYCW International Secretariat in Brussels to strengthen their network.
The meeting was attended by the International Catholic Movement for the Intellectual and Cultural Affairs (Pax Romana-MIIC), the International Young Christian Workers (IYCW), the International Federation of Rural Adult Catholic Movements (FIMARC), the International Movement of Catholic Agricultural and Rural Youth (MIJARC), the International Coordination of Young Christian Workers (CIJOC), the International Movement of the Apostolate for Children (MIDADE), and the International Movement of Apostolate in the Independent Social Milieus (MIAMSI).
Read more...
IYCW focus on goals 4, 5 and 8
Session after session, the 30-member Open Working Group (OWG) of the UN General Assembly has defined Sustainable Development Goals that are accompanied by targets and will be further elaborated through indicators focused on measurable outcomes. They are action-oriented, global in nature and universally applicable. They take into account different national realities, capacities and levels of development and respect national policies and priorities.
They build on the foundation laid by the MDGs, seek to complete the unfinished business of the MDGs, and respond to new challenges. These goals constitute an integrated, indivisible set of global priorities for sustainable development.
Read more...
25 November - 10 December
The International Young Christian Workers (IYCW) is commemorating the International Day for the Elimination of Violence Against Women today, 25th November 2014, and encourages all YCW national movements worldwide to initiate and take part in actions to end violence against women.
The action commences each year on 25th November and concludes on 10th December - International Human Rights Day.
During these 16 days of action against gender violence, the IYCW encourages all national movements around the world to call for the elimination of all forms of violence against women.
Read more...
Pope Francis Joins The Call of the Silenced, Marginalized and Secluded
The World Meeting of Popular Movements in which the International Young Christian Workers (IYCW) actively participated was held in Vatican City from October 27-29, 2014 with more than 100 popular movements and organizations. Andy Predicala represented the IYCW in the event.
During the plenary session, the IYCW emphasized the precarious situation of workers, especially young people. There is widespread underemployment and lack of job opportunities. The high rate of youth unemployment and the strong tendency to find work in the informal economy without any protection of labor rights or access to social protection are becoming threats. Even those with a job often suffer from work insecurity, resulting from underemployment or casual and vulnerable employment. Forecasts raise concerns that if this crisis continues, more than 215 million may be unemployed and jobseekers by 2018.
Read more...
The IYCW seminar held in Belgium last September was an opportunity to interview young workers from each continent. Antoine from Belgium, Doriabelle from Gabon, Meiver from Venezuela, and Nanang from Indonesia shared their views about the world of work and the action of the movement.
Nanang, Indonesia YCW
What are the main challenges for the movement in your continent regarding capitalism?
In our continent, it is a big challenge to organize the workers in the factories; they work long hours and that is why they have no time to join our meetings. There is also a lack of awareness: workers do not know what their rights are. Other challenges include individualism and consumerism: in factories employers (capitalists) create competition among workers.
Read more...
Preparing Ourselves to Renew Society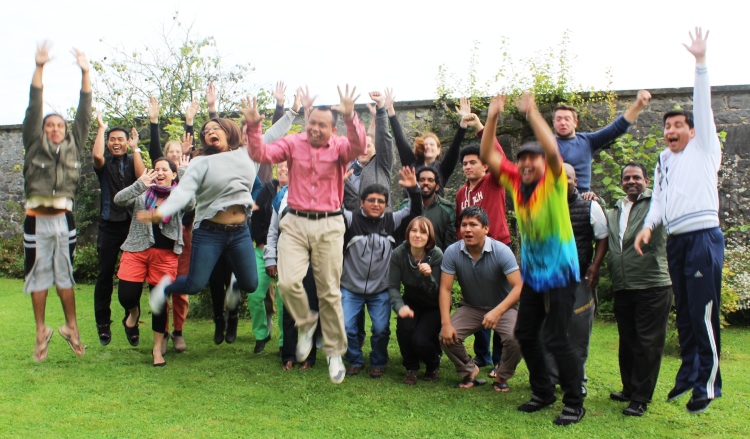 Dear fellow young workers of the world, greetings from the seminar of the International YCW in Assesse, Belgium. We are in solidarity with your daily struggle for dignity in our hearts and minds. You have delegated leaders from your national movements from countries as diverse as Australia, Brazil, Flanders, Gabon, Germany, Guatemala, Indonesia, Peru, Quebec, Venezuela and Wallonia. Honoured with your faith we would like to share with you a little of our work. Work carried out to prepare ourselves to renew society.
Read more...
Page 2 of 7