Press Releases
"Let justice roll down like a river, and righteousness like an ever-flowing stream"
Amos 5:24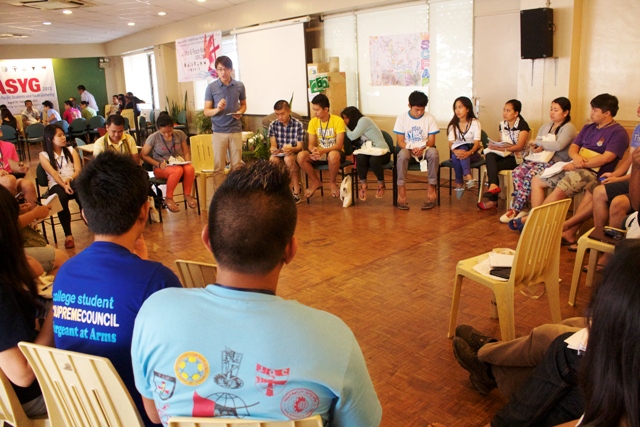 Thus begins the statement of the Ecumenical Asia-Pacific Students and Youth Network (EASY Net) which held its 5th Asia-Pacific Students and Youth Gathering (ASYG) from August 30 to September 5, 2013 in the Philippines.
Delegates, coming from the many different contexts and cultures that make up the richness of the Asia-Pacific region, prayed together and shared their peoples' struggles, hopes, and dreams. The time they spent together enabled them to better discern their "Christian calling to stand in solidarity with those who are struggling for life and dignity."
Read more...
Participate in our International Fundraising Campaign!
Make a Donation!
On August 25, 2013, the International Young Christian Workers will celebrate 56 years of continuous struggle by the working class youth of the world, united within the movement. The IYCW is part of those movements which continue to aspire to, and build a new society. It unites young workers and spearheads campaigns to promote respect of all fundamental human rights.
2013 is yet another opportunity to promote change and live out new values leading to a new society, a classless and just society, where exploitation, poverty, starvation, discrimination will no longer be in all spheres of life.
The International Young Christian Workers will be moving forward and confronting the challenges of many young workers who work under unstable and insecure conditions. Young workers who are found in temporary and part-time jobs and receive very low wages. Young women workers who are facing sexual harassment and gender discrimination and earning less than their male colleagues.
Read more...
The IYCW and WSM take the floor at the 102nd Session of the ILC
Thank you Mr. Chairman,
Distinguished Delegates,
Ladies and Gentlemen,
It is indeed an honor for us to be in this strategic forum and to be able to make this intervention on behalf of the International Young Christian Workers (IYCW) and World Solidarity (WSM).
First of all, we would like to congratulate the secretariat on their report on employment and social protection in the new demographic context. It provides an excellent analysis of the challenges posed by "population ageing" in relation with employment and social protection policies. The report clearly shows that demographic change should be addressed from an integrated and longer-term perspective. It contributes to the debate on possible policies that should take into account the complementarities between employment and social protection for all age groups spanned over the life cycle.
Read more...
A need to "ensure a meaningful future for the young generations"
As a contribution to the ILO discussion of the post-2015 development agenda, a working group composed of Catholic Church-inspired organizations, including the IYCW, published a statement reaffirming that "the road out of poverty and the ongoing global economic crisis is closely linked to the promotion of decent work and support for adequate social protection."
The working group believes that poverty eradication "requires concerted commitments from governments, employers and workers' organizations, the private sector and civil society; commitments that are grounded in human dignity, human rights and solidarity."
Read more...
Joint Statement to the Committee on sustainable development, decent work and green jobs at the 102nd Session of the ILC
4-20 June 2013, Geneva
Honorable Chairperson,
Honored Delegates,
Ladies and Gentlemen,
I thank you on behalf of the International Young Christian Workers (IYCW) and World Solidarity (WSM) for giving me the opportunity to make a statement to this committee. 
IYCW and WSM welcome the ILO report "Sustainable development, decent work and green jobs". Achieving environmental sustainability and generating decent work for all are -certainly in times of budgetary constraints- indeed two of the defining challenges of the 21th century.
Decent work for all will not be an achievable objective unless environmental degradation is tackled. That said, unemployment, underemployment, informal and precarious work are still the rule rather than the exception for a majority of the working people today, especially youth.
Read more...
The Crisis Is Not Overcome Yet
Just Work and Dignified Life is the answer!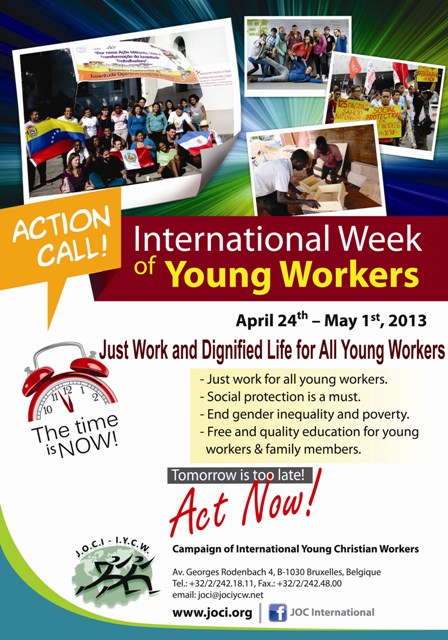 Aristide Naoustha, a 26 year-old Haitian, tells us that she has not been able to get a permanent job until now due to the continuous lack of job opportunities in her country. Like Naoustha, millions of young people around the world are struggling to have a very basic quality of life.
The world financial crisis has caused a rise in unemployment as economies around the world lose jobs and the fragile recovery is threatened by "incoherent monetary policy."
The ILO, in its recent report, said that 202 million people could be unemployed across the world in 2013. Young people have been the worst affected: nearly 13% of those under 24 are unemployed. Some 35% of all young unemployed people have been out of work for six months or longer in advanced economies. We still need to count young people who are working in precarious conditions, with unstable jobs or in the informal economy, especially young women.
Read more...
Empower Young Women Workers, End Inequality and Poverty!
I work in a cashew nut factory, in Kanyakumari, India. I have no fixed salary; it depends on the kilos of cashew nuts I can produce.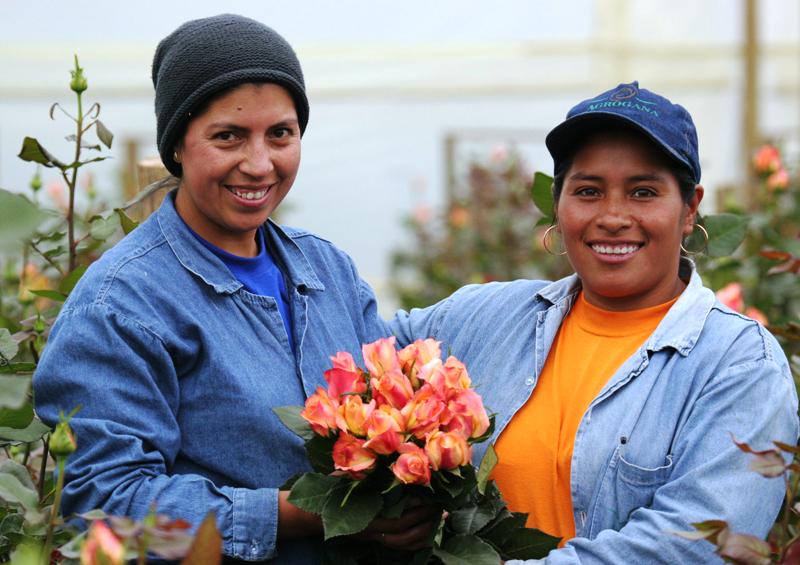 Usually I get INR 70–100 (US$ 1.20 – 1.80) a day. I have to work from 8:00 a.m. to 6:00 p.m. everyday. I don't have the right to speak about my work with my co-workers. I don't have holidays or time to rest. – Kalai Selvi, Kanyakumari, India 
Just like Kalai Selvi, millions of young women workers live in poverty and inequality, without social protection.
Read more...
A Message from Asia/Pacific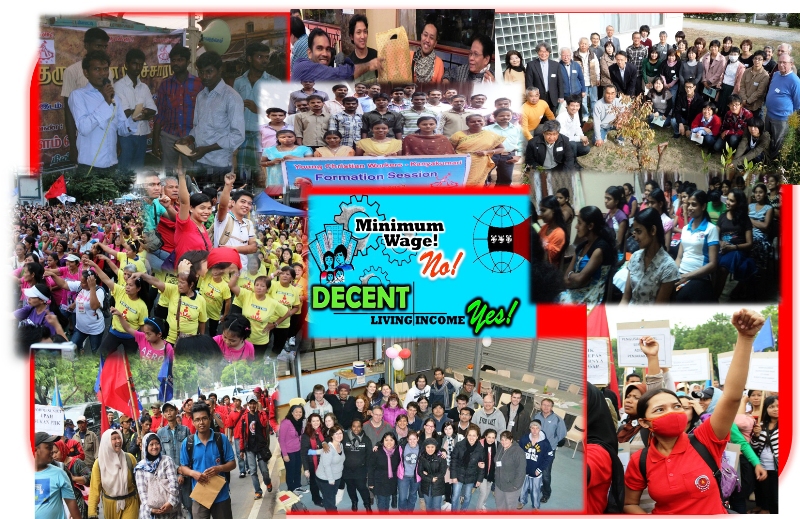 "In the world today, there is a wide gap between the decent life everyone is supposed to be entitled to and the difficulty we have to meet our most basic needs," said the YCW Asia Pacific (ASPAC) team in a statement it has recently published.
The ASPAC YCW mentions appalling statistics from international institutions. For instance, according to the World Bank, around 50% of the world population lives with less than US$2.50 a day while in Asia alone, even in the least industrialized countries, you need at least USD15 to 20 per day to meet basic needs. Around the world, 22,000 children die each day due to poverty. The ILO reported that about 5.1 billion people (75% of the world population) are not covered by adequate social security, while according to UN-Habitat, 2.6 billion people do not have access to adequate sanitation and 884 million people lack access to adequate sources of drinking water.
Read more...
Decent Living Income is a must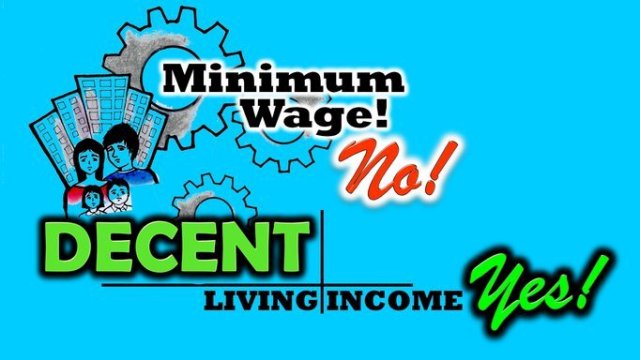 "No one should live below a certain income level, and everyone should have access to essential public services such as water and sanitation, health and education," statement of ILO Director-General Juan Somavia during one Forum about Social Protection.
However, current statistics and data express the extensive poverty and scarcity all over the world. About 5.1 billion people, (75 per cent of the world population) are not covered by adequate social security (ILO) and 1.4 billion people live on less than US$1.25 a day (World Bank). Thirty-eight per cent of the global population, 2.6 billion people, does not have access to adequate sanitation and 884 million people lack access to adequate sources of drinking water (UN -HABITAT); nearly 150 million people suffer financial catastrophe annually and 100 million people are pushed below the poverty line when compelled to pay for health care (WHO). (ILO Report 2011)
While globalization creates opportunities for a few, the above data clearly show that the lives of many are put into misery and remain unprotected against new global challenges which affect them at different levels, both local and national.
Read more...
International Women's Day 2012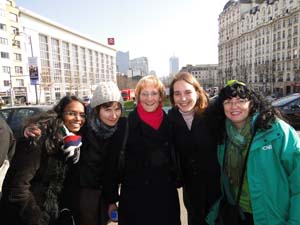 The International Young Christian Workers Movement (IYCW) joins hands in solidarity with young women to pledge its continuing support for equal rights and equal opportunities for all young workers.   International Women's Day is a critical day for us to raise our voices publicly and together.  It is an opportunity for us to celebrate women's lives and achievements, as well as to focus on the inequality and injustice that continue to occur in our day-to-day lives.
We know from our own stories that young women make up the majority of those living in poverty, that millions of women have died needlessly due to lack of healthcare and safe living and working conditions, and  that there is a worldwide pandemic of violence against women.
Read more...
Statement of the IYCW on the International Day
for the Elimination of Violence Against Women 2011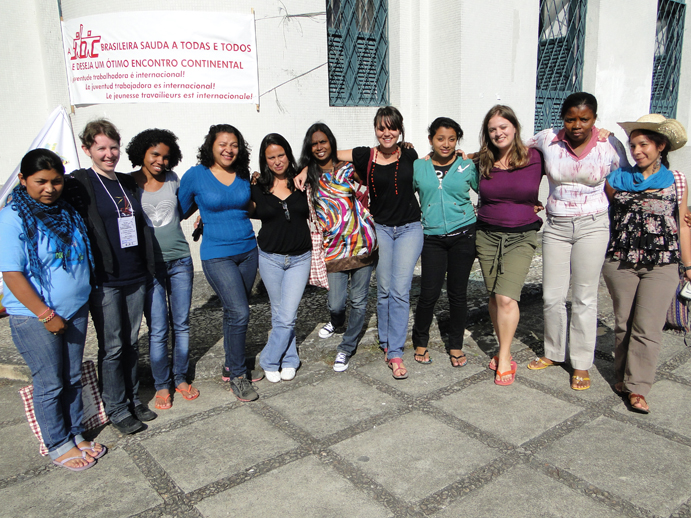 The International Young Christian Workers' movement (IYCW) is continuing its campaign on Gender Equality as a part of its Social Protection campaign. It is quite clear that young women who we work with at the grassroots are facing violence and discrimination in their daily lives.
There are young women in India today who spend their lives unmarried; they could not get married because of the dowry system, and they are considered a burden for their family.
There are young domestic workers in Paraguay facing violence and sexual abuses in their working places.
There are many women around the world who are "legally" raped by their husbands.
As International Young Christian Workers, we believe that this violence must stop, and we fight all types of violence and discrimination against women in society.
Read more...
Page 2 of 5