Press Releases
The Crisis Is Not Overcome Yet
Just Work and Dignified Life is the answer!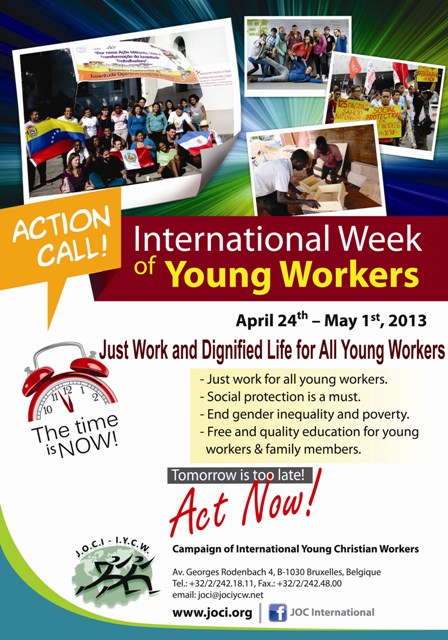 Aristide Naoustha, a 26 year-old Haitian, tells us that she has not been able to get a permanent job until now due to the continuous lack of job opportunities in her country. Like Naoustha, millions of young people around the world are struggling to have a very basic quality of life.
The world financial crisis has caused a rise in unemployment as economies around the world lose jobs and the fragile recovery is threatened by "incoherent monetary policy."
The ILO, in its recent report, said that 202 million people could be unemployed across the world in 2013. Young people have been the worst affected: nearly 13% of those under 24 are unemployed. Some 35% of all young unemployed people have been out of work for six months or longer in advanced economies. We still need to count young people who are working in precarious conditions, with unstable jobs or in the informal economy, especially young women.
Read more...
Empower Young Women Workers, End Inequality and Poverty!
I work in a cashew nut factory, in Kanyakumari, India. I have no fixed salary; it depends on the kilos of cashew nuts I can produce.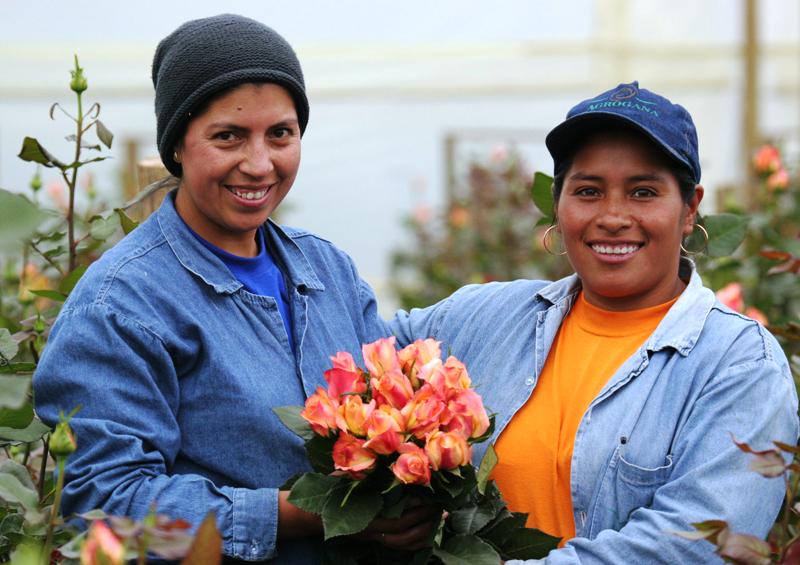 Usually I get INR 70–100 (US$ 1.20 – 1.80) a day. I have to work from 8:00 a.m. to 6:00 p.m. everyday. I don't have the right to speak about my work with my co-workers. I don't have holidays or time to rest. – Kalai Selvi, Kanyakumari, India 
Just like Kalai Selvi, millions of young women workers live in poverty and inequality, without social protection.
Read more...
A Message from Asia/Pacific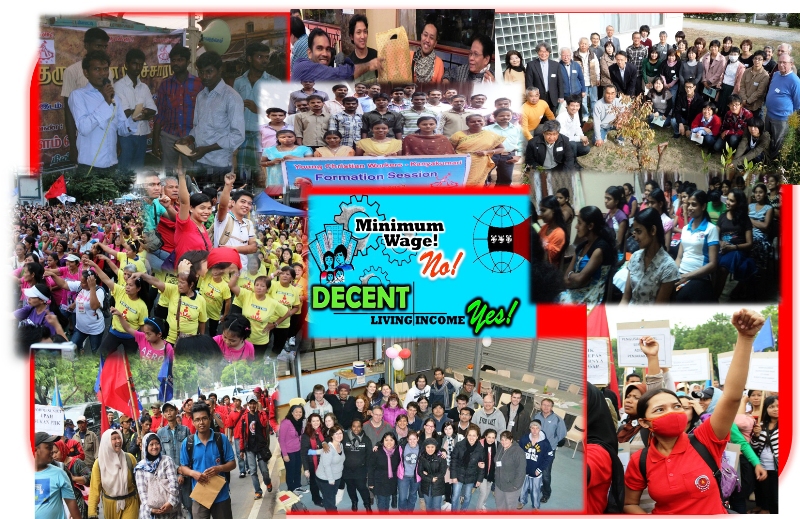 "In the world today, there is a wide gap between the decent life everyone is supposed to be entitled to and the difficulty we have to meet our most basic needs," said the YCW Asia Pacific (ASPAC) team in a statement it has recently published.
The ASPAC YCW mentions appalling statistics from international institutions. For instance, according to the World Bank, around 50% of the world population lives with less than US$2.50 a day while in Asia alone, even in the least industrialized countries, you need at least USD15 to 20 per day to meet basic needs. Around the world, 22,000 children die each day due to poverty. The ILO reported that about 5.1 billion people (75% of the world population) are not covered by adequate social security, while according to UN-Habitat, 2.6 billion people do not have access to adequate sanitation and 884 million people lack access to adequate sources of drinking water.
Read more...
Decent Living Income is a must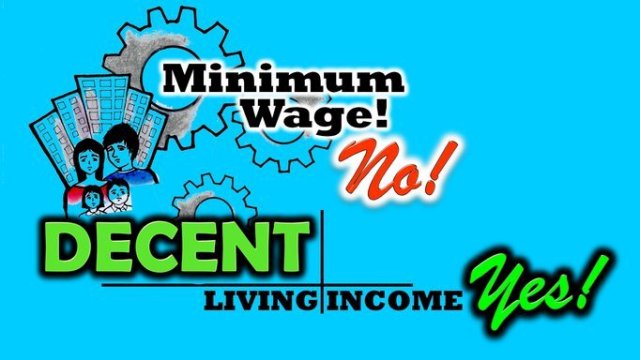 "No one should live below a certain income level, and everyone should have access to essential public services such as water and sanitation, health and education," statement of ILO Director-General Juan Somavia during one Forum about Social Protection.
However, current statistics and data express the extensive poverty and scarcity all over the world. About 5.1 billion people, (75 per cent of the world population) are not covered by adequate social security (ILO) and 1.4 billion people live on less than US$1.25 a day (World Bank). Thirty-eight per cent of the global population, 2.6 billion people, does not have access to adequate sanitation and 884 million people lack access to adequate sources of drinking water (UN -HABITAT); nearly 150 million people suffer financial catastrophe annually and 100 million people are pushed below the poverty line when compelled to pay for health care (WHO). (ILO Report 2011)
While globalization creates opportunities for a few, the above data clearly show that the lives of many are put into misery and remain unprotected against new global challenges which affect them at different levels, both local and national.
Read more...
International Women's Day 2012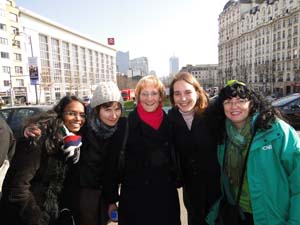 The International Young Christian Workers Movement (IYCW) joins hands in solidarity with young women to pledge its continuing support for equal rights and equal opportunities for all young workers.   International Women's Day is a critical day for us to raise our voices publicly and together.  It is an opportunity for us to celebrate women's lives and achievements, as well as to focus on the inequality and injustice that continue to occur in our day-to-day lives.
We know from our own stories that young women make up the majority of those living in poverty, that millions of women have died needlessly due to lack of healthcare and safe living and working conditions, and  that there is a worldwide pandemic of violence against women.
Read more...
Statement of the IYCW on the International Day
for the Elimination of Violence Against Women 2011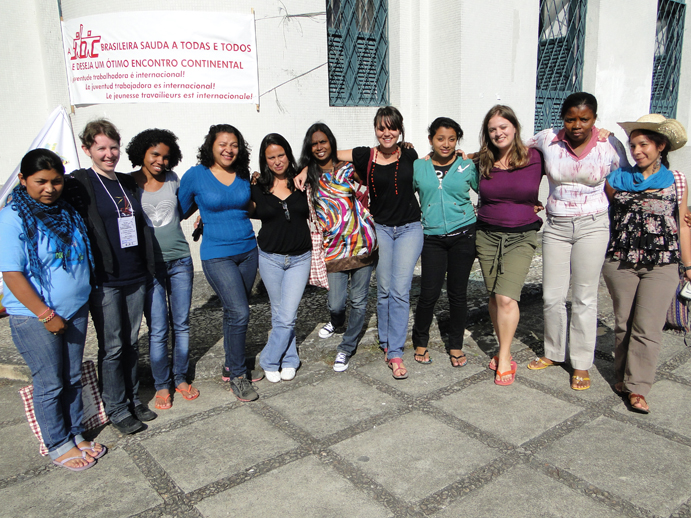 The International Young Christian Workers' movement (IYCW) is continuing its campaign on Gender Equality as a part of its Social Protection campaign. It is quite clear that young women who we work with at the grassroots are facing violence and discrimination in their daily lives.
There are young women in India today who spend their lives unmarried; they could not get married because of the dowry system, and they are considered a burden for their family.
There are young domestic workers in Paraguay facing violence and sexual abuses in their working places.
There are many women around the world who are "legally" raped by their husbands.
As International Young Christian Workers, we believe that this violence must stop, and we fight all types of violence and discrimination against women in society.
Read more...
The convention aims at putting an end to a long-standing discrimination that has been affecting this sector in which over 100 million people work.
Some of the improvements include domestic workers' rights to the national minimum wage coverage, to social security, and to a minimum weekly rest period.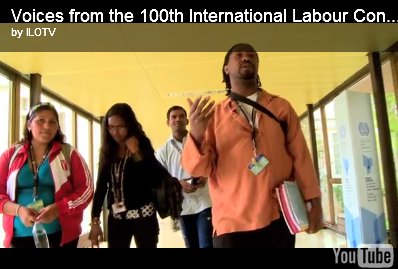 Yesterday, June 16th, the governments, employers and workers' delegates who attended the 100th Conference of the International Labour Organisation (ILO) adopted for the very first time in history international standards aiming at improving the working conditions of tens of millions of domestic workers around the world.
For the very first time since the organization was created in 1919, delegates approved a Convention Concerning Decent Work for Domestic Workers, Convention 189, with 396 votes in favor, 16 votes against it, and 63 abstentions, as well as accompanying Recommendation 201, with 434 votes in favor, 8 votes against it, and 42 abstentions. It is the first ever international legal instrument which protects this category of employees and guarantees them the same basic rights as those of other workers, including normal working hours, weekly rest of at least 24 consecutive hours, the payment of a limited proportion of the remuneration in the form of payments in kind, clear information about employment conditions, as well as the respect of the fundamental principles and rights at work, including freedom of association and the right to collective bargaining.
Read more...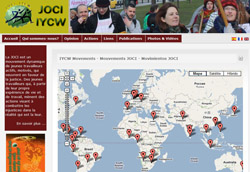 We are inviting you to visit the new webpage of the International YCW.
We have opted for a more user-friendly, more interactive page, with links to social networks and the possibility for the current and future IYCW leaders to participate in its management. In other words, we have opted for a webpage which counts on your collaboration because in addition to the activities, orientations and publications of the international team, we would like to rely on your participation, e.g. to receive information from you, link proposals, photos of activities, etc.
This new webpage includes a lot of new options:
Read more...
IYCW demands justice for young domestic workers at ILC
The International Young Christian Workers (IYCW) will once again bring the demands of young domestic workers from around the world to the International Labour Council in Geneva from the 1–17June.  
'This issue continues to be of critical importance for justice and the dignity of young workers,' said Geethani Peries, International president.  'As we prepare with our delegates to present our demands on behalf of domestic workers, we have gathered numerous stories to support our case.  It is our hope that the facts we have gathered will convince the representatives from the tripartite groups of employers, governments and trade unions that more action is imperative if real justice is to be achieved.
Read more...
The IYCW Vows to Continue Its Work For Women's Rights
The IYCW is calling on all national movements around the world to join in the centenary celebrations of the International Women's Day. They proclaim it as an opportunity not only to celebrate women's lives and achievements, but also to join hands in solidarity with women around the globe and to focus on the many problems women face today.

The YCW is passionate about the importance of solidarity in its struggle for women's rights.

'We must stand together in our fight for equal rights for all,' said Geethani Peries, the YCW International President. 'There is still much to be done. We know from the experiences of our members that women make up the majority of those living in poverty, that there is still inequality in salaries and conditions, and that millions of women have died needlessly due to a lack of safe working and living conditions. We also know that today, in spite of the efforts of many people, there remains a worldwide epidemic of violence against women.'
Read more...
Behind the Events in Arab Countries
"Either We Live in Dignity or Die in Dignity"
The self-immolation by Mohammad Bouazizi, an unemployed man (26 years of age) who was harassed by the police in the Tunisian town of Sidi Bouzid, on December 17, was the spark that ignited the Arab streets. It first started the "Jasmine" Revolution (jasmine is Tunisia's national flower) in Tunisia, and the President Zine El Abidine Ben Ali and his government had to go. Then the spark became a fire in the Tahrir Square at Cairo, Egypt, and President Hosni Mubarak and his government were forced out. Now the spark is flaming in the streets of the capitals and cities of Libya, Bahrain, Yemen, Algeria and Jordan. The core or the centre of this spark which became a huge fire is millions of young people.
Why this Fire?
The chanting, cries and slogans of the millions of young people in the Arab streets are "Bread, Freedom and Dignity", "Freedom, Bread and Job", "No to Misery and no to Unemployment!" If we carefully look into these cries of the young people, we discover that they felt neglected, they saw that their capacities were not used, leading to impoverishment in their countries. We also discover a small circle of people getting richer and having total power.
Read more...
Page 2 of 5