The Crisis Is Not Overcome Yet
Just Work and Dignified Life is the answer!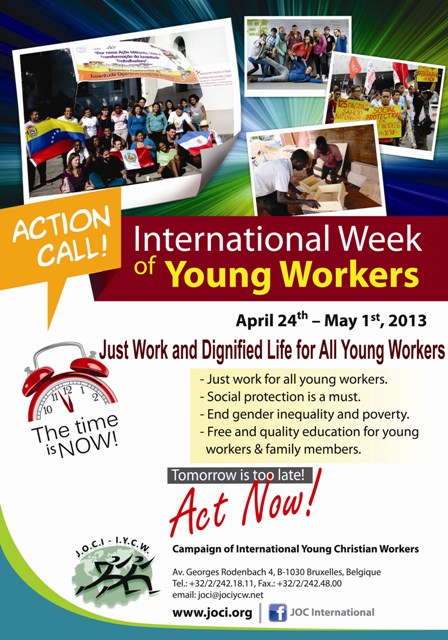 Aristide Naoustha, a 26 year-old Haitian, tells us that she has not been able to get a permanent job until now due to the continuous lack of job opportunities in her country. Like Naoustha, millions of young people around the world are struggling to have a very basic quality of life.
The world financial crisis has caused a rise in unemployment as economies around the world lose jobs and the fragile recovery is threatened by "incoherent monetary policy."
The ILO, in its recent report, said that 202 million people could be unemployed across the world in 2013. Young people have been the worst affected: nearly 13% of those under 24 are unemployed. Some 35% of all young unemployed people have been out of work for six months or longer in advanced economies. We still need to count young people who are working in precarious conditions, with unstable jobs or in the informal economy, especially young women.
We have not overcome the crisis yet. It is extraordinarily damaging to the young people and still threatening to destroy the future of young people and the society where we live now.
The Just Work and Dignified Life Concept
Through the just work and dignified life concept, the IYCW wants to propose strong and solid global solidarity, sustainable and dignified work for all young workers. Just work denies all precarious working conditions and ensures the transformation of young workers personally and collectively, as well as the transformation of the world of work.
We believe that each government should pass a national regulation which promotes economic and social solidarity and equality in the daily life of citizens in every country. The regulation should do away with the gap between the rich and poor through equal distribution of wealth, protection, subsidies and jobs.
The International Week of Young Workers (April 24th – May 1st) provides opportunities for the YCW to join with young workers across the world in their struggle for just work and social protection. We call all national movements of the YCW to organize rallies, public meetings, conferences, strikes, street drama and many other activities to promote their actions and highlight their demands to society and governments.
Speak up and raise up your hands for just work and dignified life for all young workers now!