"Let justice roll down like a river, and righteousness like an ever-flowing stream"
Amos 5:24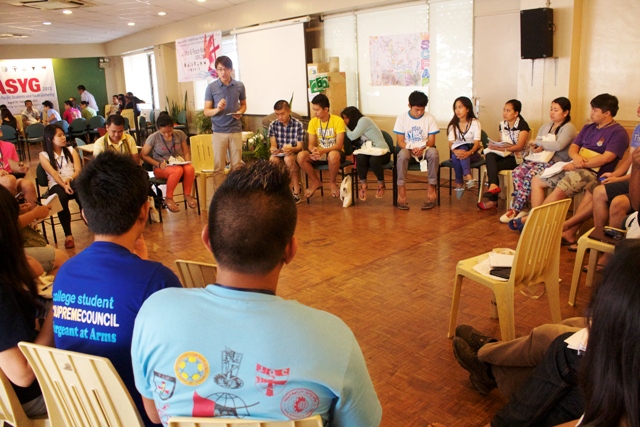 Thus begins the statement of the Ecumenical Asia-Pacific Students and Youth Network (EASY Net) which held its 5th Asia-Pacific Students and Youth Gathering (ASYG) from August 30 to September 5, 2013 in the Philippines.
Delegates, coming from the many different contexts and cultures that make up the richness of the Asia-Pacific region, prayed together and shared their peoples' struggles, hopes, and dreams. The time they spent together enabled them to better discern their "Christian calling to stand in solidarity with those who are struggling for life and dignity."
EASY Net is composed of seven member organizations: Christian Conference of Asia (CCA), Asia Pacific Alliance of YMCA (APAY), International Young Christian Workers (IYCW), International Movement of Catholic Students (IMCS), World Student Christian Federation Asia-Pacific (WSCF-AP), Young Women Christian Association (YWCA), International Young Catholic Students (IYCS); joined with Hong Kong Christian Council (HKCC), Hong Kong Christian Institute (HKCI), and Communion of Churches in Indonesia (CCI).
Young People as Seeds of Hope, Catalysts of Peace
In this gathering, the young delegates were able "to listen and discuss about the pivotal role of young people in the transformation of the world." They analyzed "complex issues and concerns such as globalization, the long history of colonization, and hegemonic interests". They witnessed the "plight of the people during [their] exposure to the different communities in the Philippines. They are marginalized, abused, and exploited: the urban poor's daily life is a struggle due to the worsening
impoverishment and hunger; peasant women are subjected to a higher level of oppression, abuse, and landlessness; the students' future is at stake due to commercialized, colonial, and fascist education; the indigenous people are displaced from their ancestral domains due to government policies favoring corporate interests that further plunder the land and its people; and workers are exploited and deprived of their labor rights and dignity."
Participants noted similar problems all across the region: "inaccessibility to basic human rights such as education, health, and housing; massive unemployment; corruption and misappropriation of state funding; unfair neoliberal policies; foreign dependency; militarism; ecological crisis; nuclearization; religious fundamentalism; discrimination against ethnic and religious minorities; gender inequality; and heteronormativity."
As "seeds of hope, catalysts of genuine and lasting peace that is based on justice", those Asian young students and workers called for "Justice and Peace Now!"
Reshaping their unfolding history
They condemned "foreign intervention in the region", and "government policies that support or sponsor discrimination and conflict, militarization, and human rights violations". They challenged "the churches to come out from their comfort zones of conservatism and go out to the streets where the people struggle for life and dignity."
They affirmed their "role in reshaping their unfolding history and in consciously transforming the world", and they invited "the youth movements in the region to liberate themselves from the control of powers that be and to proclaim the reign of justice and peace now!"