Pope Francis Joins The Call of the Silenced, Marginalized and Secluded
The World Meeting of Popular Movements in which the International Young Christian Workers (IYCW) actively participated was held in Vatican City from October 27-29, 2014 with more than 100 popular movements and organizations. Andy Predicala represented the IYCW in the event.
During the plenary session, the IYCW emphasized the precarious situation of workers, especially young people. There is widespread underemployment and lack of job opportunities. The high rate of youth unemployment and the strong tendency to find work in the informal economy without any protection of labor rights or access to social protection are becoming threats. Even those with a job often suffer from work insecurity, resulting from underemployment or casual and vulnerable employment. Forecasts raise concerns that if this crisis continues, more than 215 million may be unemployed and jobseekers by 2018.
Less than 3 dollars a day
The impact of this phenomenon on the youth is very high, as quoted: "It is not possible for young workers to plan what will happen tomorrow, next week or next year. At times, they work in several jobs at the same time to survive. They experience pressures in the workplace, unachievable targets, pressure to work overtime or even 7 days a week, etc. Often young workers receive very low wages. In developing countries most young workers are paid less than 3 dollars a day and in developed countries, those who work under contract and through temporary work agencies get less than 6 dollars per hour. They are afraid of losing their jobs and face coercion by employers."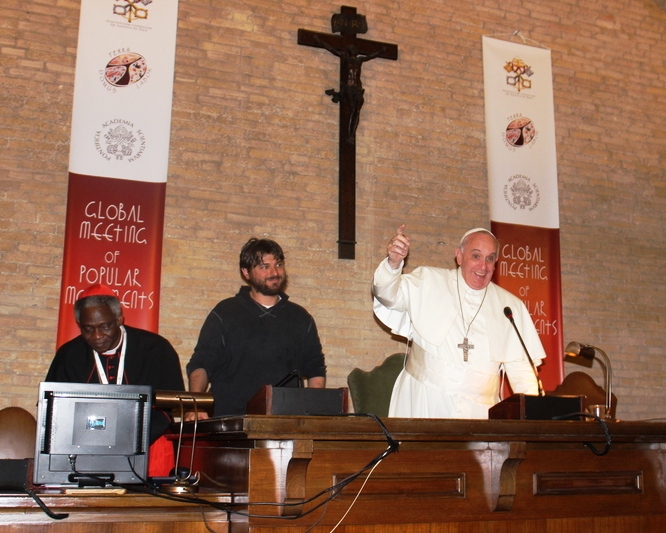 In this situation, women are most vulnerable. Women are those who are most often found in temporary and part-time work, facing sexual harassment and gender discrimination, earning lower salaries than their male colleagues and taking fewer positions of authority.
An economic system that puts profit above man
Due to strong competition among labor force, labor flexibility and precariousness are prevailing. In short this leads to more work insecurity, low wages, long working hours and days, no freedom of speech and no freedom of association.
The situation of workers and of young people was underlined by Pope Francis when he addressed the Popular Movements on Day 2 of the meeting. And we quote verbatim:
"There is no worse material poverty – I MUST STRESS IT – there is no worse material poverty than one that does not allow for earning one's bread and deprives one of the dignity of work. Youth unemployment, informality, and the lack of labor rights are not inevitable; they are the result of a previous social option, of an economic system that puts profit above man; if the profit is economic, to put it above humanity or above man is the effect of a disposable culture that considers the human being in himself as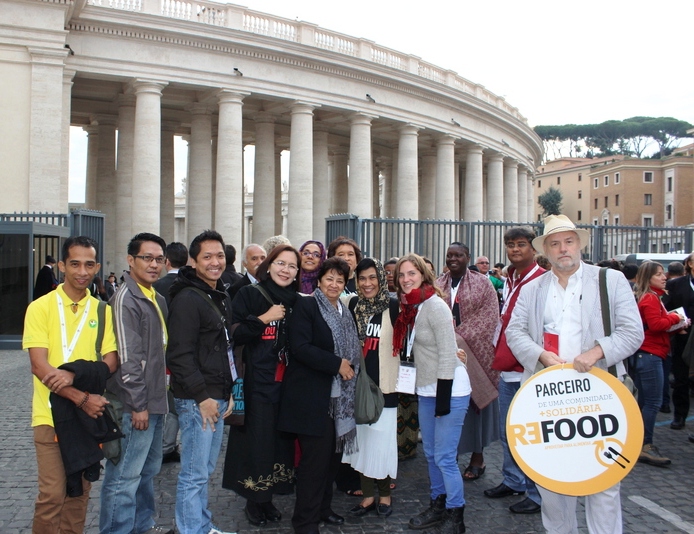 a consumer good, which can be used and then discarded. Today, added to the phenomenon of exploitation and oppression, is a new dimension, a graphic and hard hue of social injustice; those that cannot be integrated, the excluded and discarded, the "leftovers." This is the disposable culture and I would like to enlarge on this, though I do not have it written down, but I have just recalled it now. This happens when at the center of an economic system is the god of money, not man, the human person. Yes, at the center of every social or economic system must be the person, image of God, created to be the controller of the universe. When the person is displaced and the god of money comes, there is this inversion of values."
Millions of young people are discarded from work
The Pope recognized the agony of the young workers, "…we are witnessing a third very painful discarding – the discarding of young people.  Millions of young people, I do not want to give a figure because I do not know it exactly and the one I read about I think is somewhat exaggerated, but millions of young people are discarded from work, are unemployed."
He then thanked the different movements and organizations which, despite the challenges, continue struggling and fighting for the rights to LAND, HOME, and WORK "…but you, with your craftsmanship that God gave you, with your quest, with your solidarity, with your community work, with your popular economy, have achieved it and are achieving it. And let me say it to you, that in addition to work, it is poetry. Thank you!"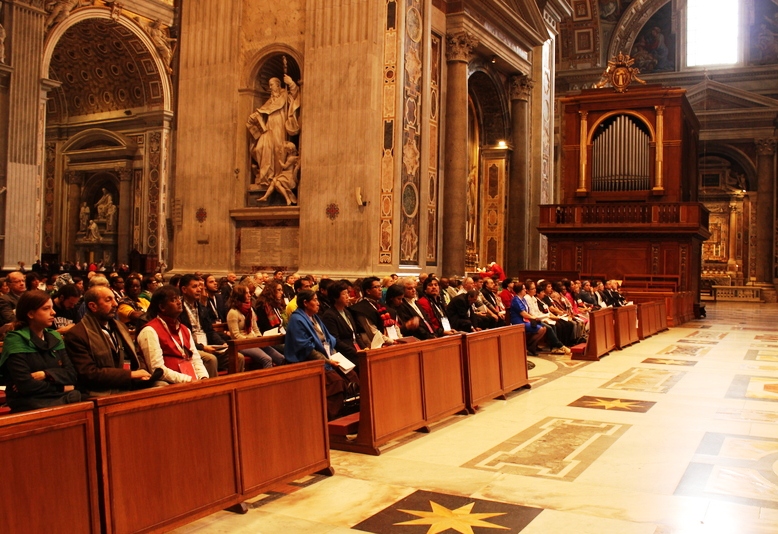 Solidarity... is to confront the destructive effects of the empire of Money
In His 30-minute speech, the Pope discussed Solidarity, which is "more than acts of sporadic generosity. It is to think and to act in terms of community, of the priority of the life of all over the appropriation of goods by a few. It is also to fight against the structural causes of poverty, inequality, lack of work, land and housing, the denial of social and labor rights. It is to confront the destructive effects of the empire of Money."
And seriously kidding, he mentioned that "This meeting of ours responds to a very concrete desire, something that any father, any mother wants for his/her children; a desire that should be in everyone's reach; however, today we see with sadness the majority increasingly far away: LAND, HOME, and WORK. It is strange, but if I speak about this, some say the Pope is a Communist." And the people around the Old Synod Hall burst in laughter.
"They do not understand" the Pope continued "…that love of the poor is at the heart of the Gospel. Land, Home and Work, what you struggle for, are sacred rights. To claim this is nothing strange; it is the Social Doctrine of the Church."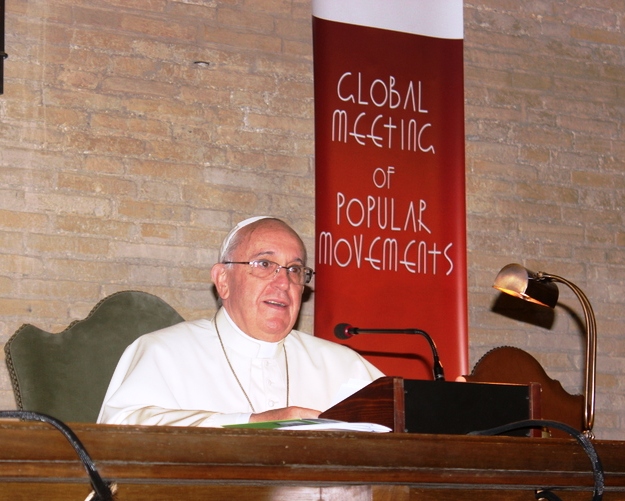 We must put dignity again at the center
Finally, the Pope challenged all the delegates, "…this system can no longer be endured. We must change it; we must put human dignity again at the center and on that pillar build the alternative social structures we need. It must be done with courage, but also with intelligence, with tenacity but without fanaticism, with passion but without violence. And among us all, addressing the conflicts without being trapped in them, always seeking to resolve the tensions to reach a higher plane of unity, peace and justice."
He earnestly recommended having inspiration in taking action, and he recommended reading the Beatitudes in the chapters of Saint Matthew 5:3 and of Saint Luke 6:20 and the whole passage of Matthew 25.
And with his prayer and final blessings, he said "I accompany you with my heart on this journey. Let us say together from our hearts: no family without a dwelling, no rural worker without land, no worker without rights, no person without the dignity that work gives."