A Meeting of International Catholic Organizations in Brussels
The group of 10 International Catholic Organizations, mostly movements inspired by Cardinal Cardijn, met last February 14, 2015 at the IYCW International Secretariat in Brussels to strengthen their network.
The meeting was attended by the International Catholic Movement for the Intellectual and Cultural Affairs (Pax Romana-MIIC), the International Young Christian Workers (IYCW), the International Federation of Rural Adult Catholic Movements (FIMARC), the International Movement of Catholic Agricultural and Rural Youth (MIJARC), the International Coordination of Young Christian Workers (CIJOC), the International Movement of the Apostolate for Children (MIDADE), and the International Movement of Apostolate in the Independent Social Milieus (MIAMSI).
Other movements which did not manage to attend but are committed to the group include the International Movement of Catholic Students (IMCS), the International Christian Workers Movement (WMCW), and the International Young Christian Students (IYCS).
The group discussed the richness of the history of the Catholic Movements and the impact they have on the society and on the Church. It also identified some issues that they can work on and strengthen together like the Post Agenda 2015 and the Synod on Family.
With a view to moving forward, the group also discussed the initial objectives of coming together: (1) sharing the richness of life and work experiences of the movements; (2) strengthening the methodology and the use of See-Judge-Act; (3) recognizing the diversity and dynamism of each movement; (4) working together on the action that will create impact on the society and the Church; (5) strengthening the movements not only at the international level but also at the national level.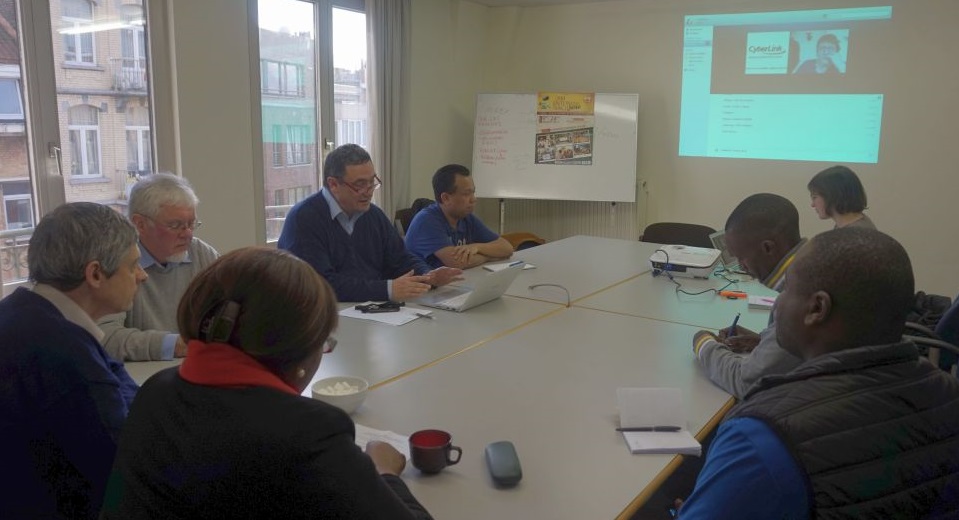 The group agreed to host a two-day seminar on May 22-24, 2015 in Paris, France to deepen the SEE-JUDGE-ACT and see the relevance of the methodology for today's generation. November 13, 2015 will be marked by an activity to celebrate Cardijn's birthday and simultaneously the IYCW will organize a Round Table Discussion on Just Work and Social Protection.
Finally we all agreed that we can find strength and solidarity in our diversity. Equally, it is always better to be together.