The IYCW celebrates the International Women's Day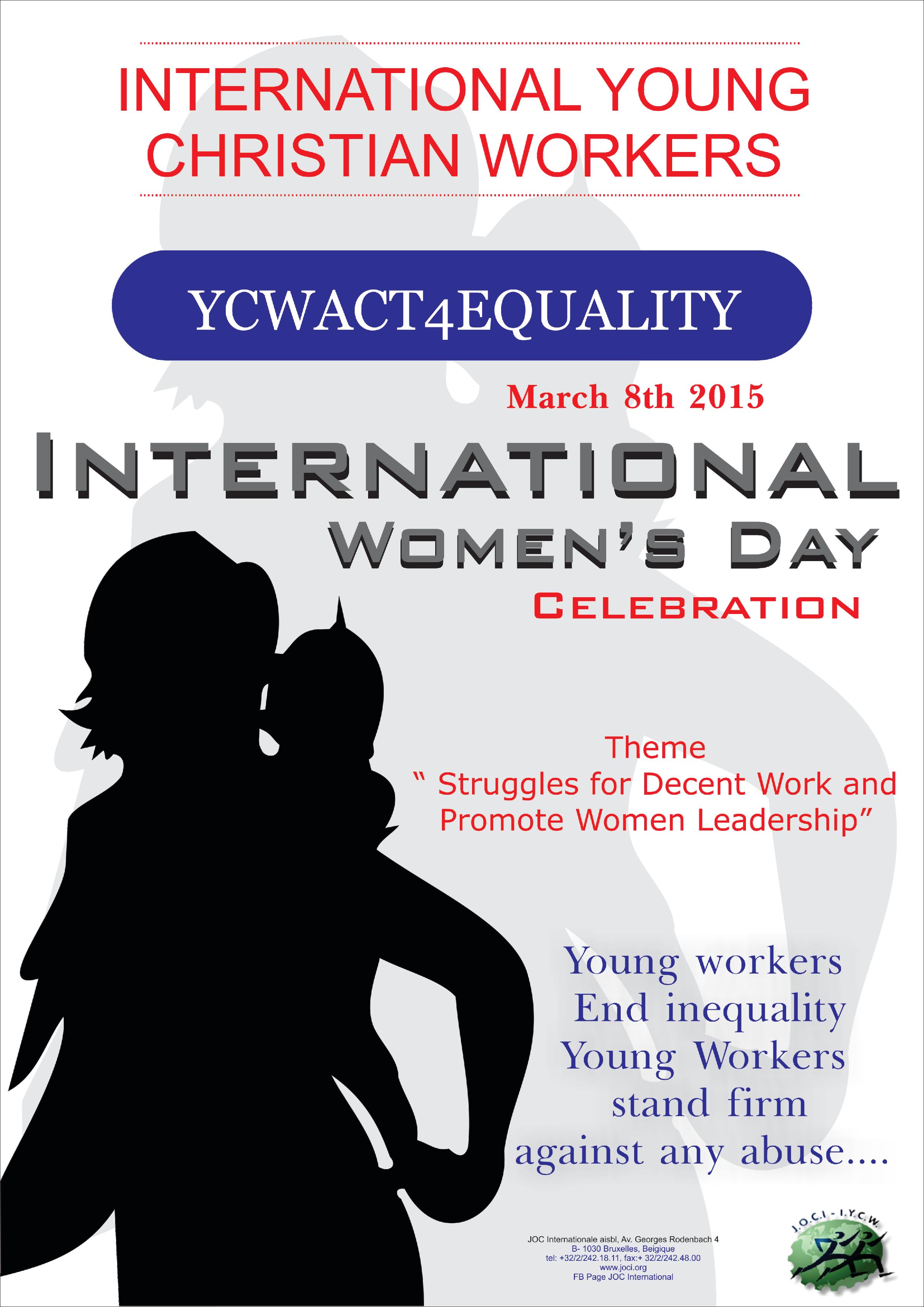 To mark the International Women's Day 2015, the International Young Christian Workers is highlighting the day-to-day living and working experiences of young women workers.
From our contacts with young women workers on a regular basis in our base groups, we have the first-hand experience of their situations, we know that women face great inequality related to gender aspects in their families, society, factories, offices, trade unions, and even churches. Women do not have the same rights as men when it comes to making decisions. In terms of salaries, women are paid less than men in many instances.
I am Naiha Faryad, 23 years old, living in Lahore, Pakistan. As far as my education is concerned, I am an intern in Arts, and I am a teacher in a public school. With the small income I get from my job (3000 Pakistani Rupees a month, i.e. about US$30), I support my family financially. All the household members are living together in a rented home. Sometimes it is very hard to meet the consumption needs of my parents and at the same to be independent and be a model for my younger siblings. (Pakistan YCW Member)
From this sharing we can clearly see that the struggle for women's rights continues in every country, in every region and in every city.
Women still face domestic violence and rape everywhere. Basic rights, including the right to school and the right to work, are very restricted in many countries. Equal pay for the same job has not been achieved globally yet.
While there is a slight improvement in most countries on the principles of women's rights, gender equality and non-discrimination, women workers are often unaware of their rights, a fact that has been increasingly identified as a major obstacle.
The large majority of unpaid care work continues to be performed by women, limiting their equal employment opportunities. The lack of maternity protection, including unpaid maternity leave, often forces women to make a choice between having children and having a career or job. Women, who often have less legal and social protection than men, face a higher risk of informal employment.
The International Secretariat of the IYCW is firmly committed to leading a coordinated effort to create public awareness and expose discrimination and injustice in society as well as to encourage collective action against all types of abuse faced by women.
As we honour and commemorate the International Women's Day under the theme: "Struggling for Just Work, Promoting Women's Leadership!," we reaffirm our commitment to continuing the struggle to promote gender equality in society, starting from the empowerment and participation of young women as we are convinced that a community can only reach its full potential by involving everyone in its social and economic life, particularly young women. 
Together, let us take actions to support Just Work and promote women's leadership at all levels of our society. We are aware that every day women are subjected to persistent stereotypes and barriers keeping them away from equal access to resources, participation and representation in our communities and around the globe.
In 2015, the IYCW is giving priority to the campaign on "Gender Equality". To deliver concrete and sustainable impact, we are using this day to motivate all national movements and regional teams to continue updating their existing analysis on gender-related matters with broad participation of young women and community leaders who have dedicated their lives to women's empowerment. This analysis should be shared amongst us and will be the basis for our future campaign on gender equality.
We look forward to educating young women for strong leadership through our JUST WORK campaign at national and international levels. Today, on the International Women's Day, let us reaffirm our commitment to women's rights and move forward with courage and determination. Let us defend human rights, the inherent dignity of the human person, and equal rights for women and men everywhere.
Together, YCWAct4Equality!
In solidarity,
Isak KRAMPONA
Secretary General