Contributing to the common good of humanity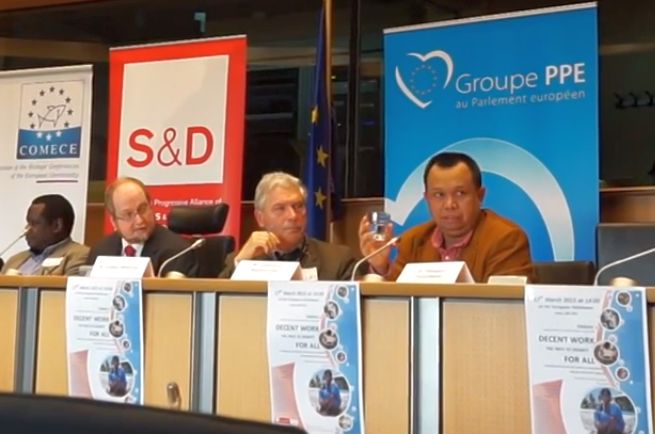 The world today is no longer sustainable. What is happening now is not a financial crisis with economic consequences; it is not a job crisis resulting in huge unemployment. It goes beyond that, it is a crisis of the system.
What we can do now?
We should be brave enough to take steps in order to change the system. We should transform this world into a new paradigm, a paradigm of life against a paradigm of death. The logic of the current system (capitalism) is not to provide solutions to the problems but to maintain itself and save itself by sacrificing billions of human beings as well as nature.
The paradigm of capitalism is exploitation. It sees nature as a commodity that has to been transformed into merchandise. The economy is dominated by capitalism and capitalism is the motor of economy. As a consequence of this logic, capitalists will always promote the value of exchange and not the value of using. When we see water, we usually think of it as something we drink. Capitalists don't: they see water as something they can put in the bottle and sell for the accumulation of their capital. This is exactly how capitalism destroys the nature and the human being.
What do we want?
We want a better system. Let's begin with provocative questions such as: "What kind of human development logic could we develop that does not destroy nature or the human being?" "Is it possible to have another paradigm to challenge the paradigm of capitalism?" Another question is "Can we think of another philosophy of life?" My answer is "Yes, we can, there is an alternative, what we may call the 'Common Good of Humankind.'"
Let us build this project collectively. For this, we need to start questioning the place of classes in society and we should not accept what capitalism says about social strata (reality). In the context of industrial society, the reality is not social strata but it is social classes, it is the class struggle.
Next, I can propose the following four key elements towards a new paradigm of life:
First, redefining the relationship with nature. We must generate a collective change in our attitude towards nature. Nature is not a commodity; we must respect nature as the source of life and this should be a basis to create the common good of humankind.
Second, redirecting the production of life necessities, prioritising the use value over the exchange value. Commodities or services should be used to serve human beings rather than just being the object of a transaction.
Third, reorganising collective life through the generalisation of democracy in social relations and institutions. We must promote the globalisation of democracy, not only in the political field but also in the economic system, in the relationships between men and women and in all institutions.
Fourth, instituting interculturalism while building the universal common good, that is giving all forms of knowledge, cultures, philosophies and religions an equal chance of contributing to the common good of humanity.
It may sound too utopian but we need hope. Utopia is a kind of hope when we have nothing today but we hope for something tomorrow. If we accept this concept, there will be many concrete things we can do together for a better and more human world.
I will end it now and I am looking forward to a debate and discussion towards concrete action.
(IYCW input on Decent Work presented by Ludovicus Mardiyono, IYCW President, in the debate held at the European Parliament in Brussels on 17 March 2015)