Proposing an ILO Declaration on Universal Labour Protection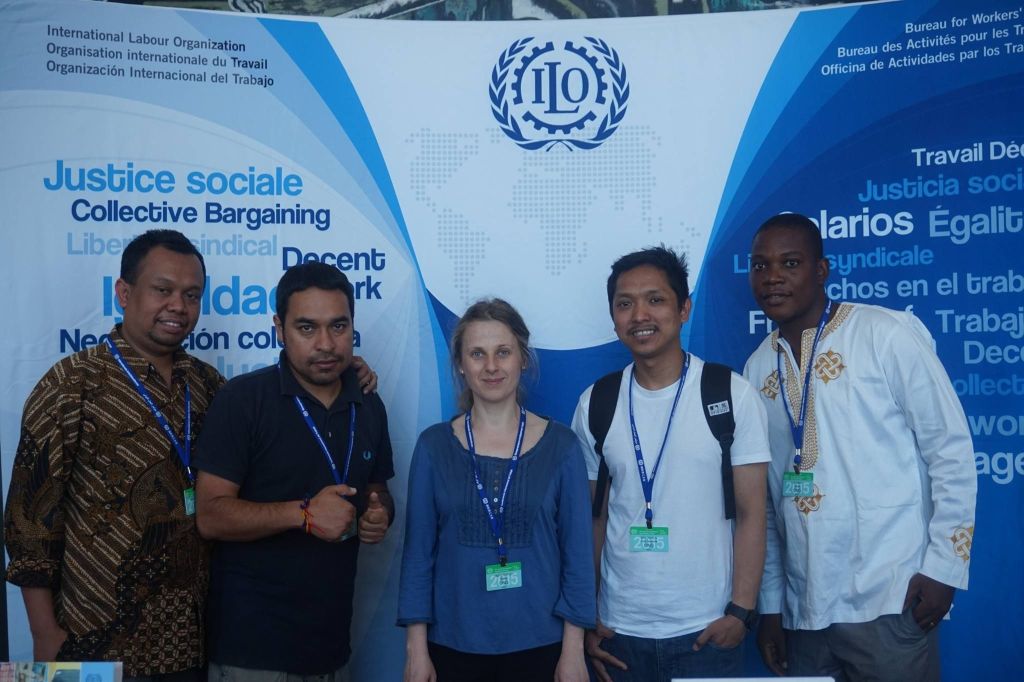 Geneva, June 2015 – A delegation of the International Young Christian Workers (IYCW), which consisted of representatives from Africa, Europe, the Americas and the International Secretariat, participated in the International Labour Conference (ILC) in Geneva from 1-13 June, 2015.
This year, the ILC has discussed three main topics, namely the transition from the informal to the formal economy, SMEs and decent and sustainable employment, and the labour protection policy, which includes wages, maternity policy, working hours and occupational health and safety.
The IYCW delegation actively expressed their political views in all committees. In the informal economy, SMEs and social protection committees, the IYCW highlighted some important issues. Among other things, it urged to adopt the concept of a living wage for all sectors of work and of a social protection that should be universally applicable to all types of workers.
85% of Workers Are in the Informal Economy
The Informal Economy Committee debated that globally about 85 per cent of workers are in the informal economy. This figure is the cause of a global slump in national economies and a constraint to the rights and well-being of workers. Workers are also bearing the brunt of failing economies globally, as they are the first to face retrenchment, salary cuts and the curtailment of their rights at workplaces. To address the situation the IYCW took a stand at this year's 104th ILC, stating its political position in the various committees.
Responding to the report of the Director-General of the ILO "The Future of Work Centenary Initiative", Andy Predicala, the IYCW International Treasurer, stated that the centenary conversations should make an in-depth assessment of globalization, neo-liberalization and free-market policies which do not generate enough jobs but create instead multi-faceted crises in the society, and do not warrant fair distribution of wealth. They should also analyse the transformation of work from agricultural to industrial, to services and now to the robotics technology.
In addition, the IYCW insisted that the coverage of social protection should be extended to all workers in the informal sector and all informal workers should be entitled to enjoy all basic rights of workers.
An ILO Declaration on Universal Labour Protection
In its general view, the IYCW President, Ludovicus Mardiyono, from Indonesia, stated that labour protection is a global issue and requires shared responsibility.
"We propose that the ILO should take the political steps to agree upon and immediately sign an ILO Declaration on Universal Labour Protection, and this declaration should be inclusive and universal," said Ludovicus.
The IYCW, along with other Catholic organizations and trade unions, continues to voice social justice and peace for all workers in the world.