We want to make the world aware of the reality of young workers today!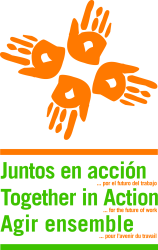 Dear Friends and Supporters,
In the month of August 2008, the International YCW celebrated its birthday: 51 years of international action, with the sobering realisation that there is a need for a lot more action to transform our world into a world of just and decent work for all.
This year, we share with you our plan towards our world council to be held from September 28th until October 12th 2008, in Tamil Nadu, India. We invite and motivate your support for us during this time, to continue together in action for a better future of work and life for all!
As key supporters of our movement, we want to share with you our vision and motivation for this world council - a very important event for our international movement and young workers around the world.
Background
We (the IYCW) are an international movement of young workers, who want to use the opportunity of our World Council 2008, to strengthen and define ourselves as a movement of action and training of young workers, in our globalised world.
India is a nation changing rapidly and is immersed in the culture of globalisation . It is relevant that we will be there for our World Council in 2008; a council to evaluate our action, its impact, and how to strengthen and develop this in the future. We want to become fully aware of the environment in which we are meeting, in India as well as in our home countries, and to make the connections between our reality, our action and this globalised society.
As a movement, we want to discover how to live a positive alternative form of a globalised world: to define ourselves as a global MOVEMENT as distinct from a global corporation.
What we want....
A council that reflects also the local community (India) – giving attention to the reality of women workers and dalit reality in India, India as a new global actor within globalisation, and IYCW as an international movement. We want to see how the council can raise awareness towards YCW India, towards the society of India, and towards the delegates of national movements in the Council, of the reality of the people of India and the link with work.

A council that is a process of strengthening the action – as part of the day to day work of the national movements – with a strong process of preparation towards the council and for the implementation of the decisions after the council.

A council that is creating/struggling towards a establish coordination that creates space for greater participation of leaders at the base, that creates a greater sense of a being an international movement among the national movements. This needs to become the future direction of the movement, not only lived throughout the council.
Our Priorities...
Action: We want to change society!
We want to be a counterforce to the ill-effects of globalisation we see. We want to LIVE this counterforce through our action, our activists, our type of movement – our spirituality. We want to discover the forces that drive us to act for change, and live this through the action plan that we develop.
We want to live and develop our "alternative" global movement: for positive change.
We want to focus on a participative process through action, and not to see the council as "just another meeting". The council is an integral part of our work and movement.
We want to discover and develop ourselves based on our strengths – on the basis of the evaluation of what we have done.
We see the need for more women activists in society, active in the YCW, and able to fully participate in the IYCW. We see this needs to start with the IYCW commitment to this - working towards a "Charter for Women Workers within the IYCW" is a step in the process we could define more clearly during the Council.
We want to give attention to the lived reality of young workers in the informal economy: A huge percentage of young workers are part of this sector: 90% of the African economy is organized in this way.
We want to express our VISION more clearly through campaign demands, and not rest with the "problems" of young workers today. We want to further our demand for "Social Protection for All". We want to be practical in our approach, with clear vision and means developed.
Finances – it's a key-issue for our future. We want to work to strengthen our financial autonomy and international solidarity, and strengthen the direct link between finance and our plan of action of our campaigns.
It's important that we develop ownership for the plan of action among the national movements and have a clear process with them towards developing this plan. Even more importantly, we want a plan that is clear, specific and able to be clearly implementated within the national movements.
Coordination: towards a horizontal, participative coordination:
We see the need for a coordination that develops the links between national movements, - that is dynamic, young, that is relevant to the action of national movements, that promotes confrontation and dialogue between the movements themselves. What we see currently is a structure of coordination that gives a sense of "hierarchy" and a "vertical" link from base to international team which is lacking important connections BETWEEN the movements that give them an international identity. We want a coordination that facilitates the dialogue and action of the movements, the strengthening of a dynamic interaction between national movement.

We want to adjust our organisational structures according to developments in the society – such as technology in communication.
As a conclusion to the Council, we will be happy if we are able to achieve the following results:
Clarity of our movement as a "counterforce" to the type of globalisation we experience, and identification of our spirituality within that.

Confidence and strength in our method of work. A coordination plan that fits the reality, that is linking national movements: "horizontal", participative, and inclusive of diverse realities.

'Together in Action' is not just the theme of our council, but a statement that reflects what we want to be - a movement, a global community of actors with a common vision for a better world.
We motivate you to continue to be part of it!
In Solidarity and Friendship
Bridget Rauch, Thiruvalluvar Yovel, Patrick Nell
for the International YCW