"Social protection for young workers is needed now more than ever!"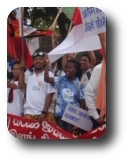 The International Young Christian Workers (IYCW) is promoting the global actions of young workers during the International Week of Young Workers.
The IYCW demands 'Social Protection' for all young workers as the best way to ensure social, economic and cultural development for all young people in all countries. Now more than ever, young workers rights and dignity need to be protected during this time of global economic uncertainty. At a time where countries are pumping over $2.8 trillion into major banks and private companies to salvage the international financial system, young workers are facing unemployment, job insecurity, precarious work conditions and despair.
Consequences for Workers...
In October 2008, the International Labour Organization (ILO) published a study with disturbing news for workers around the world. According to its projections, the current economic crisis may lead to over 20 million people being unemployed by the end of 2009. The number of people living in destitute situations would escalate from the current 190 million people to 210 million. The Director General of the ILO, Juan Somavia, claims this to be "a record high" level of unemployment. The study warned that this forecast was optimistic and that these figures may worsen if the crisis persists and has a stronger impact on production.
The study also points out that the number of "poor workers," who earn less than one dollar a day, may increase by 40 million and the number of people earning less than two dollars a day may increase by 100 million. The lay-offs announced at the beginning of 2009 have confirmed the ILO projections.
For young workers, the situation is getting worse.
As most young workers are entering the labour market for the first time, they tend to be the first victims of unemployment as job losses intensify and the competition among workers increases during recession.
Nadia, Ukraine
Nadia, a 23-year-old Ukrainian, has just finished her philosophy studies at university. She has had different experiences of work, but all work has been temporary. "I once worked in a pizza restaurant for 14 hours a day, with just one 15-minute break. I've also had work in a café, as well as temporary work with an archeology organisation." In the last months of 2008 she became unemployed. She tells us about her search for work. "I visited an agency and what I saw there was shocking for me. The people employed there were not doing anything to help the situation of the unemployed. The agencies are not functioning well. They just give you a list but they don't talk to you." She said that the centre was filled with other young people in the same situation, looking for a job, and that it was difficult.
Young Worker, South Africa
"I work 12 hours in a row every day. I don't get paid for overtime hours. I have been subcontracted by the Gringnter company. I earn 3,500 South African rands per month (some 388 euros) while permanent workers get 7,000 rands and all the other benefits. There is real competition among workers even if conditions are difficult and nobody knows whether they will keep their job here."
In its report on "Global Employment Trends for Youth", the ILO notes that "compared to adults, the youth of today are more than three times as likely to be unemployed" and "the relative disadvantage of youth in the labour market is more pronounced in developing economies, where they make up a strikingly higher proportion of the labour force than in industrialized economies."
The IYCW is working to sustain young workers hope, dignity and decent income through the Social Protection campaign in these uncertain times.
Social Protection provides a set of tools, programs, policies and laws to ensure young workers have access to fair and just labour laws, health insurance and benefits, laws to ensure safe work environments, social aid, free public services and unemployment benefits. These promote equality, freedom, dignity and a decent life in this current economic climate.
The IYCW believes implementing the Social Protection campaign will change society and change the lives of young workers.
International YCW