International Day for the Elimination of Violence against Women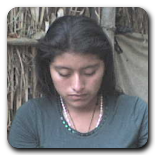 The 25th of November is very important day for all men and women all around the world. International Day for the Elimination of Violence against Women.
In Nicaragua, the majority of workers in manufacturing factories (FTZ) are women. There is a high rate of turnover, health problems, and a high level of dissatisfaction among workers due to bad working conditions. One situation that women have to face is the abuse of power by supervisors, sexual harassment as well as verbal, and even physical, abuse. It is also clear that the male labor force is valued more than the female labor force. If women want to get better posts, one condition is that they don't get pregnant.
Cucu, a domestic workers in Cimahi, West Java, Indonesia, has been living under pressure since she became a victim of rape by a Government worker in her city earlier this year. The police have not given serious attention to her case which was reported by 17 organizations (including Indonesia YCW) to the police on May 29th, 2009. Domestic workers are the most vulnerable to violence and usually they will keep their mouths silent because of strong threats by the perpetrator. Cucu is working almost 24 hours a day with very limited time to sleep. She has no time for her self and her family. She receives the salary Rp. 300.000 or USD 35 a month. It is very far away from the minimum wage set up by the government in Indonesia.
Very often these situations are perpetuated because workers don't know their rights, or they are afraid of losing their jobs which they need in order to guarantee support for their families. On the other hand, the institutions responsible for guaranteeing their rights do not work properly and efficiently and very often they are in favor of the transgressors. As far as mothers are concerned, as they don't get replies, they end up giving up.
Marcia is a young woman who works in a clothes shop in Venezuela. Her shop employs 36 people, among which 27 are women and 5 of them are pregnant. Marcia is at the cash desk and for her job, they don't have seats, so they have to stand for 8 hours, including the pregnant women. In that shop, there are times when they sell more, so they have to work without having a single day off and they have to sign a paper where they renounce their right to paid overtime hours. This has direct consequences on other aspects of their lives as persons, preventing them from taking part in spaces of organization, from having family life, and, for those who are mothers, from taking care of their children and spending day-offs with them.
One of the root causes of these problems that the YCW has identified is that women are undervalued and therefore they have low self-esteem, which makes them more submissive and more willing to accept their condition. Aware of this, the International Young Christian Workers have been carrying out actions in various countries in order to change those realities. In Venezuela they have opened participation platforms for young women, where they can discuss their reality. In Paraguay, they are working with young domestic workers through a shelter that opens at weekends and where young women can learn about their rights, organize themselves and start demanding and generating changes in their conditions. In Nicaragua, they are organizing young women working in free trade zones. In Sri Lanka, they are coordinating a signature campaign in favour of the rights of Free Trade Zone women workers. In Spain, a radio program dedicated to gender issues, aims to give a voice to young people about their experiences of gender inequality. The YCW of Ecuador, together with the young mothers, are planning to open a community day-care center so that young mothers can go to work. At the international level, we are developing a campaign for social protection and one of the fundamental focuses of the campaign is to build gender equality.
We need to keep developing more actions and reach out to more young people, and to do this, it is essential to strengthen and broaden our work with other organizations because we will only have more impact if we join our efforts.
As IYCW, once again we oppose and denounce all types of inequalities and violence against women throughout the world, and we demand that governments ratify the conventions, and recognize and respect the fundamental rights of women including:
respect for and guarantee of the right to maternity;
equal job and salary opportunities;
equal opportunity of access to decision-making spaces;
respect above all for the dignity of young women workers and recognition of their value as persons;
elimination of all forms of violence and abuse against young women workers.
In 2008, the IYCW launched a campaign for Social Protection for all. In this campaign we reinforce gender equality as one of the main issues to address.
With the small actions that we are taking in different places around the world, we want to contribute to building a more humane society, with more solidarity. Mankind will only be able to go beyond material aspects if it goes back to the fundamental values of life. Let us act together to build a Just World.
International Young Christian Workers Movement
Gender Equality Working Group