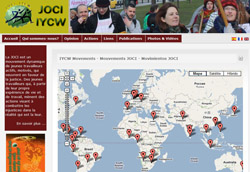 We are inviting you to visit the new webpage of the International YCW.
We have opted for a more user-friendly, more interactive page, with links to social networks and the possibility for the current and future IYCW leaders to participate in its management. In other words, we have opted for a webpage which counts on your collaboration because in addition to the activities, orientations and publications of the international team, we would like to rely on your participation, e.g. to receive information from you, link proposals, photos of activities, etc.
This new webpage includes a lot of new options:
You will also find videos showing actions of the IYCW and its national movements. We believe that it will create a new dynamics… young workers from here and there, all represented at the international level.
We provide an event list for you to be "connected" to the major activities carried out or promoted by the International YCW.
The IYCW page will be in constant link with the websites of the national movements and other organizations we carry out joint actions with.
You will also find analyses of the reality, opinions on current affairs, young workers' life stories and action testimonies from all over the world, texts, discussions and encouragements to develop our spirituality through action.
Some parts are under construction but the main parts are there, awaiting your visit.
Please meet us on the new IYCW webpage. Help us to build a more interactive site and give your action and participation in the YCW an international dimension.
Let's continue our action for, as Cardijn said, "a young worker is worth more than all the gold in the world."
Solidarity and revolutionary regards!
The IYCW International Secretariat and International Team
Note: Many thanks to José Calatayud for his valuable support in creating this new webpage.