Statement of the IYCW on the International Day
for the Elimination of Violence Against Women 2011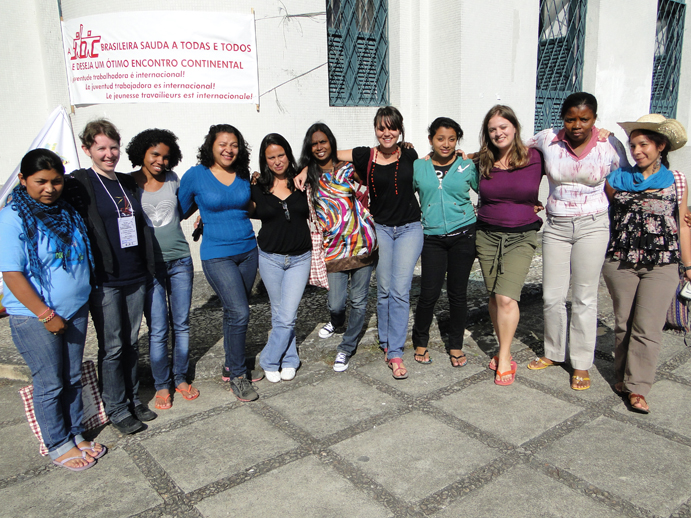 The International Young Christian Workers' movement (IYCW) is continuing its campaign on Gender Equality as a part of its Social Protection campaign. It is quite clear that young women who we work with at the grassroots are facing violence and discrimination in their daily lives.
There are young women in India today who spend their lives unmarried; they could not get married because of the dowry system, and they are considered a burden for their family.
There are young domestic workers in Paraguay facing violence and sexual abuses in their working places.
There are many women around the world who are "legally" raped by their husbands.
As International Young Christian Workers, we believe that this violence must stop, and we fight all types of violence and discrimination against women in society.
"We are 4 members in my family. My father is an agricultural daily worker and my mother is a plain housewife. My sister and I are studying. I am an agricultural daily worker, just like my father. I study on weekdays, and I work on a farm during weekends and holidays. I work from 7am to 3pm and I only get Rs35 (US$ 0.81) and a cup of tea. - Jennifer, 19 years old, India.
"I need to work long hours in order to meet my needs and my family needs, and to fulfill my dreams" - Rangika Reshani, 21 years old, Sri Lanka.
Here are some key facts about violence against women according to WHO:
Violence against women - both intimate partner violence and sexual violence against women – are major public health problems and violations of women's human rights.
A WHO multi-country study found that between 15–71% of women reported experiencing physical and/or sexual violence by an intimate partner at some point in their lives.
These forms of violence result in physical, mental, sexual, and reproductive health and other health problems, and may increase vulnerability to HIV.
Risk factors for being a perpetrator include low education, past exposure to child maltreatment or witnessing violence between parents, harmful use of alcohol, attitudes accepting of violence and gender inequality. Most of these are also risk factors for being a victim of intimate partner and sexual violence.
School-based programmes to prevent relationship violence among young people (or dating violence) are supported by the best evidence of effectiveness. Other primary prevention strategies, such as microfinance combined with gender equality training and community-based initiatives that address gender inequality and communication and relationship skills, hold promise.
Situations of conflict, post conflict and displacement may exacerbate existing violence and present new forms of violence against women.
What do we want?
No gender discrimination at home, in the working place, and in society.
Equal pay and equal rights for men and women.
End of sexual abuse and physical harassment against both men and women.
Equal access and opportunity for development, promotion, leisure and social activity.
Mutual respect between men and women, regardless of sex, age, race and color.
A balanced participation of men and women inside the movement and within society starting from our grassroots groups, in the action we carry out, and in the coordinating and decision-making bodies.
The International Young Christian Workers