International Women's Day 2012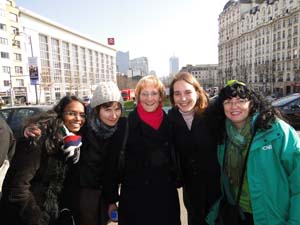 The International Young Christian Workers Movement (IYCW) joins hands in solidarity with young women to pledge its continuing support for equal rights and equal opportunities for all young workers.   International Women's Day is a critical day for us to raise our voices publicly and together.  It is an opportunity for us to celebrate women's lives and achievements, as well as to focus on the inequality and injustice that continue to occur in our day-to-day lives.
We know from our own stories that young women make up the majority of those living in poverty, that millions of women have died needlessly due to lack of healthcare and safe living and working conditions, and  that there is a worldwide pandemic of violence against women.
Jennifer's and Teresa's stories demonstrate clearly why we must keep working for greater equality.
"We are 4 in our family. My father is an agricultural worker and my sister and I are still studying.  I study on weekdays and I work every weekend. I work from 7.00 am to 3.00 pm each day.  I get 35Rs (USD 0.81).  It's a very low salary and it's even not enough for our daily meal.  It's very hard to plan our future in this situation.  There is real discrimination between men's and women's salary in this sector for the same work." (Jennifer-19 years old - India)
"I'm studying electronics at the training center at Caaguazu in Paraguay.  I'm the only woman studying this subject with boys.  It was really hard to get the permission from my family to study electronics.  My brothers were against it and they said this is a course for men.  When there is need of any work, even in our home, to solve small electronic problems, always the community believes we should depend on our brothers or fathers.  After lots of disagreement, however, I was able to convince my family to let me take this course." (Teresa- 16 years old-Paraguay)
2012 provides IYCW with an added reason to focus on equal rights and opportunities for the women of the world.  In August of this year, young workers from around the world will come together in Ghana to exchange stories and experiences, to evaluate our gender campaign and to plan for the next four years.  Only in this way can we deepen our strategies and strengthen our gender equality goals.
International Women's Day and the International Council provide IYCW with the forum we need to emphasise our expectations and demands as young workers:
1.      For equal, sustainable and quality jobs
2.      For equal labour force participation
3.      For equal social protection
4.      For equal rights at work
5.      For equal opportunities in terms of education and training.
As IYCW, we know that our efforts are bringing about change.  But we are also convinced that we need to keep up the struggle for gender equality for the millions of young women who do not enjoy equal rights or equal opportunities.  International Women's Day provides us with the opportunity to connect with young women all over the world, to make our voices heard, and to ensure that the future for young women is 'bright, equal, safe and rewarding'.
Geethani Peries
International President
For the IYCW International Secretariat