Decent Living Income is a must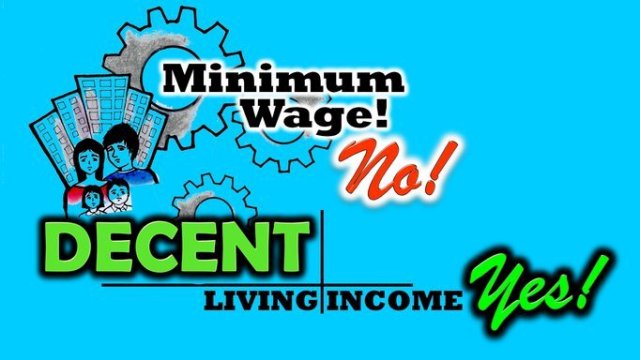 "No one should live below a certain income level, and everyone should have access to essential public services such as water and sanitation, health and education," statement of ILO Director-General Juan Somavia during one Forum about Social Protection.
However, current statistics and data express the extensive poverty and scarcity all over the world. About 5.1 billion people, (75 per cent of the world population) are not covered by adequate social security (ILO) and 1.4 billion people live on less than US$1.25 a day (World Bank). Thirty-eight per cent of the global population, 2.6 billion people, does not have access to adequate sanitation and 884 million people lack access to adequate sources of drinking water (UN -HABITAT); nearly 150 million people suffer financial catastrophe annually and 100 million people are pushed below the poverty line when compelled to pay for health care (WHO). (ILO Report 2011)
While globalization creates opportunities for a few, the above data clearly show that the lives of many are put into misery and remain unprotected against new global challenges which affect them at different levels, both local and national.
With this trend and phenomena, the young workers remain vulnerable. With the global crisis at hand, many young workers remain jobless, being fired out and working with a very low wage.
The income is increasingly falling; wages become only a tool for workers to survive not letting them live decently. 
Wage growth is always backward to the rising prices of basic needs and commodities. Globally, growth in average monthly wages slowed from 2.8 per cent in 2007 (the eve of the crisis) to 1.5 per cent in 2008 and 1.6 per cent in 2009. If China is excluded, the global average wage growth drops to 0.8 per cent in 2008 and 0.7 per cent in 2009. (ILO report)
Comparatively to the inflation rate and soaring price of commodities and basic needs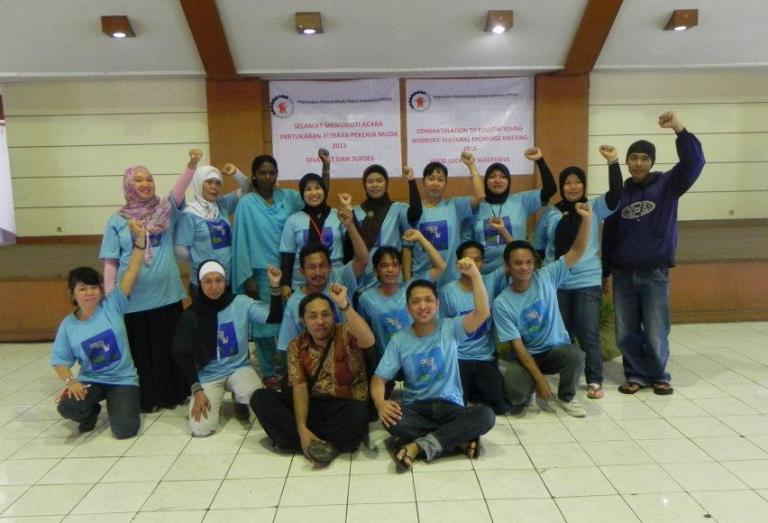 , wage increase is deemed necessary.   That is why, IYCW-ASPAC demands Decent Living Income (DLI) for the young workers and all workers. It is rooted in the fundamental principle of social justice and in the universal right of everyone to live decently with their families. Certain provisions made within the Universal Declaration of Human Rights are meant to promote the understanding that no one should live below a certain income level and everyone should at least have access to basic social services.
DLI is strongly related to the Social Protection Campaign, Decent Work Agenda and to the Millennium Development Goals to combat poverty, deprivation and inequality.
IYCW-ASPAC defines the components of the DLI as follows:
1.   Right to adequate food;
2.   Right to adequate clothing;
3.   Right to adequate housing;
4.   Right to health & social services;
5.   Right to social security.
Without all these components, poverty is always on the way. When it starts with the poor income, it goes beyond health problems and mal-nutrition, low education and skills, bad housing conditions, and social discriminations. The poor become poorer.
Young Workers demand CHANGE!
Components of the DLI are engraved within the Universal Rights and within the provisions of the Constitutions of various countries.
We call on the different stakeholders, to the international bodies and unions, employers, governments, international institutions, the church,… to:
Respect... Protect...Promote... Fulfill...
Specifically:
Employment security through government policies ensuring full employment as a fundamental right for all.
Protection from unfair dismissals.
Occupational health and safety by limiting working hours, creating a safe environment, establishing regulations on night work, etc.
Protection of an income to meet the basic needs through enforcement of statutory wage.
Training programs for the workers through vocational training centers.
Easy access to financial resources for work activities.
Equal treatment of men and women in relation to salary, access to social protection, employment promotion, training and access to resources.
Enforcement of policies and laws to promote gender equality.
Freedom and the right to get organized as Trade Unions, Associations, and Organizations to represent the workers.
Decent Living Income should be seen and treated as an investment for the future, not as a cost of a country to its citizens. Through well-paid workers who can ensure the well-being of their families, enjoy strengthened education, and be healthy citizens with proud and dignified life, a country is not too far from reaching the Millennium Development Goals to be achieved by 2015.