Del 24 al 26 de septiembre de 2016 y con motivo del XIV° Consejo Internacional de la Juventud Obrera Cristiana Internacional (JOCI), responsables antiguos y actuales de la JOC estuvieron en Herzogenrath, cerca de Aquisgrán, Alemania, para participar en el Coloquio de la JOC Internacional, un encuentro encaminado a reforzar la cooperación entre las distintas generaciones de responsables jocistas.
En el primer día del Coloquio, los antiguos responsables de la JOC escucharon los principales desafíos que se plantean hoy a la JOCI. Ludovicus Mardiyono, presidente de la JOCI y Andy Predicala, tesorero internacional, compartieron sus reflexiones sobre las necesidades y retos del movimiento actual.
El domingo 25 de septiembre, los antiguos y actuales responsables de la JOC participaron en la Apertura Pública del Consejo Internacional. Más de 150 personas participaron en la misa de apertura del Consejo concelebrada por el antiguo asesor internacional, Mons. Reginaldo Andrietta, Mons. Jean-Pierre Delville de Lieja y el obispo emérito alemán, Mons. Heinrich Mussinhoff, junto con otros asesores de la JOC.
Tras la celebración eucarística que tuvo lugar en la iglesia St. Jacob de Aquisgrán, los participantes organizaron una manifestación en las calles de Aquisgrán que se terminó frente a la estación de ferrocarriles de la ciudad.
Tras este colorido evento, los jocistas antiguos y actuales prosiguieron sus reflexiones en el Coloquio, un encuentro sobre las necesidades del movimiento y los posibles compromisos de los antiguos para apoyar las generaciones actuales de la JOC.
Las presentaciones de los responsables actuales y los aportes de varios expertos permitieron resaltar una serie de retos que se plantean en el mundo actual. Se presentaron tres problemas que asolan en el mundo de hoy en día: la privatización de los recursos naturales, la ignorancia y la dominación. La propiedad privada absoluta de los recursos naturales genera una pobreza extrema en todas partes. La ignorancia es utilizada por el sistema mundial para mantener sumisos a los seres humanos. Cuando se mantiene a la gente en la ignorancia, el sistema puede ejercer una dominación brutal sobre los seres humanos.
Entre los expertos invitados al Coloquio, el cofundador del Foro Social Mundial Chico Whitaker compartió su experiencia y visión en materia de creación de redes y desarrollo de nuevas metodologías; Daisy Arago, antigua responsable de la JOC de Filipinas y Luc Cortebeeck, antiguo responsable de la JOC de Flandes, destacaron los desafíos existentes en el mundo del trabajo.
Marlyse Strasser, Fabrice Epis y Jacques Hanon, antiguos de la JOC Internacional, presentaron el trabajo de la Asociación Internacional Cardijn, encaminada a preservar la herencia de Cardijn, asegurar la continuidad de su proyecto y apoyar el trabajo actual de la JOCI.
Antiguos jocistas de todos los continentes presentaron sus informes sobre los esfuerzos realizados para fortalecer o crear redes de antiguos que apoyen el movimiento JOC en sus países.
En la sesión de conclusiones del Coloquio, se identificaron la extensión, la formación y las finanzas como las principales áreas posibles en las que se podría desarrollar una colaboración entre los antiguos jocistas y los responsables actuales de la JOC.
IYCW Statement at Seminar Co-Sponsored by the Holy See and the ILO
Representatives of Catholic-inspired organizations and religious congregations gathered in Rome on 29-30 April 2016, together with officials of the Holy See and of the International Labour Organization, with one aim: to make "decent work for all" an explicit goal of the post-2015 sustainable development goals.
On this occasion, Luis Vargas, a YCW Venezuela activist, made a statement on the reality of young workers in the Americas. Young people are faced with a wide range of problems such as precarious work, informal work, little access to education and training, unemployment, discrimination, unfair dismissals, machismo, and sexual harassment.
Read more...
International Week of Young Workers and May Day 2016
The International Young Christian Workers (IYCW) salutes all Young Workers in their struggle for dignity in this current most challenging time. The International Week of Young Workers (IWYW) is a week that the IYCW initiated in 1984, dedicated to the life and work of young workers.
This important week promotes the actions of young workers aimed at changing their working conditions, the society in which they live, and their personal lives towards the new society that we are dreaming of.
Read more...
Joint Press Release of IYCW and MIJARC
Since the creation of the human being, women are equal to men in all aspects of life in administrating this planet. As time went passing by, women have been stripped of their dignity and experienced terrible violence and slavery at home, at their work place and in society.
The current society, with its way of life and culture, has produced more inequality, forcing women to live in a more vulnerable situation globally. The United Nations as a collective political power has failed and seems to continue failing to bring change and transformation towards equality, as the effort that has been made is not really addressing the main problem but is just a mere political veneer.
Read more...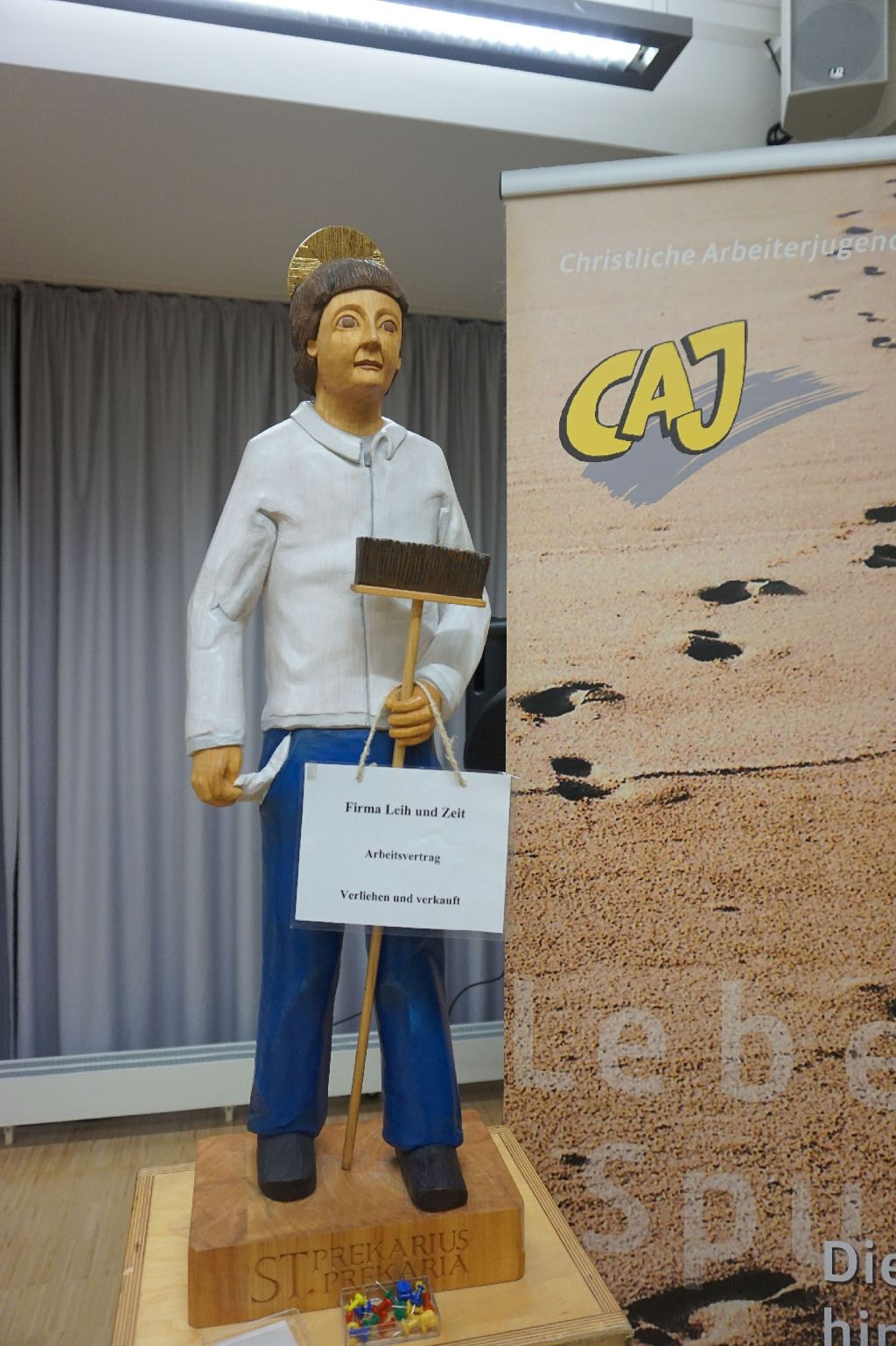 Who is Saint Precarious?
Saint Precarious is a fictional saint although an iconic image was created to recall Catholic saints believed to protect the faithful. The "saint" made his first appearance in October 2004 in Italy during protests against multinational chains and corporations. It is dedicated to spread awareness on casual independent employment contracts, the so-called "Precarious Work".
February 29 as the feast day
Unlike many other dates, "February 29" only comes every 4 years in our Gregorian calendar. Because of its precarity, it was chosen as the feast day of Saint Precarious.
Read more...
Continental Action Meeting in Hong Kong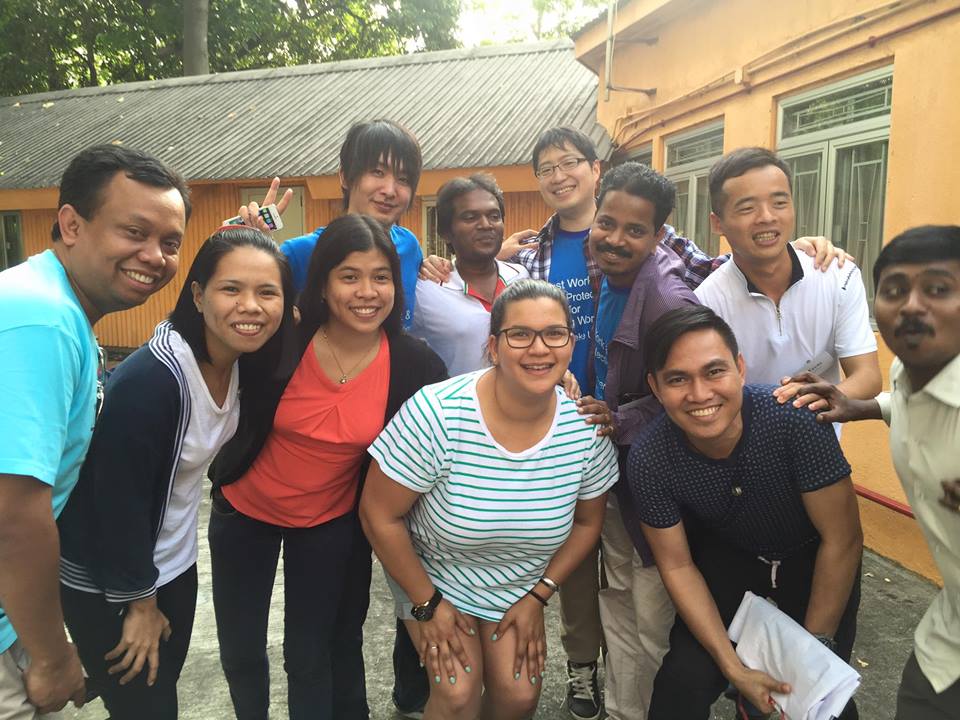 Hong Kong, IYCW ASPAC – "We are Young, We are Workers, Fighting for Dignity!" This was the slogan chosen by the International Young Christian Workers of Asia Pacific (IYCW ASPAC) for their Continental Action Meeting (CAM) held in Caritas Center, Hong Kong last October 19-23, 2015. YCW Australia, YCW Japan, YCW Indonesia, YCW India, YCW Philippines and YCW China attended the meeting.
The meeting focused on the current issues faced by young workers in the Asia and Pacific region such as social protection deficit, low wages, migration and the rise of informal economy.
Read more...
A Recognition of his Commitment with the Working Youth
Pope Francis named José Reginaldo Andrietta bishop of Jales, in the state of Sao Paulo, Brazil. His appointment as bishop was announced on Wednesday 21st October and he was ordained bishop on Sunday 27th December in the Basilica of St Anthony of Padua in the city of Americana, Brazil.
Reginaldo Andrietta was born in Pirassununga (Sao Paulo) in 1957 and ordained a priest in 1983. He has known the YCW since his time at the seminary and has dedicated his life to young workers ever since. He was chaplain of the Brazil YCW in the 1980s, of the Americas YCW from 1991 to 1995, and of the International YCW from 2000 to 2006.
Read more...
Page 1 of 10